There are affiliate links in many of the posts on this site. This means your purchase supports myself, my business, and my family when you click through to buy - at no additional cost to you. This site also uses cookies. Please see our full Disclosure & Privacy Policy for all details. Thank you!
As I prepare for the new school year, I've been going through my posters. While I have many that I love – I've never been satisfied with my Point of View posters. So…I did a search on Teachers Pay Teachers. There wasn't anything that was exactly what I wanted, so I decided to make my own set.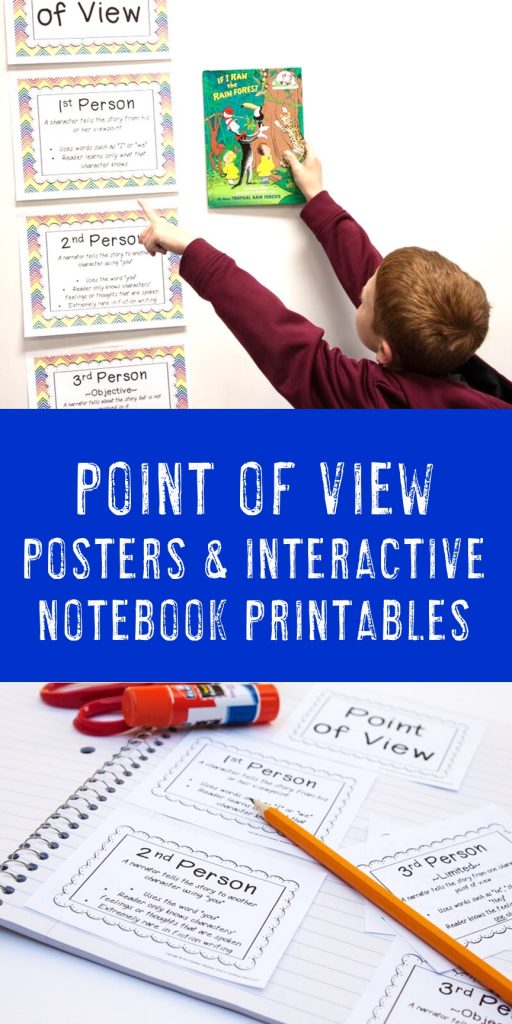 Here they are! If you'd like to purchase a copy, head over to Teachers Pay Teachers. You'll find 1st person, 2nd person, 3rd person omniscient, 3rd person limited, and third person objective posters included.


Not only do you get nine different poster printing options, but you can also print these out in a smaller format to use in student interactive notebooks. I realize these posters have smaller print than we'd ideally like – but there's simply too much information to leave off. And many of us don't have access to larger printing options, so I left them at 8.5×11.
But I've had people purchase my Point of View Posters and modify them to fit their classroom needs –
Create anchor charts that are LARGE so they can be easily viewed by all students – even in the back of the classroom.
Print out multiple sets of the posters with the ink-saving version and post them in several places in the room so everyone can easily see them.
Reduce the print size and give every student a copy to put in their interactive reading notebook.
Regardless of which of the options above you choose, with repeated exposure and practice to the five kinds of point of view – your students are sure to understand it!
Click on any of the pictures above (or here) to purchase your copy!
As you can see, there are nine different designs. There should be something that works for you. 🙂 {Due to time constraints, I won't be adding more borders to these. If you don't like the ones you see, please do not purchase these.}