I've got some great ideas for bringing baseball activities for kids into your classroom or homeschool. And in this blog post, I will share them all with you. I've got some fun math puzzles to celebrate baseball – in the shapes of bats, mittens, and baseballs. And if you want to teach something else, I'll share some handy editable puzzles with you. And I think you will really love the cool baseball books I found for your students, too.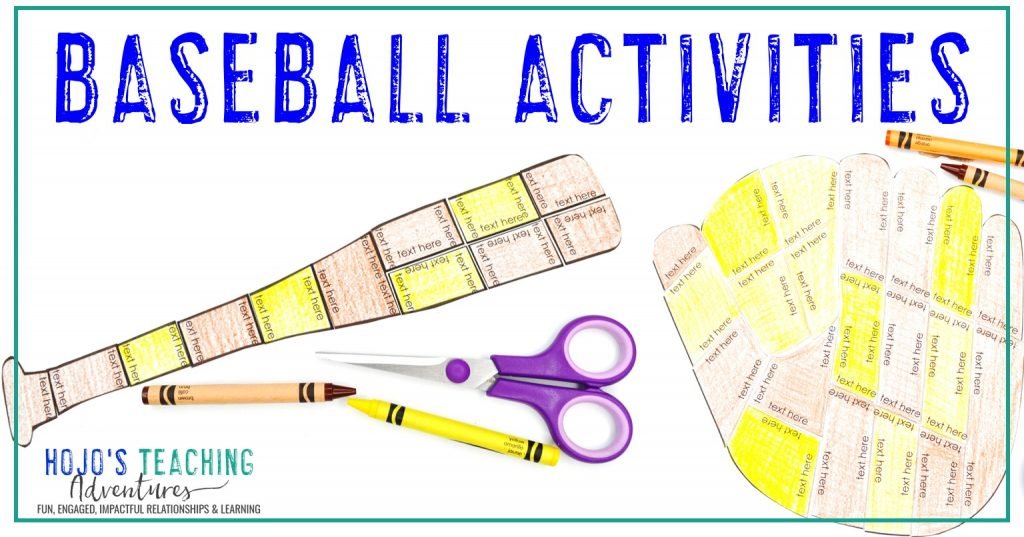 This post contains affiliate links. This means I make a small commission at NO EXTRA CHARGE to you when you purchase through my links. Thank you for supporting my family and me! You can read my entire disclosure statement here.
Baseball Math Activities
If you ever hear your students singing, "Let's Go Out to the Ball Game", you know that these Baseball Math Activities are going to be a big hit. Pitch these cool puzzles to your students for extra credit, to keep early finishers busy, or as a fun addition to a whole Unit dedicated to Baseball. These puzzles are so much fun, you'll score a grand slam with your students!
Whether you want to give your students an opportunity to practice their addition, subtraction, multiplication, or division skills, I've got you covered. Each type of puzzle offers several difficulty levels, making it easy to challenge your quick learners without leaving any of your students behind. And with three different puzzle shapes to choose from, you can offer students a bat, a baseball mitt, or simply a nice circle puzzle students can turn into a baseball. The three puzzles together are especially cute, especially after your students get them assembled and colored!
Various Baseball Math activities are available below. Click on the one/s that are most appropriate for your students.
Baseball Bats
Baseball Mitts
Sneakers
You can also grab these FREE circle puzzles – one each for addition, subtraction, multiplication, and division – to use as baseballs.
Make Your Own Baseball Puzzles
These baseball puzzles are wonderful teaching tools, and perfect for teaching more than Math. So if you would like to use these baseball puzzles for other topics and learning opportunities, you're going to love my editable baseball puzzles.
Use these sporty puzzles to practice Language Arts skills like nouns, verbs, sight words, and more. You can simply decide to make some harder math puzzles with them. Or use them to teach your students some fun facts about baseball. I'm sure you can think of all kinds of ways to use these helpful puzzles.
Click these links to find an editable baseball bat, baseball mitt, sneakers, or a circle puzzle to be used as a baseball.
What Teachers Are Saying About Baseball Activities for Kids
People who have bought my baseball activities have said:
This was such a fun craft/ math project for our baseball unit. I loved that it used both fine motor ability skills and math skills.
This was a perfect addition to a baseball themed room transformation!
Great to use for a sports theme day of learning.
Great for my baseball obsessed 2nd grader who needs a math challenge!
Love all the extra practice my kids got with this!!
Baseball Activities For Kids Make Great Sports Decorations
One fun way to celebrate Springtime, sports, or a unit on baseball is with some great decorations. Perhaps you simply want to decorate the walls with baseballs and bats – or create a festive baseball bulletin board to celebrate the new season of Pee Wee baseball.
baseball bulletin board image coming soon!!
These wonderful math puzzles make beautiful decorations, putting your students' hard work on display for the whole school to celebrate. And the best part is that no administrator can complain because there is so much academic work involved!
Baseball Books for Kids
Baseball is not only fun to watch and play. It is fun to read about, too. And I have put together a nice collection of books all about baseball – from picture books to chapter books – giving you all kinds of great reading ideas for elementary students of all ages.
Picture Books
Chapter Books
Baseball is one of the most popular sports in the world. Your students will have so much fun making these fun baseball mitts, balls, and bats, especially when you decorate the walls with their work. And in the midst of all that fun – they just might learn something, too. I'd call that a homerun!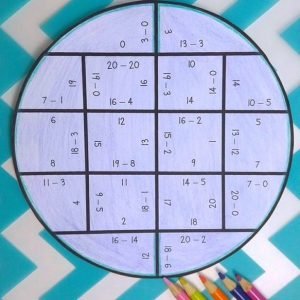 Still not sure about my baseball activities for kids?
No worries! Click here or on the image to grab your FREE circle puzzles. Then you'll see if these puzzles are a good fit for your students. Addition, subtraction, multiplication, and division options are included in this freebie.