Think of kids and bunnies, and the first thing that comes to mind is the Easter Bunny. But truly, bunnies are popular with children any time of year. Cute and cuddly, with long, velvety ears and adorable little tails, bunnies are amazing. Even better – they HOP! Is it any wonder they are popular with kids?
If you are on the lookout for some great Easter content – or simply a fun addition to your lesson plan about Lagomorphs, I have some great bunny activities and ideas to share with you. You will find some great things in this blog post – from fun books about bunnies to bulletin board ideas for your classroom. You'll also find some fun bunny rabbit math activities that you can do with your elementary or middle school students!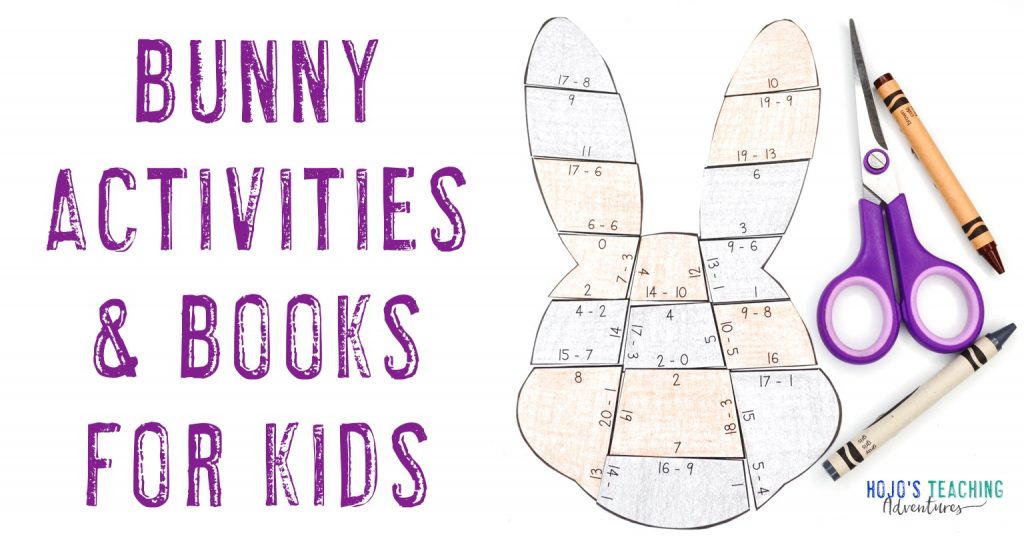 This post contains affiliate links. This means I make a small commission at NO EXTRA CHARGE to you when you purchase through my links. Thank you for supporting my family and me! You can read my entire disclosure statement here.
Bunny Activities Math Fun
Let's start off with some great math resources. We all know (teachers and parents alike) that it takes a lot of practice for students to get those basic math facts ingrained into their minds. These sweet Bunny face puzzles will have your students actually excited about doing math! And since there are different types to choose from, you can challenge your more advanced students while making sure the rest of your students can practice at their appropriate level as well.
Various Bunny math activities are available below. Click on the one/s that are most appropriate for your students.
Not a Math Teacher? No Problem! Check out this EDITABLE bunny!
This EDITABLE Easter bunny can be used for any literacy, math, or foreign language concepts that will fit inside of it. I've also had science and social studies teachers use them for vocabulary practice. Click on the image below to grab your copy now!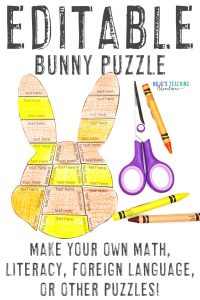 What Teachers are Saying about Bunny Activities
People who have bought my Bunny activities have said:
Great review before spring break!
My kid enjoyed figuring out what picture the puzzle would make. Then we named the bunny and wrote about his adventure. Lots of fun learning!
Also Great for Decor!
If you're looking for Easter decoration ideas for your classroom, these bunny faces are definitely a great way to go – especially combined with my Easter Egg Puzzles! Just imagine how adorable all those bunnies will look when finished!
They make GREAT bulletin boards, doorway decorations, or even hallways displays! Students cut them out and complete their puzzles – and then you break out the crayons and markers so your young artists can decorate their bunnies in all their favorite springtime colors.
The finished displays are such a wonderful way to welcome the springtime into your classroom. (Even better – the principal can't get mad or say they aren't "academic" because of the work involved to put them together!)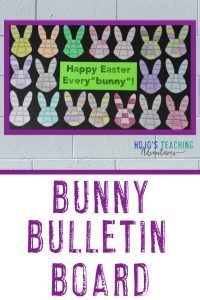 Bunny Books
And here are some great book ideas to help your students practice reading all about bunnies and all the fun that they bring!
Picture Books
Chapter Books
Bunnies bring a lot of fun to the classroom – during Easter and throughout the year. And with these great bunny activities, your students can practice their math, reading, and creativity with one of their favorite animals!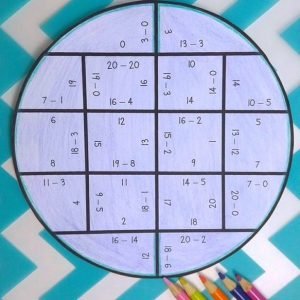 Still not sure about my bunny activities? No worries!
Click here or on the image to grab your FREE circle puzzles. Then you'll see if these puzzles are a good fit for your students. Addition, subtraction, multiplication, and division options are included in this freebie.