Admit it. You have some teaching supplies or materials that you've collected during your years in the classroom that are a bit weird or random. We all have them! One teaching friend of mine inadvertently started a teddy bear collection, while another has more rubber duckies on her desk than I care to count. I – personally – would rather collect fun, random teaching supplies that I can actually use.
Today I've compiled a list of seven teaching supplies that you may not need for your classroom, but they'll probably bring a smile to your face each day. If something can bring a smile just from looking at it, I say it's worth the purchase!
Without further ado, here are the fun and random teaching supplies I promised!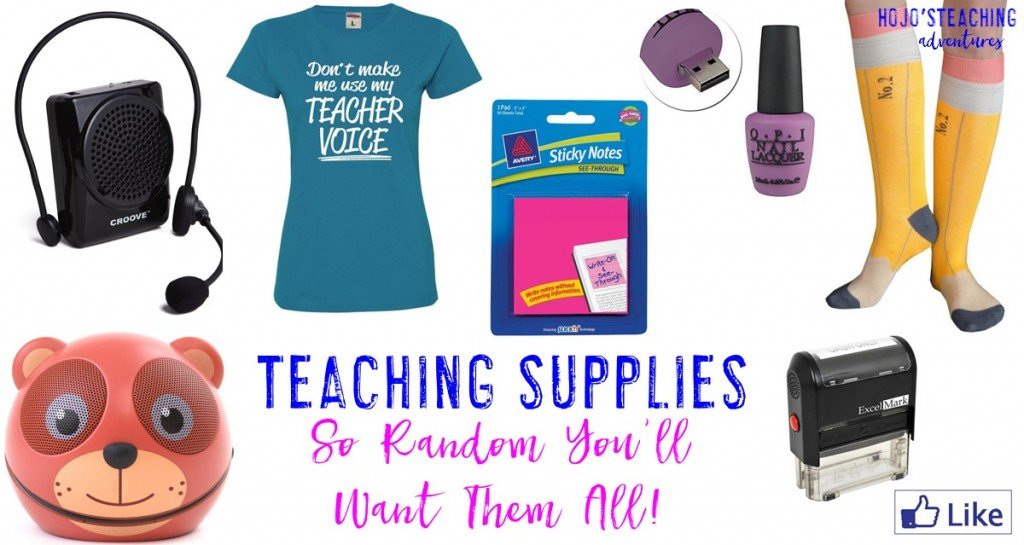 This blog post contains affiliate links. You can read my entire disclosure policy here.
When I first saw this voice amplifier, I thought it was a bit crazy. But then I started thinking…and you know what? This would have saved my voice on more than one occasion, and it would have been GREAT when I was sick! While it's not your "typical" teaching supply, it's definitely something worthwhile.
Unique Flash Drive
We can all use another flash drive, am I right? This nail polish flash drive just cracks me up! You're sure not to lose this one anymore, and your coworkers are sure to return this one. 😉 Is nail polish not really your thing? Then check out this Tweety flash drive or this monkey flash drive instead.
Translucent Sticky Notes
I am a sticky note fanatic. Aren't most teachers? When I saw these translucent sticky notes, I knew they would be perfect in the classroom! Now you can write on student's work without actually covering up what they did. These notes come in both yellow or magenta, so grab yours today!
Do the students in the back of the room have trouble hearing your computer? Mine always did! But with these teddy bear, kitten, rabbit, owl, or tiger speakers – your students will be able to hear every educational video from now on!
I really wish I would have had this stamp when I was teaching! Today's students are either on social media themselves or they watch their parents and family members use it every day. This "like" stamp would be the perfect way to show your students that they're doing a great job on their work!
These two maybe don't count as teaching supplies, but they both bring a smile to my face. I actually own this "Don't make me use my teacher voice" shirt, and I love it! I've worn it for casual Fridays and it always gets the students smiling. And these pencil socks would be the perfect accessory for the English language arts teacher. I know I would have gotten a few eye rolls if I had worn these to school. 🙂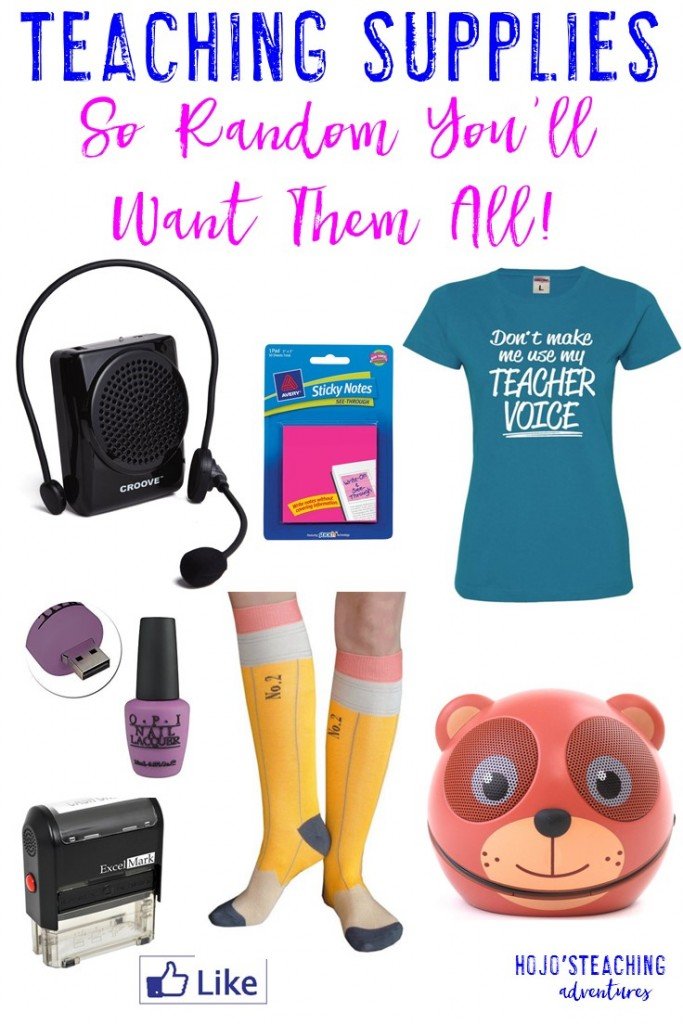 What random teaching supplies do you already have in your classroom? I think it's fun hearing about other's unique teaching supplies as well!