A challenge many teachers face as we get closer to the end of the school year is keeping kids focused and engaged.  I decided to shake things up for my kids and to start the final exam review process (because August/September were a LONG time ago from my 6th graders' perspectives), was to put my students in charge of the daily bell-ringer/warm-up. This great social studies review can be used at ANY time in the school year.
Each student picked a topic we covered during the year out of a hat.  They wrote 3 different bell ringers for it: a multiple choice question or fill in the blank statement, an opinion question (such as "was Reconstruction a success or a failure and why"), and they designed an image or created a map and their classmates had to identify the topic at hand.
Two students have been presenting their bell ringers each morning since my classes are 90 mins each and we only have 3 weeks until exams.  Teachers with shorter classes and more time might only want to have one student present their bell ringers each day.
These are a few reasons why I like this and why I'll do it next year too:
it's more challenging for students (they have to think of "teacher-level" questions and can not repeat a question a previous classmate gave if some topics end up overlapping)
they are more focused right when they get to their desks because they don't know who will be presenting their questions ahead of time
they REALLY like the challenge of trying to stump their classmates, and also to be the one who correctly answers the day's questions
and yes, I'll say it, this saves me time
I decided to give my classes Fridays "off," and on those days the warm-ups are when we play "which word doesn't belong and why."  For this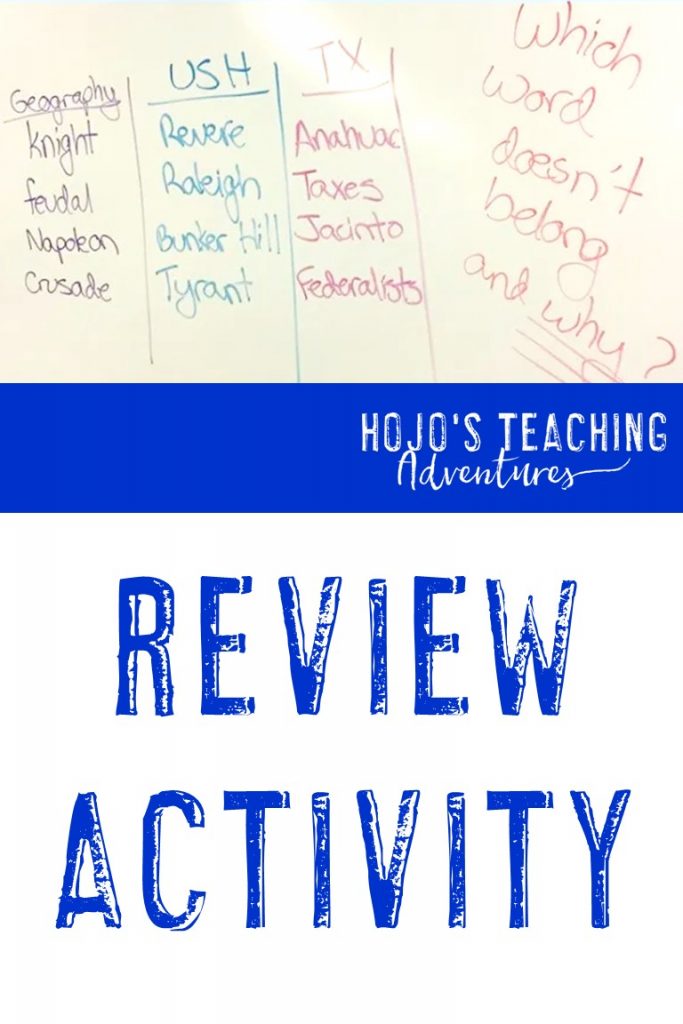 strategy, I pick a topic we studied, write it on the board, and under it I write 4 words that may or may not fit together.  Then, I have the students first think individually about which word doesn't belong and why, then they pair up and discuss their thoughts with a partner.  When they have fleshed it all out, we have a whole class discussion on which word they think is the odd one out.  Depending on the students, I might make it so that they could technically pick any of the words, but the quality of their answer will depend on how they justify their thought process.
For example, if the topic is "causes of the Civil War" the words could be: abolition, Tubman, Harper's Ferry, and Republicans.  One student might say "Republicans" doesn't belong because it's the only political party listed, another could say "Tubman" because it's the only person listed, another could say "abolition" because it's the only principle in the list, the possibilities are endless!
An easier selection, using World Geography as the example, would be: Pyrenees, Alps, Ganges, Sierra Madre.  Most students should say "Ganges" doesn't belong because it is a river and the others are all mountain ranges.
A third way I've done this with my 8th graders is to write, "Stamp Act, John Brown's Raid, Rio Grande vs Nueces, and Seward's Folly." My kids took a few minutes to see it, but the first three are all causes of different wars (Revolutionary, Mexican-American, Civil), and Seward's Folly was not so that one doesn't belong in the list.
This is one way I've been keeping my students engaged as we get closer and closer to the end of the school year.  If you try these ideas out and like them, I have others you might be interested in at stephanieshistorystore.com (including a favorite NO PREP review competition).  Good luck in this last month or two of school!
Stephanie is a social studies teacher who blogs over at Stephanie's History Store. Make sure to pay a visit to her TpT store as well. Thank you for guest blogging about your social studies review, Stephanie!