These FREE star math activities are a great way to work on basic math facts in a hands-on, engaging, fun way! Your 1st, 2nd, 3rd, 4th, and 5th grade classroom or homeschool students will love these puzzles.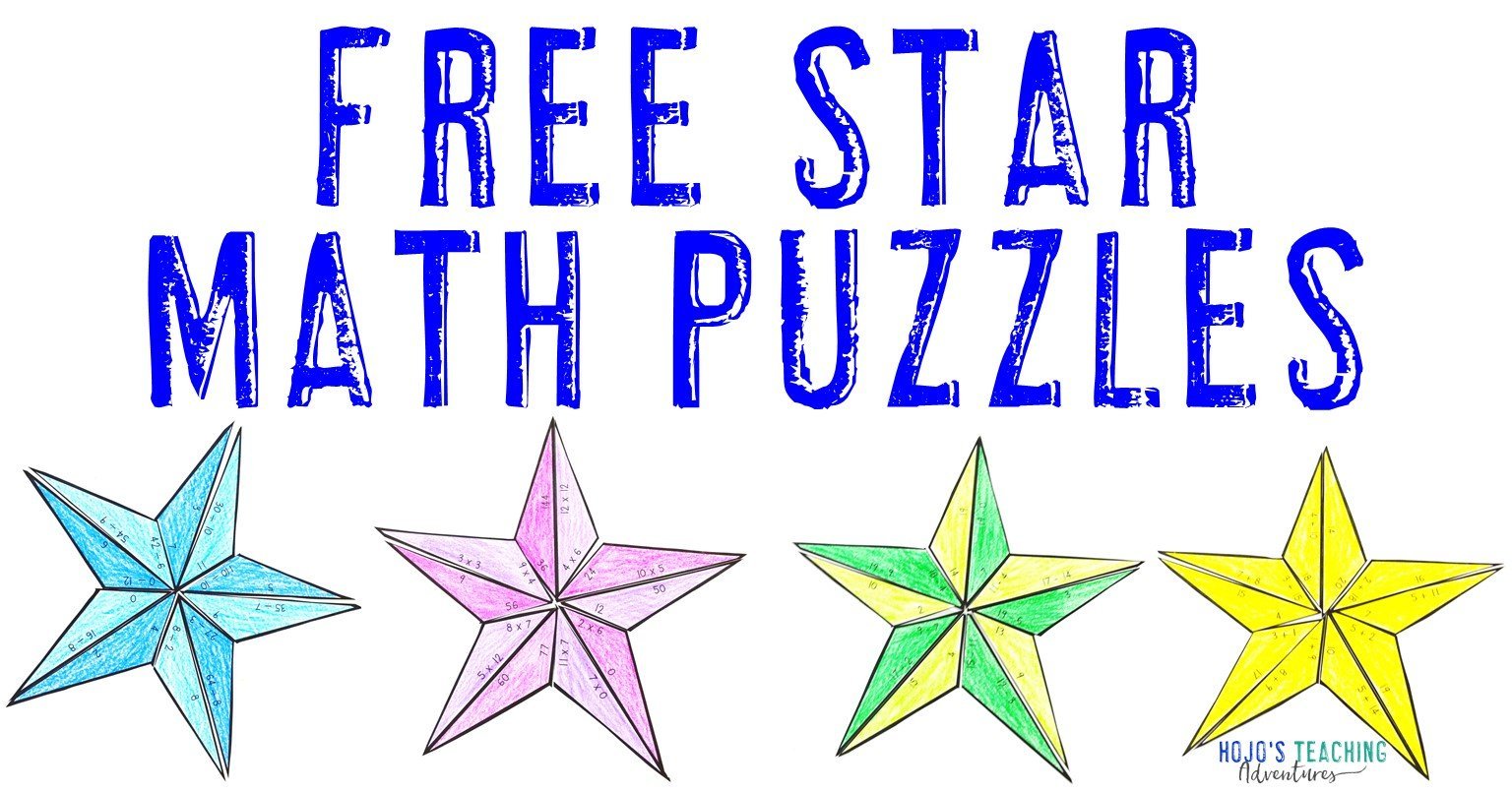 What Puzzles Are FREE?
There are actually four different downloads included in this blog post –
Each puzzle also contains a NO PREP option, so you can actually double the number of puzzles mentioned above. Click on each of the links above to grab your download now. Or keep reading to learn more about these great star math activities.
What Exactly Am I Getting?
The addition and subtraction puzzles are broken down in to the following –
one 0-5 mixed practice puzzle
two 0-10 mixed practice puzzles
three 0-20 mixed practice puzzles
The multiplication and division puzzles are broken down into the following –
one puzzle each to practice facts 1-12
three mixed review practice puzzles
How Can I Use these Star Math Activities?
These start math activities are great for all of the following reasons –
Math centers, stations, or rotations
Review
Test prep
Enrichment
GATE (gifted and talented education)
Worksheet alternatives
Critical thinking skills (or 21st Century Learning)
Student, partner, or small group collaboration
Any time you want to have a little hands-on fun during your math lessons!
Tell Me More!
If you download all four freebies included in this blog post, you'll get 42 different puzzles – but with the no prep options you are actually getting 84 different puzzle options! Choose which one will work best for your students or homeschool kids.
The no prep puzzles are a perfect activity to work on fine motor skills. Plus then students won't know the finished shape, so the puzzles are a bit more challenging. Just print and go!
Star shapes are great for any time of year, so these puzzles can get plenty of use!
Have each student make a blue star, and then create an American flag display in the school hallway.
Do a bulletin board exclaiming "We Are ALL Stars!"
Use them for a fun review at any time of year!
Use your imagination to decide
These star math activities are truly great for all students. I've found students in special education often persevere better with these puzzles than some of my gifted students. These teach perseverance to all!
While some students may find these star puzzles to be a bit of a challenge, repeated exposure to the puzzles often helps improve their critical thinking skills and they will better understand how the puzzles work. Use these puzzles in your classroom or homeschool on multiple occasions. This way you can promote a growth mindset.
Grab Your FREE Star Math Puzzles Now!
Click on any of the images below to grab your FREE star math activities. Remember that each different operation – addition, subtraction, multiplication, and division – is its own download. So if you want more than one operation you'll need to download each one.
If you love these FREE star math activities, you'll also love these other free math puzzle options –