If you are on the lookout for some wonderful shark activities, you've gotta check out this blog post! I found some really great Baby Shark merchandise that you and your kids are sure to love. And for teachers and homeschoolers, there is a shark puzzle. You'll even find bulletin board ideas and some great books about sharks that your elementary students are sure to enjoy.
This post contains affiliate links. This means I make a small commission at NO EXTRA CHARGE to you when you purchase through my links. Thank you for supporting my family and me! You can read my entire disclosure statement here.
So, have you heard the Baby Shark song yet? If you are a teacher or parent – or are even remotely active on the Internet – I'm sure you have by now. The Baby Shark Song is quite popular . . . and annoyingly addictive. Seriously, it is one of those songs that gets in your mind and just hovers for days . . . in the background of everything you say, think, or do.
But that is exactly why kids LOVE it! It is annoying, repetitive, and completely endearing all at the same time. And really, who can resist the idea of a Baby Shark? I mean – potentially dangerous, yet cuddly. Am I right?
Love the song or hate it – you've gotta check out some of this great Baby Shark merchandise I found. If you have shark-loving kids in your life, I bet you'll find some things here that they would just love. Personally, I love the Teacher Shark T-Shirts at the bottom of the list. I want them all!
#AllTheThingsShark
Make Your Own Shark Activities
Puzzles are a great learning tool, and I make a variety of super cute puzzles in all shapes and sizes. You can use puzzles to help kids learn all kinds of things – particularly in Math and English. Whether kids are learning addition, multiplication, nouns, or contractions – practice is key. With puzzles, kids actually enjoy practicing – solving the puzzle so they can put their puzzle together.
If you would like to incorporate a shark puzzle into your lessons, I've got you covered. Just click here to find an editable shark-shaped puzzle in my TpT store! These shark activities work great for math problems, sight words, literacy concepts, foreign language teachers, homeschool families, and much more.
Also Great for Decor!
If you incorporate my editable Shark Puzzles into your lesson plans as part of an overall celebration of Shark Week, I'm sure you can imagine how cute all those colorful shark puzzles would look when hung up together. And kids love to help make decorations! These shark puzzles would be fun in the classroom on bulletin boards or as doorway decorations. They'd even make wonderful hallway displays! Just have your students cut them out, solve their puzzles, and then color their adorable sharks any way they wish. And the principal can't even complain that your beautiful displays aren't academic enough because the students worked so hard to put them together.
Cool "Real Life" Shark T-Shirts
For kids and adults who take their shark t-shirts seriously, you'll love these awesome REAL shark shirts. These are perfect for wearing during Shark Week or any time of year when you want to express your love for these elegant predators!
Shark Picture Books and Informational Text Books
And here are some great book ideas to help your students practice reading while learning all about sharks.
Picture Books
Informational Text Books
Sharks are a welcome addition to your elementary classroom or homeschool during Shark Week or at any other time of year. Sleek, beautiful, and dangerous enough to be fun – you can't go wrong with sharks. With all these great ideas for Shark activities, merchandise, and books, your students will be wishing that every week was Shark Week!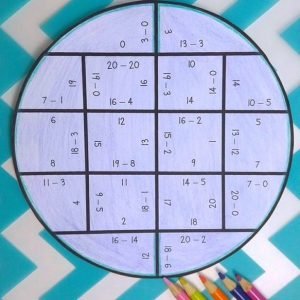 Still not sure about my shark activities? No worries!
Click here or on the image to grab your FREE circle puzzles. Then you'll see if these puzzles are a good fit for your students. Addition, subtraction, multiplication, and division options are included in this freebie.