To small children (and the young at heart), Groundhog Day can almost seem downright magical. Just about the time when even kids are starting to long for warmer temperatures, along comes a holiday where maybe, just maybe, a small creature will climb out of his hole and tell us that Spring is coming. Or, we could still have six more weeks of winter. It's just all up to that furry little beast.
If you are looking for ways to include some fun-filled Groundhog Day activities into your classroom – you have come to the right place! You'll find some nice goodies in this blog post – from great Groundhog Day books, bulletin board ideas, and even math activities that you can do with your elementary students!
This post contains affiliate links. This means I make a small commission at NO EXTRA CHARGE to you when you purchase through my links. Thank you for supporting my family and me! You can read my entire disclosure statement here.
Groundhog Day Activities and Math Fun
First, I'd like to share some great math resources. Every elementary teacher and parent knows that getting basic math facts ingrained into the minds of students takes a lot of work and practice. When your students see these adorable Groundhog day puzzles, they will actually be excited, too! And there are different types to choose from, covering the math basics – so you can easily challenge your higher students while giving your other kids the time to practice at their appropriate level as well.
Various Groundhog Day activities are available below. Click on the one/s that are most appropriate for your students.
Make Your Own Groundhog Puzzle!
Not a math teacher? Need something for your other classes – maybe Spanish, another foreign language, literacy, or something else? Then you're going to love this editable groundhog day puzzle option! Click on the picture below to get your own copy now!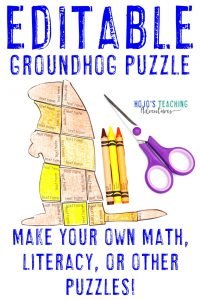 What Teachers Are Saying About Groundhog Day Activities
People who have bought my Groundhog Day activities have said:
Also Great for Decor!
And let's remember that these finished Groundhog puzzles above make GREAT bulletin boards, doorway decorations, or even hallway displays! Have your students cut out and complete their puzzles, and then color their groundhogs in a way that makes them happy. The finished displays are just too cute for words! (Even better – no administrator can complain about them not being academic because the kids work so hard to put them together and were reviewing their basic math facts!)
Groundhog Day Books
And here are some great book ideas I'd love to share with you. These Groundhog Day books will help your students learn more about Groundhog Day so they can have even more fun with this special day!
Picture Books
Chapter Books
Groundhog Day is about hope – hope that Spring will come soon and Winter will ease up, soon. Plus, kids love animals. These Groundhog Day activities are a fun way to help your students practice their reading and math skills!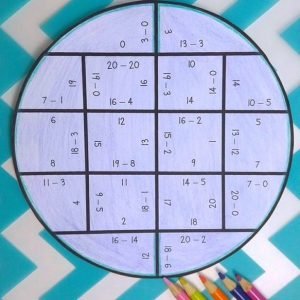 Still not sure about my Groundhog Day activities? No worries!
Click here or on the image below to grab your FREE circle puzzles. Then you'll see if these puzzles are a good fit for your students. Addition, subtraction, multiplication, and division options are included in this freebie.