One of the most wonderful signs of spring is seeing pretty little honey bees busily buzzing in and out of freshly-bloomed flowers. Honey bees are one of our most important pollinators and very industrious workers. In fact, bees are so important that it is possible to build all kinds of lessons around them. Students enjoy using bee activities to learn how bees live. You could talk about ways we can help bees survive. Or even have some lessons about the production of honey.
If you are on the lookout for some great bee activities, I have some fun things to share in this blog post. You'll find lots of books about bees that your students will enjoy reading, and some cool bulletin board ideas too. You'll even find some cute bee math puzzles that your students are sure to enjoy!
This post contains affiliate links. This means I make a small commission at NO EXTRA CHARGE to you when you purchase through my links. Thank you for supporting my family and me! You can read my entire disclosure statement here.
Bee Activities and Math Fun
First off, I really want to share some wonderful math resources. Every teacher knows that getting kids to practice math skills is the best way to help all those basic math facts ingrained into their minds. But it can be a struggle at times. That's what makes these Bee puzzles so great. Students actually get excited about solving the equations and building their puzzles. And with four to choose from, you can challenge your more advanced students while making sure that no one else gets left behind.
Various Bee math activities are available below. Click on the one/s that are most appropriate for your students.
Not a Math Teacher? No Worries!
If you don't teach math, then you'll love this editable bee puzzle! It's a great way to teach literacy concepts – but teacher or foreign languages, science, and social studies have also used my editable puzzles with success. this editable bee puzzle
What Teachers Are Saying About Bee Activities
People who have bought my Bee activities have said:
Also Great for Decor!
Kids love seeing their classrooms all decorated for Spring – especially when they can help make the decorations. I'm sure you can imagine how adorable these Bee Puzzles would look in your classroom, especially when combined with my Flower Puzzles! They make GREAT bulletin boards, doorway decorations, or even hallways displays! Your students can cut them out, complete their puzzles, and then color their friendly little bees however they want them to look. The finished displays are a creative way to show off their skills while celebrating Springtime. (Even better, the administration can't complain that these aren't academic enough, because students work so hard putting their puzzles together!)
Bee Books
And here are some great book ideas to help your students practice reading all about Bees and all the wonderful ways they help human beings and plants.
Picture Books
Chapter Books
Bees might seem a little scary at times, but they are one of our most important friends. With these great Bee books and activities, your students can practice their math and reading while learning all about the amazing bee!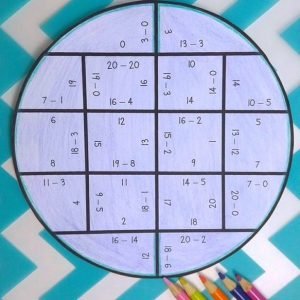 Still not sure about my bee activities? No worries!
Click here or on the image to grab your FREE circle puzzles. Then you'll see if these puzzles are a good fit for your students. Addition, subtraction, multiplication, and division options are included in this freebie.
Please pin the image below to others can find these great bee activities on Pinterest!