No matter how great you are at planning, at some point you're going to need some elementary time fillers. Whether you underplan and need something to fill in a few minutes or perhaps you overplan and don't have time to start that new activity – you're going to need at least one of these elementary time fillers.
That's where I can help! Here are five worthwhile elementary time fillers you can use in your classroom right away! Read on…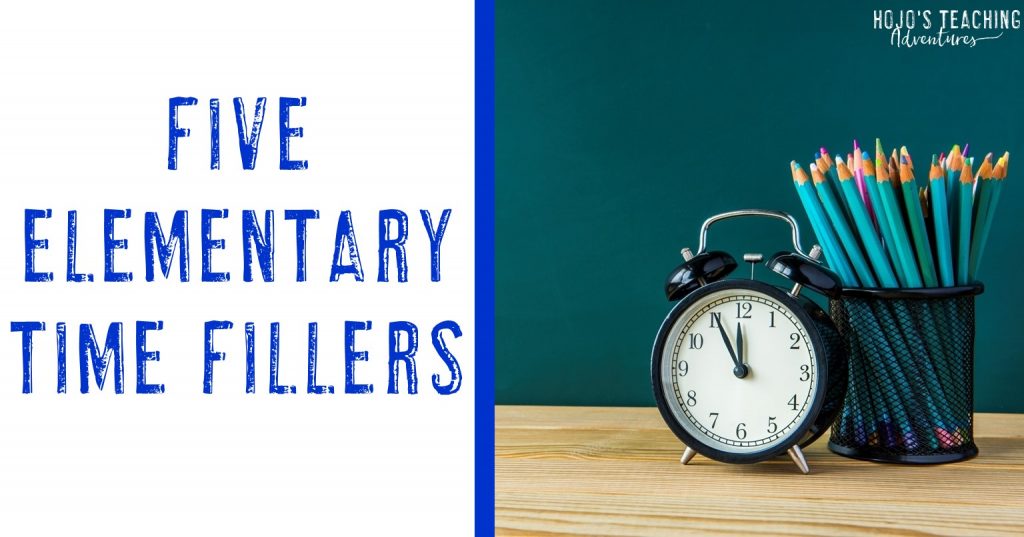 This post contains affiliate links. You can read my entire disclosure statement here.
1. Games
There have been more times than I can count where I've allowed my students to break out the games when we have a decent chunk of time for them to use. Yes, you can break out just the fun classroom games that you typically save for indoor recess – but I'd rather break out some educational games! Maybe you have some students who need additional math skill practice, but there are also going to be some who need ELA support. Either way, there are a variety of options out there to help you meet their individual needs!
2. Read Aloud
Even as a college student, I loved when my professors would read books aloud to me! So I don't care if you teach Kindergarten or 6th grade, there's nothing wrong with grabbing a great book when you find yourself needing an elementary time filler. Yes, continuing on in the chapter book you've been reading for the last week is fine, but I prepare grabbing a fun book like Mo Willems' Don't Let the Pigeon Drive the Bus when I've got an extra five minutes on my hands. 🙂
3. Fun Writing Prompt
Unfortunately writing was often something that got glossed over during the school day when I was in the classroom. But that's why I loved using funny writing prompts as an elementary time filler when I had the chance! Simply find a funny picture, project it for the class to see, and then ask them to write. You can have them write 2-3 funny captions, or require a 5-8 sentence paragraph. It'll really depend on the age of your students and the amount of time you have. Here are some great pictures to make your students LOL!
4. Build Student Relationships
Two years ago I blogged about a great sponge activity I did for years in the classroom. If you don't want to read the entire original post, here's the key point – get a bag and fill it with a few items that are unique to you. It may be a favorite trinket, souvenir from a trip you took, or other random tidbit. Take them out, show them off to the class, and be amazed at the many new "bonds" you'll have as students realize they have more in common with you than they originally thought!
5. Play
Whether you decide to bust out the crayons and paper to allow students to draw for a little while or you go outside for a fun game of kickball, there are times where play is the best educational tool you have! Let's face it – we all know that there are times when kids just need a break. Don't worry about your administrator – just cover your standards, do a great job teaching, and have some fun!
The next time you're looking for something to fill those extra 5-20 minutes, just grab one of these elementary time fillers and you'll be all set to go!