Today's world often times has too much tragedy and sadness. Yet we can take these challenges and use it to build empathy within our elementary and middle school students. I created this ribbon puzzle so you can use it to create ribbon awareness activities for your homeschool kids or classroom students. Plus they're a FREE download! It doesn't get much better than that. 😉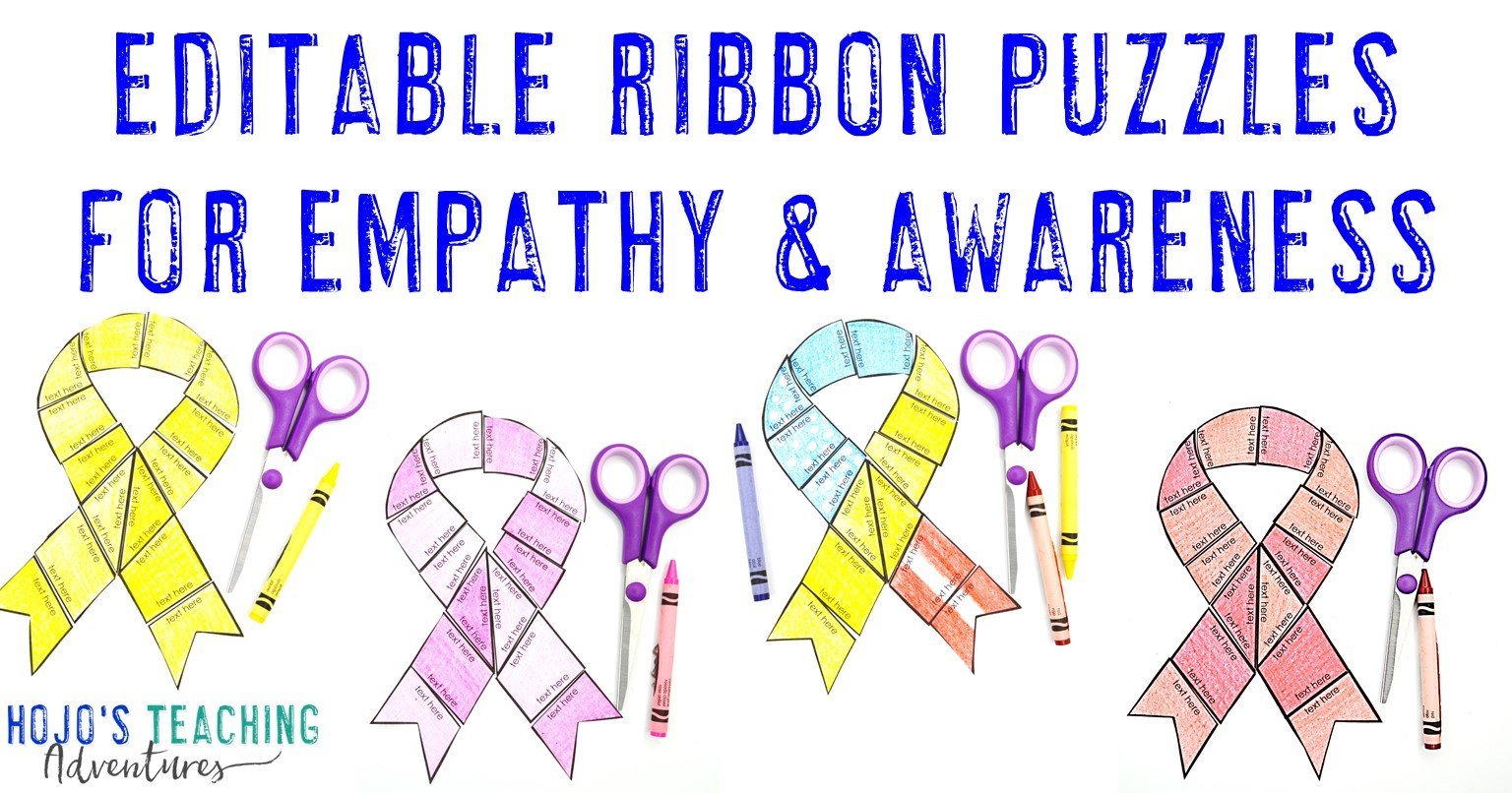 This post contains affiliate links. This means I make a small commission at NO EXTRA CHARGE to you when you purchase through my links. Thank you for supporting my family and me! You can read my entire disclosure statement here.
What Ribbon Do I Need?
One of the first questions you need to consider – if your students aren't already asking or telling you – is what type of awareness you are focusing on. A quick search on google for "ribbon awareness" may be a bit overwhelming, and you might find a lot of difference in opinions. But here is an image that shows what each ribbon represents. The matching article with more information can be found here.
You can also stick with some of the basics, depending on what your focus in –
pink for Breast Cancer Awareness
yellow for remembering our troops, especially those deployed
red for Red Ribbon Week
multi-colored puzzle for Autism Awareness
and many more!
Ask the kids! Many times they have a ribbon color that holds special meaning to them because of a situation with family or friends. Click here to get your FREE Ribbon Awareness Puzzle now.
How Can These Puzzles Be Used?
I'm not kidding when I say these ribbon puzzles have MANY uses. If the topic you have in mind is small enough to be typed into the boxes, it will work!
Consider –
math facts
grammar
vocabulary words & definitions
foreign languages
matching a picture to a word
and more!
If you need inspiration, you can see all the puzzles in my TpT store for more ideas.
Books to Teach Empathy
While the free ribbon awareness activities may be enough, it never hurts to go one step farther and include some reading on the topic as well. The four books listed below may work to help your students better understand empathy. Click through to learn more about each one.
Decorate With Your Ribbons!
Use the ribbons as decor, crafts, or gifts! You can use them before a "welcome home" ceremony for a soldier or group of troops. I've also known schools to have an assembly for a student receiving cancer treatments – turn the hallways into a HUGE support system by decorating with the correct colored ribbon.
When each student decorates their own ribbon that has a personal meaning, affix the finished ribbon to a piece of construction paper and you have an instant craft or gift to give to a special person. I truly believe some of these will be saved for years to come!
Does your school do a "Dig Pink" event? Then go all out pink and decorate with pink ribbons to help bring awareness. The possibilities are truly endless! And since this puzzle is editable, you can use it over and over throughout the year by typing in new content each time.
The best part? No administrator is going to complain. You're teaching character education by using the these ribbon awareness activities, plus they also have an academic focus!
Are You Ready for Your Ribbon Awareness Activities FREEBIE?
I'm sure you are! Click here to join my email list and you'll get your ribbon awareness activities as a free download. No spam.