Have you ever met a kid that didn't like trains? I know I haven't. Trains are fun and fascinating. They make cool chug chug noises and always seem like they are off to some new adventure. Even train tracks are filled with mystery and possibility. And as the holidays approach, trains become even more important as kids imagine magical trains that go all the way to the North Pole!
If you are looking for some wonderful train activities for kids, you've come to the right place. I have some great ideas for bringing some friendly trains right into your elementary classroom. These ideas enthuse and engage students through puzzles, books, creative expression, and more. Keeping students focused on school during the holidays isn't easy, but these train activities can definitely help. We'll even discuss how you and your students can use all that hard work to decorate your classroom beautifully!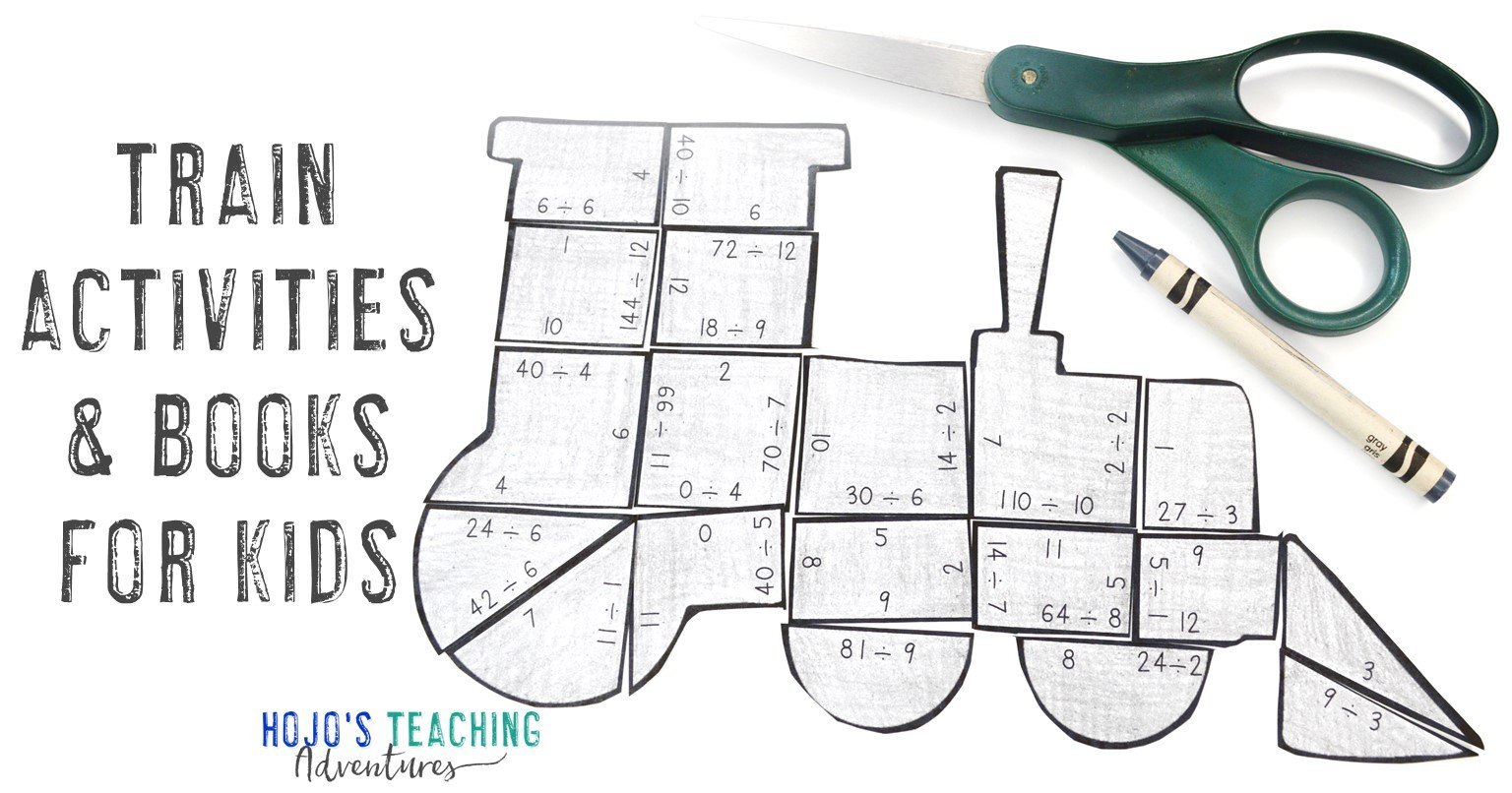 This post contains affiliate links. This means I make a small commission at NO EXTRA CHARGE to you when you purchase through my links. Thank you for supporting my family and me! You can read my entire disclosure statement here.
Train Activities For Math
Let's start off with some serious academic fun with my train math puzzles. These challenging puzzles are a great way for your students to get in some important practice covering the four basic math skills.
These puzzles are great for fast and early finishers or math centers. But you can easily get the whole class involved, too – using these for workshops, partner work, or as a special treat on the last day of school before winter break. Not only are these train puzzles a great way to practice math, but students also love coloring them and making them look beautiful!
Various train activities for kids are available below. Click on the one/s that are most appropriate for your students.
Make Your Own Train Puzzles
Trains are rather symbolic of adventure because they are always off to the next place. Since the first train made its way across the land, kids and adults alike have dreamed of hopping aboard and seeing where the train takes them. My editable train puzzles put that same sense of adventure right into your hands.
These wonderful puzzles are a great tool for teaching just about anything you want your students to practice. Use them for more advanced math puzzles, language arts skills, sight words, Spanish or other foreign languages, and facts of all varieties. You could even create one with facts about trains! Whatever you want to teach, you can make it even more fun with my editable train puzzle!
Click this link or the images below to find an editable train puzzle.
What Teachers Are Saying About Train Activities for Kids
People who have bought my train puzzles have said:
A fun way for the kids to get some extra practice before Christmas break–perfect for Polar Express day!
Such a fun activity for my students on Polar Express Day! They loved putting the puzzle together and did not even know they were practicing their subtraction facts!
This was perfect for Polar Express week! Thanks!
Great task for my students! Got them to really focus on solving division equations!
Used with our Christmas Unit and Polar Express! Thanks so much!
Decorate Your Classroom with Trains!
My train puzzles are such a fun way to practice and learn. But the fun doesn't stop once those trains are assembled. That's when your students get to color their puzzles any way they want. Students love to express their creativity and these train puzzles are an excellent opportunity for that!
Once their trains are colored and ready, "set them free" on your classroom walls, hang them as doorway decorations, or use them for creative hallway displays and bulletin boards. Combine them with some of my other holiday puzzles like Christmas trees, Santa's Sleigh, Reindeer, and more. Students are so proud to show off their hard work. Best of all, no administrator can complain that you are wasting time because there is so much academic work involved in the project!
Other Fun Train Activities for Kids
There are many wonderful ways to bring train activities Into your classroom. The following links are just a few ideas for getting your students all charged up about trains!
Train Books for Kids
Trains are fascinating and fun, so it is no wonder that there are so many great books about them. I've put together a list of some of the best train books around. There are picture books and chapter books to suit children of different ages and reading abilities. But adults will love each of these books, too!
Picture Books
Chapter Books
Trains are a welcome addition to your elementary or homeschool classroom any time of year. But they are especially meaningful leading up to the holidays. With these wonderful train activities for kids, students learn while allowing their imaginations to soar. What a great way to make the holidays even more magical!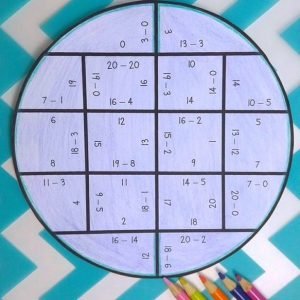 Still not sure about my train activities? No worries!
Click here or on the image to grab your FREE circle puzzles. Then you'll see if these puzzles are a good fit for your students. Addition, subtraction, multiplication, and division options are included in this freebie.