Almost every kid I've met loves chocolate – especially a nice warm mug of hot cocoa. And after all, what's not to like? Sweet and creamy, it's like a comforting hug in a mug. And although there really is no "bad" time of year to enjoy it, the winter months are absolutely MADE for hot chocolate. It is also the best time to bring some fun Hot Chocolate Activities into your elementary school or homeschool classroom!
I have some great ideas for bringing seasonal fun into your classroom, especially in the form of hot chocolate activities. From math puzzles shaped like mugs to books about tasty hot cocoa, these are wonderful ways for students to practice their basic skills. I have instructional links for bringing chocolate goodness into your classroom in truly delicious ways. And we'll discuss some creative ideas for gifts and homeroom decorations that will make your classroom shine for the holidays!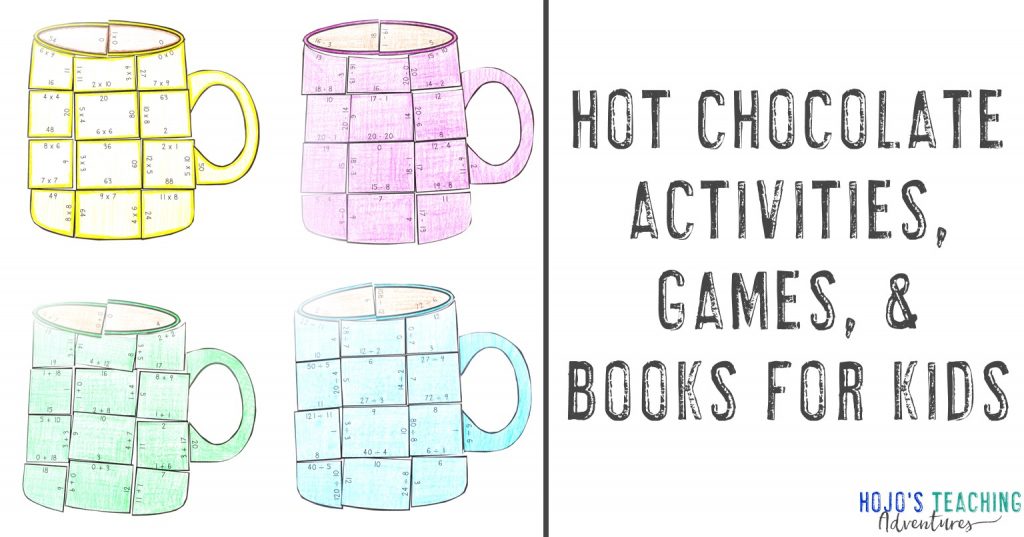 This post contains affiliate links. This means I make a small commission at NO EXTRA CHARGE to you when you purchase through my links. Thank you for supporting my family and me! You can read my entire disclosure statement here.
When you bring hot chocolate into your classroom for the holidays, everyone wins. And with these awesome math puzzles, your students will find it downright delicious to practice their basic math skills!
Choose from Addition, Subtraction, Multiplication, and Division. Some of these cute steaming mugs of cocoa puzzles come in a set with train puzzles, too – making it easy to tie them into lesson plans involving the enchanting book "The Polar Express".
Various hot cocoa math activities are available below. Click on the one/s that are most appropriate for your students.
Make Your Own Hot Chocolate Activities Puzzles
Puzzles are a wonderful learning tool and I love to create puzzles in fun shapes that kids are certain to love. If you have some basic skills you would like your students to practice, this editable mug puzzle is a handy tool that you can use to teach a variety of things.
Click here to find an editable mug puzzle in my TpT store! This mug puzzle works great for math problems, sight words, literacy concepts, teachers of foreign languages, and anything else that fits inside each square.
What Teachers Are Saying About Hot Chocolate Puzzles
People who have bought my hot chocolate mug puzzles have said:
These types of activities where the students are engaged using different activities are really helpful to keep them on task as well as effective to learn the material. Muchas Gracias por su tiempo y esfuerzo y Feliz Navidad!
My class enjoyed these! I actually let them create their own and trade with another student to complete the puzzle 🙂 (feedback on the editable option)
Awesome product. My students loved them. I would assign them as coloring pages, then create random groups and they would collaboratively put them together.
This is perfectly differentiated!
A fun option on Polar Express day…it's always nice to have extra things to do at that crazy time of year!
This was a perfect (educational/meaningful) addition to our Polar Express and hot cocoa day! Thanks!
My students love these! They glued them on construction paper and drew marshmallows on top to complete it!
This was such a fun and creative way to practice our math facts. The puzzle was perfect to help my students learn the value of persevering!
We had a lot of fun with this magic puzzle! We played the song to match the activity and we actually made hot chocolate. This was a perfect review before winter break! Thanks for such a great resource!
This was a great activity to do for something extra around the holidays. I like that an answer key was included.