Every year on November 11, United States citizens set aside a day – known as Veterans Day – to thank all the people in the military (past and current) for their service. It is a great opportunity to share with your elementary school or homeschool students what it means to be a veteran. And how important the military is in keeping our country safe. With these great Veterans Day activities, you'll find several great ideas for incorporating Veterans Day into math practice, reading, and more!
In this blog post, you'll find ideas for Veterans Day and military related math puzzles and a nice selection of picture books and chapter books about the military and Veterans Day, too. I'll also include some ideas for how your students can express their creativity while making gifts and decorations to commemorate this important day!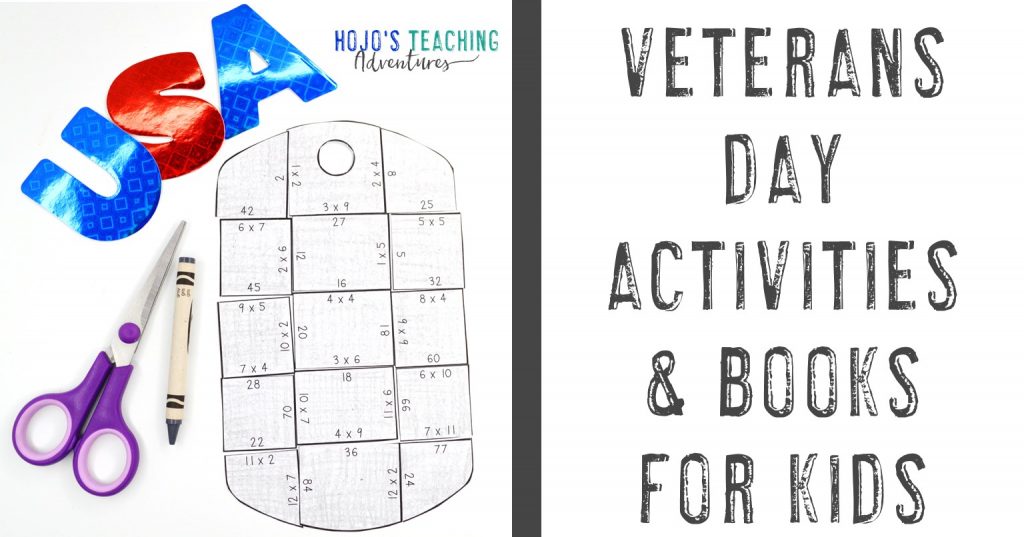 This post contains affiliate links. This means I make a small commission at NO EXTRA CHARGE to you when you purchase through my links. Thank you for supporting my family and me! You can read my entire disclosure statement here.
Veterans Day Activities For Math
The first thing I want to share are these dog tag math puzzles. Dog tags are one of the most important things that come to mind when we honor our vets. Our soldiers wear dog tags to make sure people can identify them if they die in service. But to students, especially children with a parent in the military, dog tags are also fun. It's a big deal with mom, dad, or another service member, actually allows someone else to handle their dog tags. Because of this, these dog tag puzzles are sure to appeal to your students.
These dog tag puzzles are available for all four basic math skills and they are a lot of fun to put together. So much fun, in fact, that kids won't even mind practicing their Math skills. This is a win for everyone since we parents and teachers all know how important it is to get kids to practice and build up those good lifelong Math habits.
These puzzles are also designed to offer a challenge to every student in your classroom. It's always wonderful when your students feel engaged and no one is falling behind!
Various Veterans Day math activities are available below. Click on the one/s that are most appropriate for your students.
Make Your Own Veterans Day Puzzles
These dog tag puzzles are great for teaching all kinds of other things beyond math. With my Editable Dog Tag puzzle, you can make any kind of puzzle you can imagine. Perfect for practicing facts of all kinds, advanced math problems, sight words, literacy concepts, and much more!
Click this link to find an editable dog tag puzzle in my TpT store.
What Teachers Are Saying About Veterans Day Activities for Kids
People who have bought my Veterans Day activities have said:
Also Great for Decor and Cards!
There are some wonderful things your students can make with these Veterans Day dog tag puzzles once they are completed and colored. Decorate for the day with United States flags, dog tags, and signs that read, "Thank You For Your Service!". I'm sure you can imagine what a great hallway display that would make as well. Dog tag puzzles would also be a great addition to handmade cards or other gifts to honor a service person in their lives.
Your students will be proud to see their hard work on display in such a great way. And they'll know that they did their part to honor the day. Best of all, the administration won't even think to complain. After all, there is so much academic work involved in these puzzles. And who can complain about teaching our students to respect our troops?
Veterans Day Books For Your Students
Veterans Day is an important holiday. But teaching students what the military is all about can be tricky, depending on their age. I've pulled together a nice selection of picture books and a couple of chapter books that will help bring this holiday home to your students. And reading practice is always a good thing!
Picture Books
Chapter Books
On Veterans Day, the citizens of the United States honor all the men and women who have served or are serving in the military. These Veterans Day activities will help you incorporate this important day into your classroom while ensuring that your students still develop their Math, reading, and creative skills!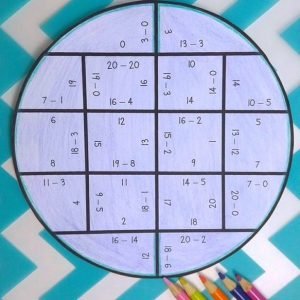 Still not sure about my Veteran's Day activities? No worries!
Click here or on the image to grab your FREE circle puzzles. Then you'll see if these puzzles are a good fit for your students. Addition, subtraction, multiplication, and division options are included in this freebie.