No Thanksgiving classroom would be complete without turkeys, so if you're looking for turkey activities for your elementary or homeschool classroom, you've come to the right place. Turkeys are an iconic part of November in America. These wonderful birds are special to the American people. There is even a myth that Ben Franklin suggested the turkey as the national bird over the bald eagle. While not true, he did say that the turkey is a "bird of courage." Most people, however, just think of turkeys as something delicious to eat – especially on Thanksgiving!
In this blog post, I'm happy to share some ideas for bringing turkeys into your classroom. These plump and friendly birds can share in the Thanksgiving fun in a number of ways. We'll talk about math puzzles that help  students practice their basic skills to a great selection of picture books and chapter books to celebrate turkeys. I'll also include some ideas for how your students can express their creativity while making decorations that celebrate the turkey we have all come to love!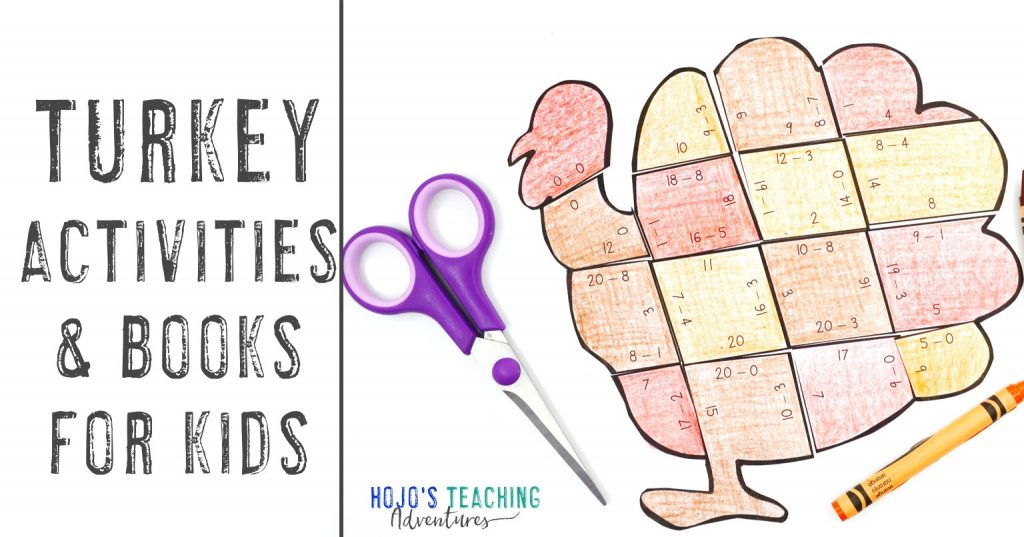 This post contains affiliate links. This means I make a small commission at NO EXTRA CHARGE to you when you purchase through my links. Thank you for supporting my family and me! You can read my entire disclosure statement here.
Turkey Activities For Math
First off, I want to tell you about my wonderful Turkey Math Puzzles. These cute puzzles are so much fun to work, and each one – when completed – becomes a pretty little turkey. These turkey puzzles come in all four basic math skills and offer varying degrees of difficulty. Not only can your students practice the skills they need the most, but they can also work at their appropriate level. This means that your advanced students aren't bored, and the students who need a little more time don't get left behind. This is so crucial to the attitude of each individual student!
Various turkey math activities are available below. Click on the one/s that are most appropriate for your students.
There's also this little turkey fraction puzzle.
You can grab it by clicking on this link or on the image below.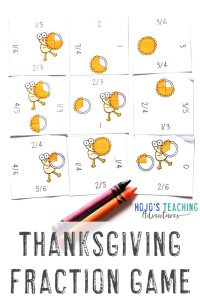 Make Your Own Turkey Puzzles
These wonderful turkey puzzles are a great tool for teaching all kinds of other things other than math. Check out my Editable Turkey Puzzle which you can use to make any kind of puzzle you can imagine. Perfect for practicing facts of all kinds, advanced math problems, sight words, literacy concepts, and much more!
Click this link or the image below to find an editable turkey puzzle in my store.
What Teachers Are Saying About Turkey Activities for Kids
People who have bought my turkey activities have said:
Turkeys Make Great Decor and Gifts!
Can you picture the adorable hallway display you could make with your students turkey puzzles? Once your students assemble their puzzles, they can color them any way they want. And all those colorful birds can be a great addition to any other Thanksgiving decorations you have going. These adorable birds also make great wall decorations, doorway displays, and would look super cute on an  Thanksgiving card project, too!
Students love to see their hard work on display. And the best part of all is that the administration won't even think to complain because of all the hard, academic work that went into these puzzles.
Turkey Books For Elementary and Homeschool Students
Whether you are celebrating Thanksgiving, Christmas, or simply the Autumn, turkeys are an important part of the season. These wonderful books about turkeys are a great way for students to practice their reading skills. These picture books and chapter books all make those adorable turkeys the star of the show!
Picture Books
Chapter Books
Every Thanksgiving turkeys come to mind. These plump and friendly birds are such an important part of the season, so it's only right to include them in all the fun. These turkey activities will help your elementary students do just that while practicing various learning skills and creativity!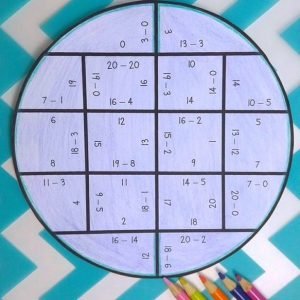 Still not sure about my turkey activities? No worries!
Click here or on the image below to grab your FREE circle puzzles. Then you'll see if these puzzles are a good fit for your students. Addition, subtraction, multiplication, and division options are included in this freebie.