Kitties are special and many kids have a pet cat – making them a popular subject throughout the year. But when autumn and Halloween come around, it's a great time for some fun cat activities for kids in your elementary or homeschool classroom. After all, next to the Jack-o-Lantern, black cats are an iconic symbol of Halloween. But whether you are in the mood for spooky, or just want to talk about how adorable cats are when they purr, kitties are always a welcome addition to your classroom!
In this blog post, we'll talk about some great ways that you can fill your students' day with kitties. I've got some wonderful cat shaped math puzzles that make it fun for students to practice their fundamental math skills. I've collected some wonderful books, too – picture books and chapter books about kitties and the people who love them. And books about black cats and Halloween, too, in case you want to share some seasonal fun through reading. Finally, we'll talk about how your students can turn their puzzles into decorations for the classroom and more!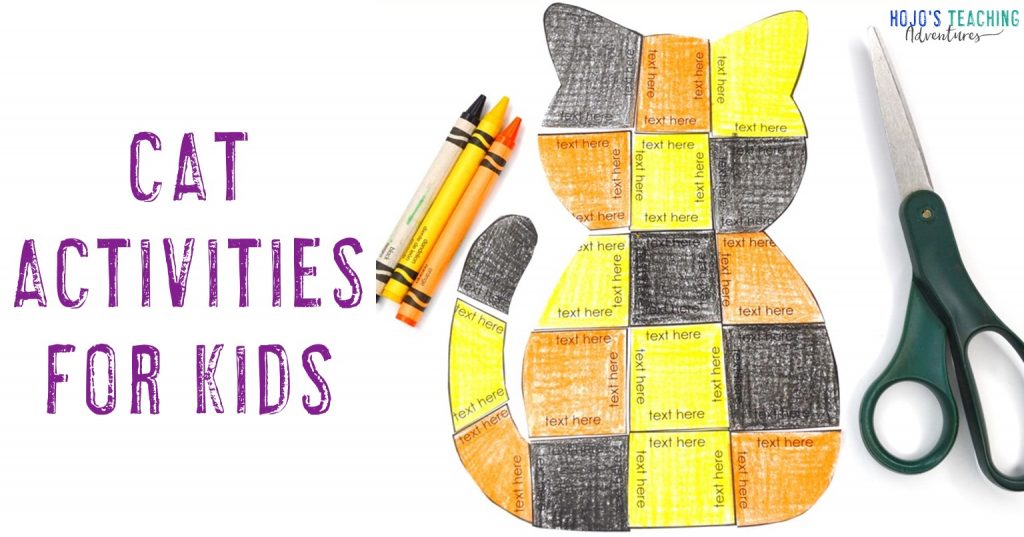 This post contains affiliate links. This means I make a small commission at NO EXTRA CHARGE to you when you purchase through my links. Thank you for supporting my family and me! You can read my entire disclosure statement here.
Cat Activities For Math
First off, I hope that you will check out my great cat math puzzles. These fun puzzles are a great way to challenge your students as they practice their basic math skills. Available in various levels of difficulty, these cat puzzles are easy to match to individual students to provide differentiation. That way, you can make sure everyone is working at their appropriate level so no one gets bored or feels left behind. And when kids are finished working their puzzle, they have an adorable kitty to color and decorate!
Various cat math activities are available below. Click on the one/s that are most appropriate for your students.
| | |
| --- | --- |
| | Click to get your DIVISION cat games now! |
| | |
Make Your Own Cat Activities Puzzles
People like to say that kitties have nine lives. That may not quite be true, but with my editable cat puzzles, I'm betting you can find at least nine different ways to use them. These handy puzzles are a great tool for teaching many things. Fill them out with more advanced math problems, sight words, literacy concepts, a foreign langugae, and facts of all kinds from all other subjects you teach. If it's something you want your students to practice, you can make it fun with my editable cat puzzle!
Click this link to find editable cat puzzles in my store.
What Teachers Are Saying About Cat Activities for Kids
People who have bought my Cat activities have said:
A wonderful resource for my own child who struggles with multiplication and loves cats! Very motivating!
This is just the thing my highly-capable learners needed to help build their fluency skills in a challenging and fun way. I am now a happy repeat buyer and am excited to purchase more of your thoughtful products!
Loved this resource to incorporate on sometimes a hectic day!
Fun way to practice addition facts. I used these puzzles as an activity for my substitute to use as part of my sub plans.
This made my students entire year! They keep asking when we can do it again!
These puzzles have been a HUGE hit!
This was a fantastic activity for Halloween week and the varying levels was very much appreciated!
Love all of these puzzles! Good to review math, but also makes them think when putting together the puzzles which aren't always so easy for them. So fun.
Just exactly the sort of thing I needed to make subtraction math drills more fun…thank you!
Cats Make Purr-fect Decor and Gifts!
Kitties are funny and pretty and full of personality. So when you use cat puzzles as classroom decorations, you create a sense of fun. And if it happens to be nearing Halloween and you pair those cat puzzles with my pumpkins, Autumn leaves, friendly owls, bats, and candy corn, your elementary students will feel ready to celebrate the season. You can also make great hallway displays and Halloween cards with these puzzles, too.
Students love to show off their hard work and creativity. Even better, you don't need to worry about the administration complaining because so much legitimate academic work goes into making these puzzles.
cat bulletin board example coming soon!
Cat Books (Including Black Cats and Halloween
Kids love reading about kitties all year long, and with that in mind, I've compiled a list of some wonderful picture books and chapter books about cats. Most are fiction, but there are some non-fiction choices, too. And if you are in the mood for Halloween fun, I've got you covered with some adorable black cat books, too!
General Cat Books
Picture Books
Chapter Books
Halloween "Black Cat" books
Picture Books
Chapter Books
Whether you are doing a unit on animals or simply wanting to celebrate Halloween with some spooky kitties, it is fun to bring cats into your classroom. And with these wonderful ideas, your elementary students can practice their reading, math, and creativity while celebrating one of their favorite animals – the adorable kitty!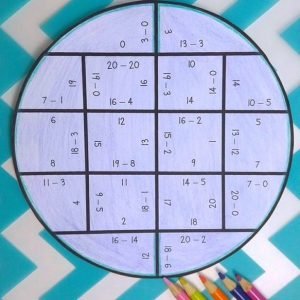 Still not sure about my cat activities for kids? No worries!
Click here or on the image to grab your FREE circle puzzles. Then you'll see if these puzzles are a good fit for your students. Addition, subtraction, multiplication, and division options are included in this freebie.