I'm sure it will come as no surprise to you when I say this. Kids love bats. They love to learn about them, draw them, and write about them. So when you can find a way to incorporate bats into your lesson plans, everyone wins. If you are looking for some great bat activities for kids in your elementary or homeschool classroom, you've come to the right place!
Did you know there are over 1000 different species of bats? The smallest ones (commonly called "bumblebee" bats) are only around an inch in length and weigh a couple of ounces. The largest – the flying fox fruit bat (like the famous Stellaluna) – can grow to have a wingspan of almost six feet! Although they may seem spooky, especially around Halloween – bats are beneficial for us all.
In this blog post, I'm going to showcase some great ideas for bringing bats into your classroom or homeschool. Halloween is obviously a great time for this – but there really is no bad time of year to learn about bats. I've got some excellent book ideas, and you can even make bats part of your studies with these cute puzzles I'm going to share. You'll also find ways to decorate your classroom with the help of your students!
This post contains affiliate links. This means I make a small commission at NO EXTRA CHARGE to you when you purchase through my links. Thank you for supporting my family and me! You can read my entire disclosure statement here.
Bat Activities for Kids – Math Fun
First off, I want to start you off with a great math download. These adorable bat math puzzles are perfect for Autumn, Halloween, or any other time you bring bats into your classroom. Kids love to solve these puzzles and put them together, which makes these puzzles the perfect tool for encouraging kids to practice their math skills.
After all, we all know that the best way to instill math concepts in those young minds is practice, practice, practice. These puzzles make it fun – and they cover all the basic math skills. This means you can challenge your more advanced students while making sure that no one gets left behind!
Various bat math activities for kids are available below. Click on the one/s that are most appropriate for your students.
Bat Tarsia Puzzles
These puzzles let you made a variety of shapes ALL YEAR. Below is the bat option, but you'll get nine shapes to let you make various shapes throughout the school year. Choose from addition, subtraction, multiplication, division, adding and subtracting within 100, or adding and subtracting within 1000 tarsia puzzles.
Your students are going to LOVE using these all year long, and you'll love having crafts ready to go for the year! Choose your tarsia puzzles here!
Make Your Own Bat Puzzles
You can even create your own bat puzzle. This puzzle is perfect for any skill you'd like your students to practice – math problems, sight words, literacy concepts, vocabulary, foreign languages, and much more!
Click this link to find an editable Bat puzzle in my store.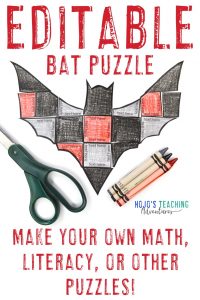 What Teachers Are Saying About Bat Activities For Kids
People who have bought my Bat activities have said:
I absolutely love these! I bragged about finding them for weeks! I love that it made my children think and problem solve, plus my administration loved seeing them up!
Great addition to our Bat station rotations!
I gave this to my gifted students as part of their enrichment packet for Bat Week. They were very excited to come back and show me the bats they had created. Great idea!!
Great Activity to pair with my bat cave transformation. The kids really enjoyed doing the puzzle. Both fun and challenging.
My students enjoyed creating this activity! It was a great way to decorate the room for Halloween and practice math!
Also Great for Decor!
Autumn is a great time to decorate your elementary classroom. Kids love Autumn activities leading up to Halloween and Thanksgiving. And these bat puzzles can be a great part of decorating for the season, especially when combined with my Acorn, Apple, Pumpkin, and Owl puzzles! I'm sure you can imagine how wonderful these would look on bulletin boards. They make great doorway decorations and hallways displays, too. And the best part is that this decor involves lots of academic work, so no one can complain that your students were spending their time frivolously.
Bat Books
And here are some great suggestions for books about bats your students will love. I've included both picture books and chapter books on this list so all your students can have a chance to practice their reading skills while learning all about these beneficial flying mammals!
Picture Books
Chapter Books
Bats are wonderful animals, and often misunderstood. With these fun bat activities for kids, you now have some great ideas to bring bats into your classroom. Your students can practice reading, math, and more – all while learning a little more about one of the animals that share our planetary home!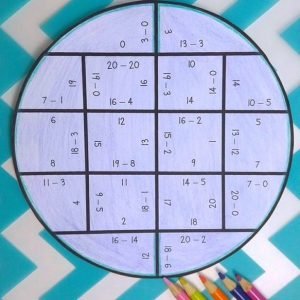 Still not sure about my bat activities for kids? No worries!
Click here or on the image to grab your FREE circle puzzles. Then you'll see if these puzzles are a good fit for your students. Addition, subtraction, multiplication, and division options are included in this freebie.