Most kids think owls are awesome – and they are right! Truly, is there any bird as cool as the owl? These birds are so spooky and mysterious, the way they fly silently around hunting in the dark. Then they snatch their prey up in those giant talons. Not only that, they can turn their heads almost completely around! So if you're looking for some great Owl Activities for Kids so you can incorporate those awesome owls in your fall or Halloween lesson plans, you have come to the right place!
I have got some great things to share with you in this post. Owls are a fun topic for kids all throughout the year, and kids are interested in them enough that you might just hold their focus a little longer – even if holidays or school breaks are looming large. I have some great ideas for books about owls – some fanciful and some that are perfect for young bird watchers! And I'm really excited to share some adorable owl shaped puzzles that I've created for you. And if you're looking for ideas of how to creatively bring owls into your classroom decor, I have some great ones for you!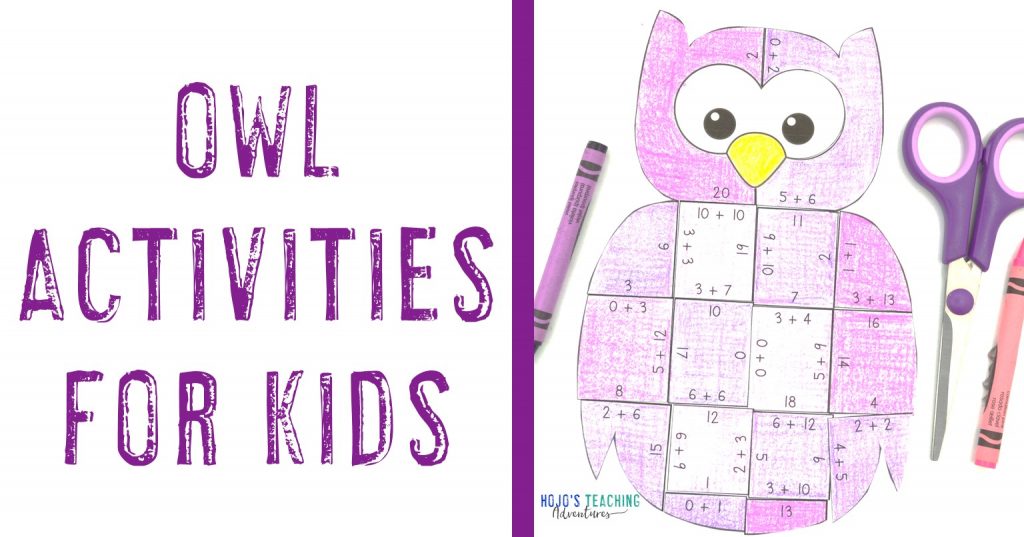 This post contains affiliate links. This means I make a small commission at NO EXTRA CHARGE to you when you purchase through my links. Thank you for supporting my family and me! You can read my entire disclosure statement here.
Owl Math Fun
One of my favorite owl activities for kids are these adorable math puzzles. When your students see these adorable little puzzles, they will be so charmed they won't even mind doing their math! We all know the best way to instill those basic math facts into young minds is through plenty of practice, and these puzzles make them want to do the work!
Various owl math activities are available below. Click on the one/s that are most appropriate for your students.
Make Your Own Owl Puzzles
You can even create your own owl shaped puzzle if you'd like. This puzzle is perfect for any skill you'd like your students to practice – math problems, sight words, literacy concepts, foreign languages, and more!
Click this link or the image below to find an editable owl puzzle in my store.
What Teachers Are Saying About Owl Activities For Kids
People who have bought my owl activities have said:
Also Great for Decor!
Did you know that there around 200 different species of owl? And there are at least that many ways your students can color their precious little owl puzzles once completed. Then their puzzles can become an amazing part of your classroom decor. From bulletin boards to doorway decorations, you can have owls everywhere you look. They make wonderful hallway displays, as well. And if you combine them with some of my other puzzles (like leaves or pumpkins), you can get really artistic! Your students will be proud to see their hard work on the walls, and the principal can't complain because of all the academic work that went into creating them.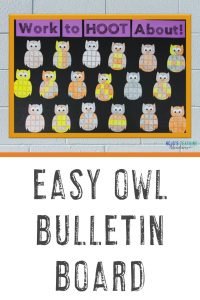 Wonderful Owl Books For Students
Kids love to read all about owls and I've picked some really cool books for you to share with your students. I've got picture books and chapter books here, and some of these books have such great pictures, I bet you'll be wanting to read them, too!
Picture Books
Chapter Books
Owls are one of the first animals young children become interested in. With their large eyes and wise ways, owls are a part of popular culture from Bambi to Harry Potter to Tootsie Roll Pop commercials. And now, with these great owl activities for kids, they can be a part of your classroom activities as well. What a wonderful way to encourage your students to read, practice their math skills, and express their creativity, too!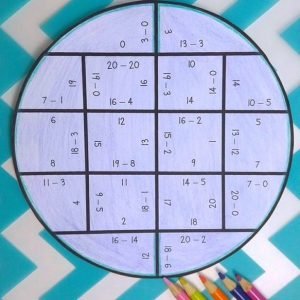 Still not sure about my owl activities for kids? No worries!
Click here or on the image below to grab your FREE circle puzzles. Then you'll see if these puzzles are a good fit for your students. Addition, subtraction, multiplication, and division options are included in this freebie.