Math can be a tough subject for many students. Yet we all know that if we can find ways to keep students engaged, they're going to like the material more, focus, and learn better. That's where they math puzzles for elementary students come into play! Read on to learn how you can take an every day math puzzle and help your students become experts on their basic math facts.
First, I'm sure you're wondering what these math puzzles are. I currently have addition, subtraction, multiplication, and division puzzles created for fifteen different holidays and seasons. There are also a few random puzzles with adding and subtracting within 1000, and I intend to create more puzzles as time goes on. (Feel free to leave a comment with your request. I can't make any promises, but I will consider all options.)
Make sure to stick around through the end. I've got a FREE math puzzle download with your name on them! 😉
Scroll to the very bottom of this post to see all of the in action photos!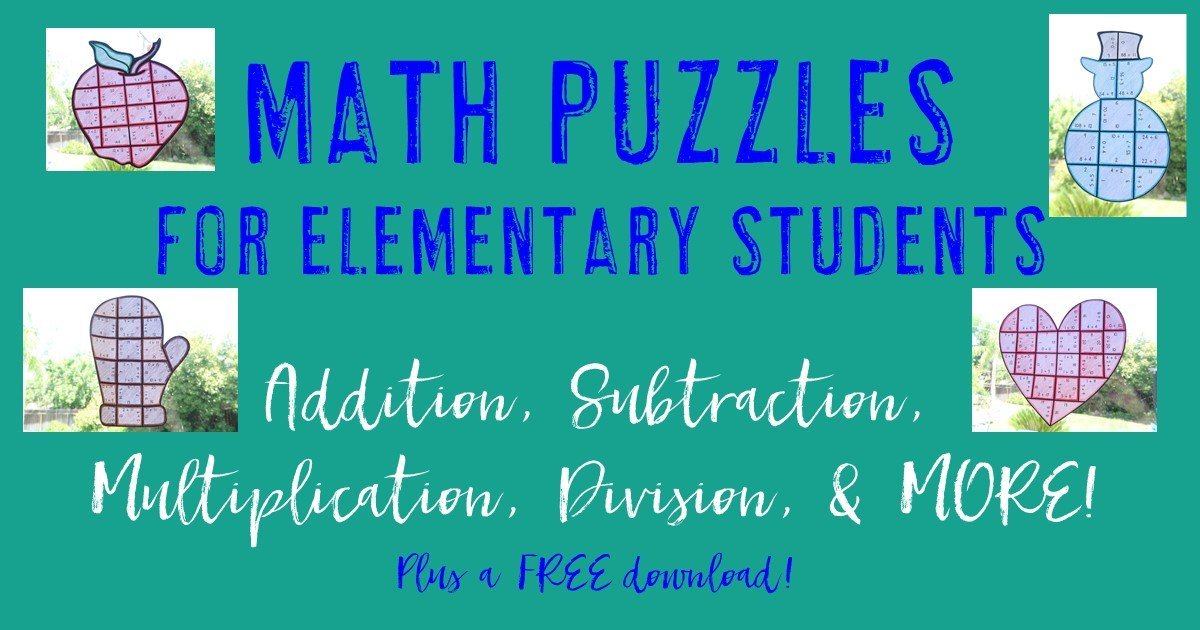 This post contains affiliate links. Please read my entire disclosure statement here.
Math Puzzle Benefits
Gives students a lesson in perseverance!
Keep students engaged through a fun, game format.
They're hands on.
Employ critical thinking skills.
Use them with ALL students – GATE, special needs, RTI, Title I, ELL, and general education classrooms.
Use them in a variety of ways – small groups, individual work, partner projects, and more!
These can be used for a variety of reasons:

Seasons/Holidays
Centers
Review
Early or fast finishers
Enrichment

Plus they're low prep so teachers can have them ready in no time – just print, cut, and go!
How to Prep Math Puzzles
Print 2. Cut 3. Go
Ok – maybe it's a little more work than that, but it's really not too hard to prep these math puzzles.
Print off the desired numbers of copies. Some puzzles contain differentiated versions, so make sure you print the puzzle/s you need.
Cut out the holiday puzzles. (You can also laminate them to ensure they last longer.)
Put them into plastic baggies for students' use. Each set gets its own plastic bag. Put all the baggies and one original sheet (to act as an answer key) in a manila envelope with the name of the activity on the front. This way you have the answer key and all materials readily available!
Don't worry! Students can see the puzzle beforehand! I give my students the full sheet, have them cut each puzzle out, and then ask them to put the puzzle back together.
Don't want students to see the full math puzzle (which doubles as the answer key) before completing the puzzle? No worries!
Ask parent volunteers to cut out and prep the math puzzles.
Have students from another class (or high school volunteers) prep for you.
Have students cut the puzzles out a week early. (They're forgetful! J)
Give students a puzzle to cut out, but then have them complete a different puzzle by switching with a friend. Since most puzzles have multiple options or differentiated versions, this is an option for many of the puzzles.
Remediation Ideas
Go through the puzzles as a class first. Show them how to complete the puzzle. Talk through what you are doing.
Allow them to work with a partner, particularly the first time or two.
Tell the students the shape of the puzzle they are working on. Or draw a border around the outside of the shape with a noticeable color. Tell the students this is the outline.
Other Usage Ideas
Turn your Holiday Puzzles into a magnet center! This is great for math or literacy centers.
Create a file folder game. Simply put a little Velcro inside of a file folder and you have an immediate game you can use over and over with any set of Holiday Puzzles. (Plus those pesky puzzle pieces won't get lost!)
Once students understand how the puzzles work, have teams race to see who can complete the puzzle first.
After students have put the puzzle together, ask them to color it. When the entire class is done, you can create a bulletin board. (Do a quick Pinterest or Google search to come up with a catchy saying for that season or holiday.)
If you have a lot of classroom windows, glue the finished puzzles onto transparency paper and cut them out. Now you have beautiful pictures to display in your classroom windows.
Storage Ideas
Take one cut up Holiday Puzzle and put all those pieces into a plastic baggie. (This is what you'll give the students.)
Put all the baggies for one class set in a manila envelope with the name of the activity on the front. (Or you can print the first page of the resource and glue it on.)
This way you have the answer key and all materials readily available.
Math Puzzles Currently Available
Not sure yet? Don't worry! Try one for FREE!
You can try this fun shape puzzle for FREE! (It includes one puzzle for each addition, subtraction, multiplication, & division.) Click here or on the picture below to grab your copy now.
Now – if you're like me and know these puzzles are going to work great for your class, you probably want to grab them today! Remember you can save a LOT of money by downloading the bundles. They are located here: addition, subtraction, multiplication, and division.
If you're hoping your school will purchase these for you (and maybe even your entire team), then I strongly recommend printing out this handout for your principal or curriculum specialist. That way they will see all the benefits these puzzles have on your students.
Please feel free to ask any questions you may have about these math puzzles! And make sure to follow my store on Teachers Pay Teachers so you get e-mail notifications when I add new items.