Let's be real. Sometimes kids like gross things. And while we may not want to focus on these gross things – sometimes we want that engagement. So today this post is all about poop, boogers, and all things gross. I'm sorry….but if it keeps them engaged…that's a win, right? 😉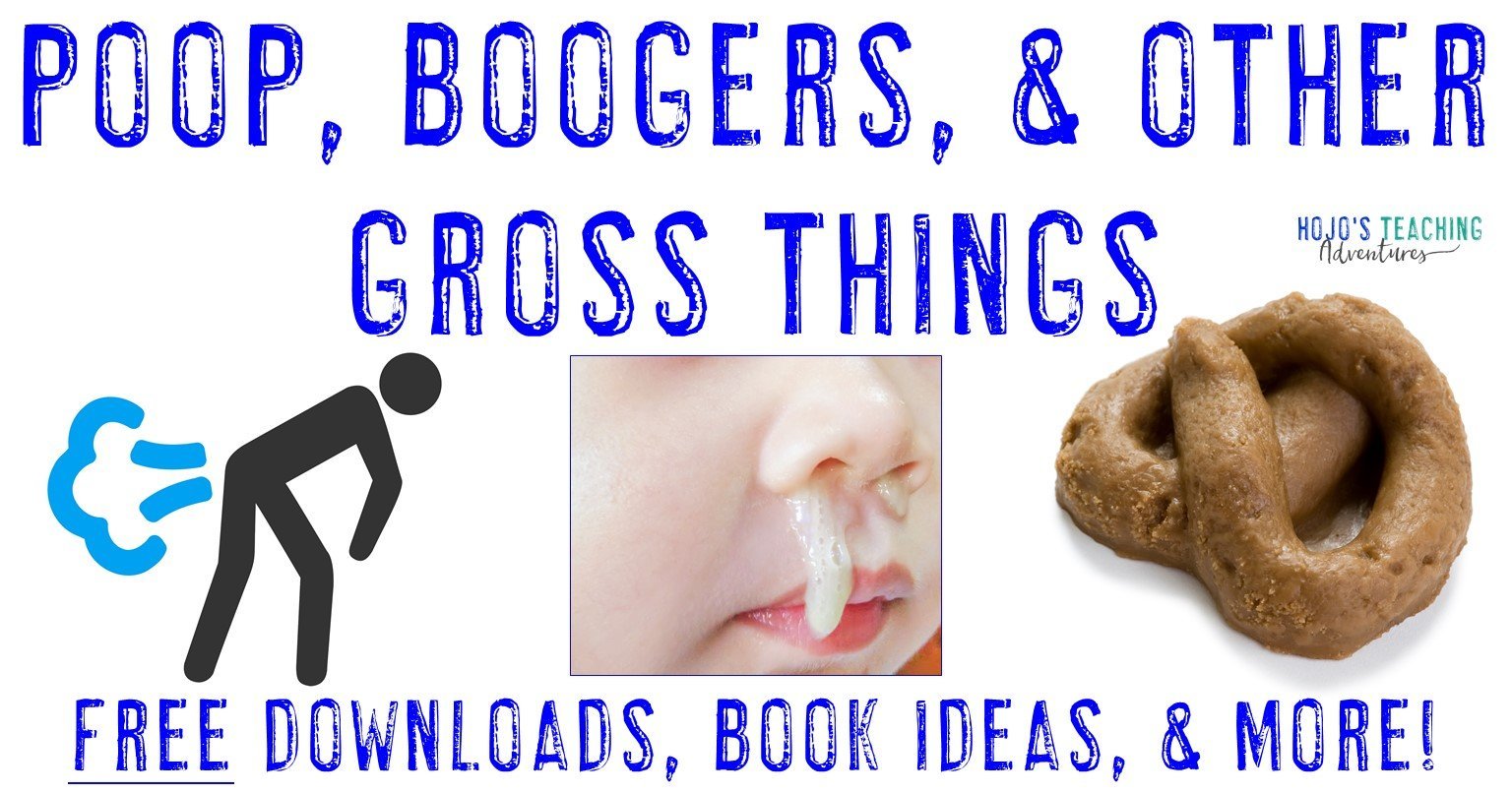 This post contains affiliate links. This means I make a small commission at NO EXTRA CHARGE to you when you purchase through my links. Thank you for supporting my family and me! You can read my entire disclosure statement here.
Poop
Poop seems to either be a taboo subject to people or one that they realize is part of real-life and deal with. Some even go as far as making jokes about it. Since you landed at this blog post my guess is that you're either in the "real life" or jokester camp. 😉
Either way, I think you'll love this FREE Editable Poop Puzzle. You can use it to make a poop puzzle on ANY topic – math, vocabulary, science terms, foreign languages, or anything that will keep your students engaged.
Want to make a "cute poop" activity? Then try your hand at this unicorn poop slime. Kids love it!
Books About Poop
If your students or own children love poop, then check out these books below.
The Dog Poop Initiative
If you're looking for a life lesson on taking leadership of a situation, I highly recommend the book The Dog Poop Initiative. This is a great way to engage students in what it looks like to take initiative and be a leader.
With so many schools doing bucket filling in the last few years, this is a great alternative for the students who are burned out. And I have a FREE download you can use to celebrate the "scoopers" who are cleaning up all the poop, even when it's not their own.
Or you can buy the entire The Dog Poop Initiative book companion right here.
Boogers
As if poop wasn't enough, the talk of boogers always seems to be a happy one among kids. So why not use this FREE Editable Booger Puzzle to keep them engaged. You write in your own math, literacy, vocab, foreign language, or other problems. Students then put the puzzle together. Learning in a "gross" way – that's a win, right?
Booger Books
Other Gross Things
Poop, boogers, and other gross things. Here are where the "other gross things" come into play. 🙂 #sorrynotsorry
Fart Books
General Gross Topics
While slightly disgusting and mostly off topic for this blog, I hope that poop, boogers, and other gross things helps you find a way to engage those hard to reach students in a fun, educational way.