Incorporating acorn games, books, and decorations is a great way to help your elementary students celebrate autumn in the classroom. If you live anywhere around oak trees, you are well familiar with the sight of pretty little acorns covering the ground. Acorns are one of the most recognizable of the tree seeds and are a favorite tree seed among children.
If you are looking for some great ideas for bringing acorns into your classroom or homeschool, be sure to keep reading. I have awesome ideas for math, reading, art, and more. Plus I have some great decorating ideas that will have your classroom looking like an autumn wonderland!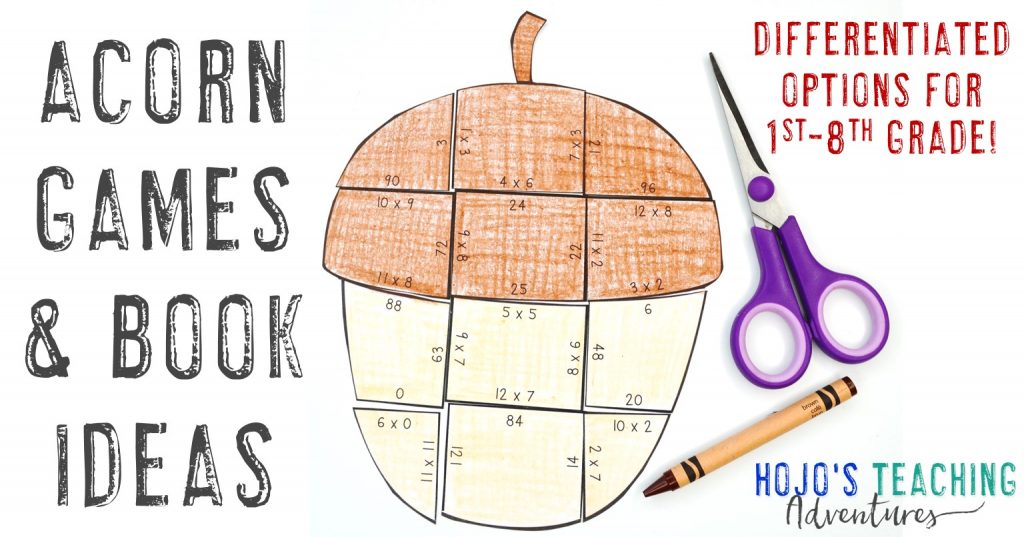 This post contains affiliate links. This means I make a small commission at NO EXTRA CHARGE to you when you purchase through my links. Thank you for supporting my family and me! You can read my entire disclosure statement here.
Acorn Games and Math Activities
I don't know about you, but every time I see an acorn, I'm tempted to draw a little face on it. I mean, don't you think they look like little heads wearing hats? Or is it just me? In any case, kids seem to love the friendly demeanor of acorns, which is why I thought they'd make for great math puzzles. And just wait until you see them. These puzzles make math practice FUN!
Choose from addition, subtraction, multiplication, or division puzzles. Each puzzle, once completed, becomes a friendly little acorn just ready to be colored in autumn splendor. And there is plenty of variety to choose from with your puzzles, making sure that you can match puzzles to the ability of your individual students. That way, no one is bored – or left behind.
And the best thing about these puzzles? They are so fun, kids will happily practice their math skills in order to put them together. After all, we teachers (and parents) know how important practice is when it comes to skill building!
Various acorn math activities are available below. Click on the one/s that are most appropriate for your students.
| | |
| --- | --- |
| Click here to grab your own MULTIPLICATION Acorn Activity Games.  | |
| | |
Make Your Own Acorn Puzzles
I also have a wonderful editable acorn puzzle you can use to make any kind of puzzle you can imagine. Perfect for practicing facts of all kinds, advanced math problems, sight words, literacy concepts, and much more!
Click this link or the image below to find an editable acorn puzzle in my store. 
What Teachers Are Saying About Acorn Games for Kids
People who have bought my acorn activities have said:
Also Great for Decor!
There are so many possibilities when decorating the classroom for autumn. And pretty little acorns fit in with them all! Whether you wish to fill the walls with pumpkins, leaves, or apples, acorns are right at home. Once assembled and colored, it's so easy to include these acorn puzzles in all kinds of decor. Hang them on walls or doors. Use them as a basis for seasonal gifts your students can make. Or use them as part of some amazing hallway displays. You really are only limited by your imagination.
Your students will love being able to show off their coloring abilities. And knowing that their puzzle is helping to make their classroom so beautiful will fill them with a sense of pride, too! Best of all, the principal can't complain because so much work goes into making these wonderful decorations!
Acorn Books Your Students Will Love
Acorns are pretty adorable and the oak trees they grow into are simply majestic. I've collected together some wonderful books featuring both acorns and oak trees. They are so cute! From picture books to chapter books about acorns and oak trees, your students will have lots of enticing reasons to practice their reading skills!
Picture Books
Chapter Books
With jaunty little caps on round little heads, acorns are one of the friendliest symbols of autumn. With all these great ideas for bring acorns into your elementary classroom, your kids will enjoy practicing their math and reading skills (and more!) with these fun acorn games!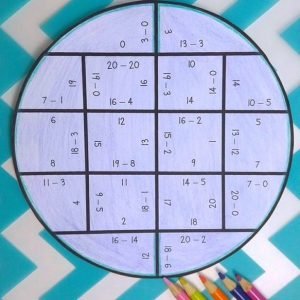 Still not sure about my acorn games? No worries!
Click here or on the image to grab your FREE circle puzzles. Then you'll see if these puzzles are a good fit for your students. Addition, subtraction, multiplication, and division options are included in this freebie.