Apples are one of the most popular fruits in the world, and a definite favorite among children. A wonderful way to celebrate autumn in your elementary or homeschool classroom is by adding some apple activities. And I have some great ideas to share with you!
Did you know that there are over 7,000 kinds of apples grown around the world? Around 2,500 are grown in the United States – 100 of them commercially. With so many varieties of apples in the world, it is safe to say that people truly love apples. And you can bring those sweet and friendly little treats to your students with some super-fun Math activities, picture books, chapter books, and more!
This post contains affiliate links. This means I make a small commission at NO EXTRA CHARGE to you when you purchase through my links. Thank you for supporting my family and me! You can read my entire disclosure statement here.
Apple Math Activities
First off, I would like to share some wonderful math puzzles with you. Covering the four basic math skills – addition, subtraction, multiplication, or division, these puzzles are both academic and FUN! Each puzzle, once completed, becomes a lovely little apple just waiting to be colored in all your students' favorite shades.
These puzzles are a great way to get your students to practice their math skills. Kids have so much fun making these puzzles, they barely notice that they are practicing math! These apple activities are a perfect way to give your high achievers something extra to do when their work is done early. And there is enough variety with these puzzles to make sure each student can work at the level that is just right for them.
Various apple math activities are available below. Click on the one/s that are most appropriate for your students.
Make Your Own Apple Puzzles
If you have other skills that you'd love your students to practice, my editable apple puzzle may be just what you need. With this you can make any kind of puzzle you can imagine. Perfect for practicing facts of all kinds, advanced math problems, sight words, literacy concepts, foreign language concepts, and much more!
What Teachers Are Saying About Apple Activities for Kids
People who have bought my Apple activities have said:
Fun review activity for the first few days of school!
This is a fun activity. There was a lot of deep thinking going on!
Terrific! The kids loved it!
Used this as a classroom display for open house. A great decoration for my classroom and a fun way for students to show their knowledge!
Copied a few on red, yellow, and green paper — laminated them and have them in baggies to last a long time — my kids love these!
Great resource for my Johnny Appleseed Day!
Great for differentiation.
Also Great for Decor!
There are many great things you can do with these apple puzzles once they are completed and colored. Those bright, colorful apples make wonderful decorations! Fill your classroom walls with apples, or decorate the doorway with lots of pretty puzzles. They make wonderful seasonal hallway displays, too. I'm sure that you can imagine all kinds of things you can do with these apple puzzles, especially when combined with other autumn puzzles like leaves, pumpkins, acorns, and more!
Not only will your students be proud to see their hard work on display in so many wonderful ways, you don't even have to worry about the administration complaining about wasted classroom time. Simply point out the academic work that went into all those decorations, and go on with your day!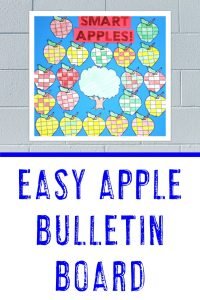 Apple Books Your Students Will Love
Apples are pretty and delicious. Not only that, they are fun to read about! I've collected together some wonderful books about apples that students are sure to love. From picture books to chapter books about apples, your students will have lots of great reasons to practice their reading skills!
Picture Books
Chapter Books
Dressed up in colors of red, pink, green, yellow, and more – apples are our sweet and juicy friends. These apple activities will help you bring these favorite fruits right to your students. With so many fun ways to celebrate apples, don't be surprised if they start wanting to bake a pie!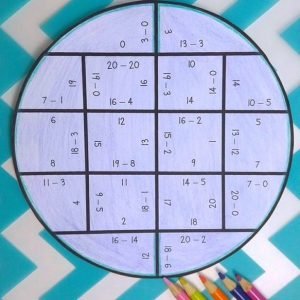 Still not sure about my apple activities? No worries!
Click here or on the image to grab your FREE circle puzzles. Then you'll see if these puzzles are a good fit for your students. Addition, subtraction, multiplication, and division options are included in this free download!