If you are including leaves in your lesson plans, you will find these academic leaf games for kids to be a big help. Leaves are, after all, a pretty great topic in the classroom. So simple that we mostly take them for granted, leaves are actually an important part of the world around us. From the first blush of spring when baby leaves begin budding to the autumn when leaves change to shimmering vibrant colors before falling to the earth – leaves mark the passage of the year.
Perhaps you are teaching a science lesson about leaves. Or simply looking for a way for your students to celebrate the passing seasons by drawing and coloring leaves. Whatever you are looking for, I've got some great ideas for you!
This post contains affiliate links. This means I make a small commission at NO EXTRA CHARGE to you when you purchase through my links. Thank you for supporting my family and me! You can read my entire disclosure statement here.
Academic Leaf Games and Math Activities
The first thing I'd love to share are these wonderful leaf shaped math puzzles. These things are so cool and versatile. They cover all four of the basic math concepts, and are perfect for challenging your advanced students while also ensuring that the rest of your class can keep up. After all, practicing the basic math concepts is so important. So the last thing we want is for kids to feel discouraged or bored with the work. These puzzles make math fun!
Various leaf shaped math activities are available below. Click on the one/s that are most appropriate for your students.
Make Your Own Academic Leaf Puzzles
If you love these leaf puzzles and would like to make your own with activities that go beyond math, be sure to check out the editable puzzle I have available! This puzzle is perfect for any skill you'd like your students to practice – advanced math problems, sight words, literacy concepts, and much more!
Click this link to find an editable leaf-shaped puzzle in my store.
What Teachers Are Saying About Academic Leaf Games For Kids
People who have bought my academic leaf activities have said:
Love it!
Students were challenged by this activity, but were motivated to finish because they wanted to see what shape it made. So much fun!
More coming soon!
Also Great for Decor!
Decorating the classroom for the seasons is a great way to celebrate the passage of the year. From leaves in various shades of pastels and greens in the Springtime to leaves of all different colors in the Autumn, students love to see their handiwork up on the walls. Once students have completed and assembled their puzzles, they can color their leaves with decorations in mind.
From classroom and doorway decorations to hallway displays, these leaves are a lot of fun! Best of all, you don't have to worry about the administration coming down on you, since so much academic work is involved in making the decorations!
Books About Leaves Your Students Will Love
I've put together a great selection of books about leaves. From adorable picture books to chapter books and informative books, too, there is something for everyone here. I bet you'll be wanting to read some of these, too!
Picture Books
Chapter Books
Leaves might be something that many of us just take for granted. But after checking out some of these wonderful books and putting together their own colorful leaf shaped math puzzles, students may just find that they want to learn even more about the plants and trees that share our world.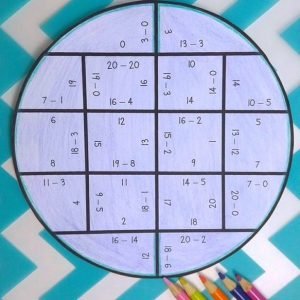 Still not sure about my leaf games? No worries!
Click here or on the image to grab your FREE circle puzzles. Then you'll see if these puzzles are a good fit for your students. Addition, subtraction, multiplication, and division options are included in this freebie.