The change of seasons in the classroom can be an exciting time for kids. The weather outside is starting to cool down, school is getting into a strong routine, and there are plenty of fall activites to keep students engaged all season long. Keep your students learning and having fun with the great ideas and book recommendations below.
There's something so fun about the changing leaves, acorns falling to the ground, and assortment of pumpkins all around. And let's not forget about the candy corn! Most people love those yummy little things! (And even if you don't, that's ok! You can keep reading! 😉 )
Make the most of the change into autumn with the great puzzles and ideas below. Or click through to see each post individually – that's where you'll get the book recommendations.
Want to learn even more?
You can find book ideas, more activity links, and bulletin board suggestions. Click on each topic below that interests you.
Enjoy all the great fall activities and ideas shared above. They're sure to be a hit!
Please pin the image below to ensure others see all these great fall activities as well. I'm sure every child will love working with pumpkins, candy corn, acorn, and leaves in the months of September, October, and November.
You can also scroll to the very end of this page if you want to purchase any of the fall activities using your PayPal account or credit card via our secured store.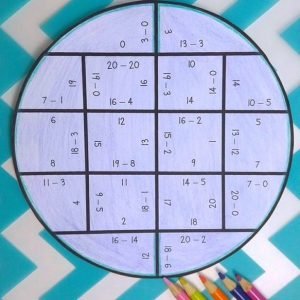 Still not sure about my Fall activities? No worries!
Click here or on the image to grab your FREE circle puzzles. Then you'll see if these puzzles are a good fit for your students. Addition, subtraction, multiplication, and division options are included in this freebie, plus NO PREP options for each one.