Whether you love them or hate it, you have to admit that candy corn is one of those unmistakable signs of fall – especially around Halloween and Thanksgiving. So if you are looking for a way to bring autumn into your elementary classroom, you need these candy corn activities for kids.
You know the best way to keep kids focused on work is to make it fun. So I have some fun ideas to share which encompass math, reading, art, and any other skill-building activities you have in mind for your students. Before you know it, your classroom will be so full of tri-colored candy corn, it might just make you hungry for those chewy little snacks!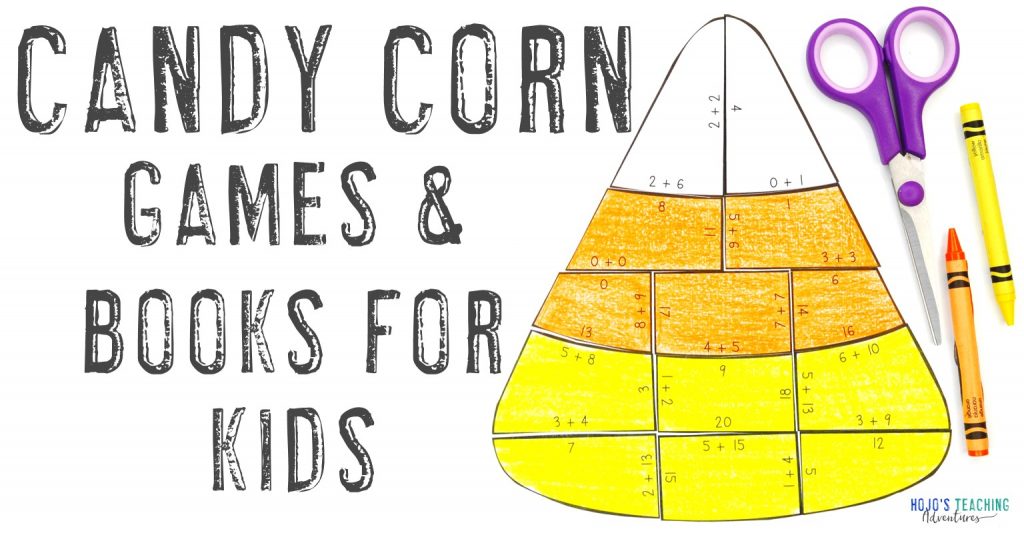 This post contains affiliate links. This means I make a small commission at NO EXTRA CHARGE to you when you purchase through my links. Thank you for supporting my family and me! You can read my entire disclosure statement here.
Candy Corn Math Activities
Oh, the wonders of candy corn. It's one of those ultimate fall treats that, like pumpkins, seem to show up everywhere when the weather starts to cool. The closer we get to Halloween and Thanksgiving, the more we see them all around. And if you have kids who trick-or-treat, you end of finding even more of those orange, yellow, and white candies. These candy corn math puzzles are sweet for a different reason. These puzzles make math practice FUN.
There are four different types of puzzles to choose from, covering the four basic math skills – addition, subtraction, multiplication, and division. Each puzzle, when completed, becomes a friendly little candy corn just waiting to be colored in all those wonderful autumn colors (or any other way the student prefers). These puzzles are so fun your students will actually want to practice their math skills! And there is enough variety that you can easily make sure all your students are working puzzles at their own level. This way, no one feels bored or left behind.
Various candy corn math activities are available below. Click on the one/s that are most appropriate for your students.
| | |
| --- | --- |
| Click here to buy your own MULTIPLICATION Candy Corn puzzles now!  | |
| Your ADDITION Candy Corn puzzles can be found by clicking here!  | |
Make Your Own Candy Corn Puzzles
I also have wonderful editable candy corn puzzles you can use to make any kind of puzzle you can imagine. Perfect for practicing facts of all kinds, advanced math problems, sight words, literacy concepts, vocabulary, foreign language practice, and much more!
Click this link or the image below to find an editable candy corn puzzle in my store.
What Teachers Are Saying About Candy Corn Activities for Kids
People who have bought my Candy Corn activities have said:
Also Great for Decor!
Decorating an elementary classroom for fall is so much fun. Autumn colors are bright and pretty. And there is something rather warm and comforting about all the shades of red, orange, and yellow to be found everywhere you look. These candy corn puzzles, once assembled and colored, are the perfect addition to fall decor. You can decorate the walls and doorways with these bright candy shapes, and include them in hallway displays, as well. Just think about some of the cute displays you can create with candy corns, pumpkins, leaves, and more!
Students love seeing their hard work on display. And the coolest thing? No administrator can complain about the decorations because of all the academic work involved in building these puzzles!
Candy Corn Books Your Students Will Love
Kids love to read about candy corn when they aren't busy eating it – and I've collected together some excellent books for you. From adorable picture books to chapter books about candy corn, your students will have lots of enticing reasons to practice their reading skills!
Corn-shaped and brightly colored in orange, yellow, and white stripes, candy corn is one of the most popular signs of autumn. Those sweet and sugary candies are not just tasty – they are pretty. And with all these cool candy corn activities for kids, you'll be able to bring those bright candies into your elementary classroom with zero risk of cavities!
If you want the real deal – with enough for everyone in the class – click this link. You'll get four pounds of the sugary treats you can use as classroom rewards all autumn long. (Just keep in mind any district or school policies you have about food in the classroom.)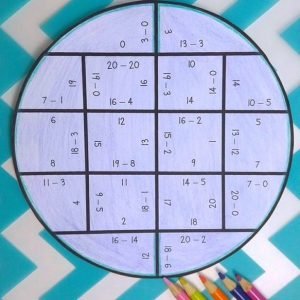 Still not sure about my candy corn activities? No worries!
Click here or on the image to grab your FREE circle puzzles. Then you'll see if these puzzles are a good fit for your students. Addition, subtraction, multiplication, and division options are included in this freebie.