Showing appreciation for others. It is something not done often enough anymore, in my opinion. When is the last time you really showed someone how much you care? When is the last time you were shown appreciation?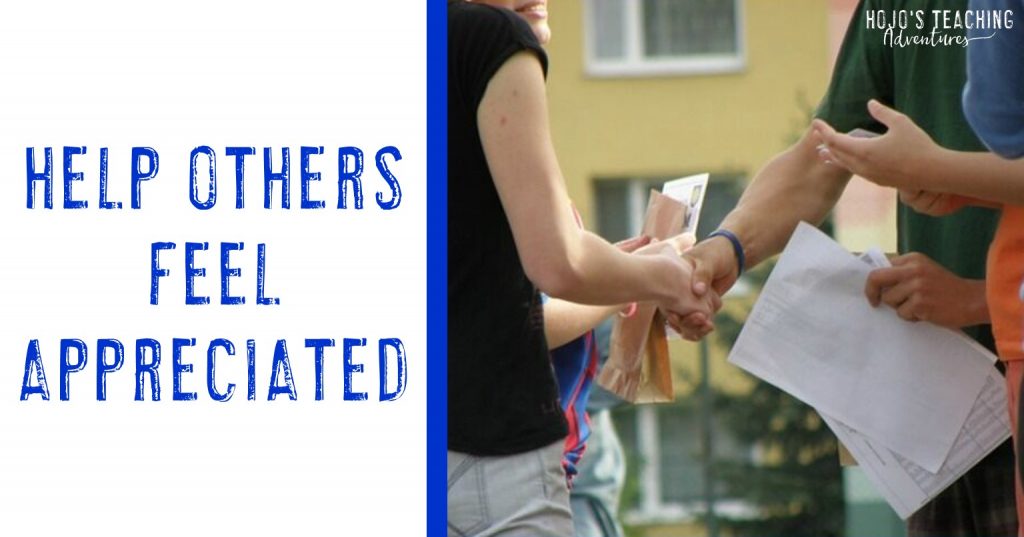 It's not that hard to show appreciation to others – whether colleagues or students. You can do it today! Don't let those around you feel overlooked and undervalued. Show them they are appreciated. It will do wonders for their self esteem, and it will even help you feel a little better. Seriously! People often feel better about themselves when they know they have helped others out.
Showing appreciation for others can be simple. A sincere thank you or a high five might be all it takes to light up a students day. A quick note on a colleagues desk for covering that extra recess will be greatly appreciated.
Just make sure that "thanks" is sincere. We've all been on the receiving end of a thank you that could have just as well been forgotten. If it's not sincere, it doesn't mean much.
So how exactly do you really make your thanks ensure others feel valued and important? With these three steps.
Get specific. Make sure to tell your recipient exactly what you are thankful for. This will help you be seen as genuine instead of simply writing or saying thank you out of obligation. Instead of telling a student, "Great job on your writing assignment," take it further. "Wow! You did a great job on your writing assignment. I can tell you've really been working on using more descriptive words like we've discussed. Keep it up!" Can you see the difference?
Let them know they helped. Oftentimes we write thank you to show our appreciation because someone helped us out. Be specific in this area of your thanks. Rather than telling a colleague, "I appreciate you taking that recess duty for me," say this: "I so appreciate you covering that recess duty for me! I was able to catch up on grading all the essays from the sick day I took yesterday. You really helped me out!" Yes, we're still being specific, but we're also letting them know how they helped us out.
Make it personal. Everyone has their own strengths. Let the person receiving the thank you know that you recognize theirs! If a colleague stepped up and led that last in-service, let them know that their speaking skills were greatly appreciated. If a student took the time to get your classroom library cleaned up, let them know how much you appreciate their organizational skills.
Utilizing these three steps, you can make showing appreciation for colleagues and students easy! Take two minutes out of your busy day to show someone else that you genuinely appreciate what they do. Change are you'll get them on the road to being happy. Once they're happy, they'll pass it on to someone else, and the cycle will continue – all because of one little thank you that started with you. 🙂
If you want easy, pre-made ways to show your colleagues you care, try these links below.