It can be a challenge to make learning fun and engaging. That's why I wanted to create a list of 20 ways you can do just that. So let's get started!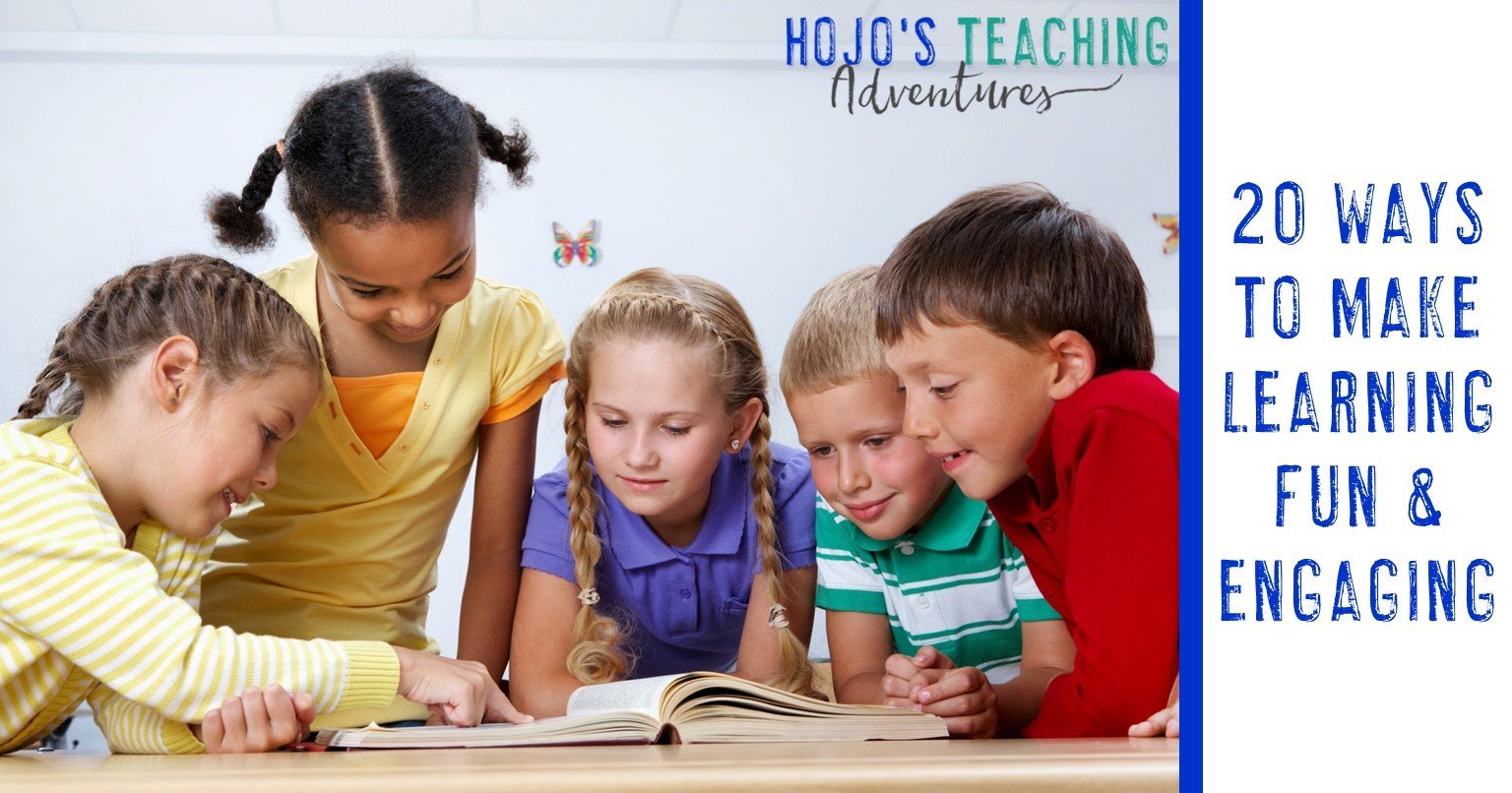 10 Ways to Make Learning Fun & Engaging
Hook 'Em – Find ways to get students excited about the topic at hand. Maybe you'll dress up or wear a silly hat. Perhaps you'll tell a story that leaves them on the edge of their seat. Regardless, get them hooked on the topic and you'll have them engaged through more (if not all!) of the lesson.
Let Them Talk – Depending on the age of your students, the "fun" and "engagement" might come by promising them five minutes of free talk at the end of the lesson if they work hard and focus.
Use Music – Younger elementary teachers can use music that teaches everything from colors to numbers to letter, but even upper elementary teachers can use music! Use it to teach multiplication facts, the prepositions, or the states and capitals. (Fun Fact – Pierre, South Dakota is pronounced like peer. 🙂 )
Surprise Them! – Find a way to surprise your students. Maybe you'll give them each a piece of candy randomly just for being there. Or yell, "pop quiz" and ask them all to get out a piece of paper and a pencil. Instead of giving the traditional quiz, make it fun! Ask them to tell you something funny that has happened to them, or ask what they want to learn about. While you may not be able to do this last one very often, it's sure to pique their interest once in awhile!
Let Them Teach – Let your students play teacher for the lesson, or even part of it. They'll love being in charge. You can go sit in their desk and be a student.
Make It About Them – Try to make the lessons custom built around your students. If they're super into Taylor Swift, do some informational text reading about her. If there's a song they can't get enough of (What Does the Fox Say, anyone?), use it to your advantage! Your students are more likely to be engaged and buy into the lesson if you do things that they actually care about.
Let Them Read What They Want – How often as teachers do we tell students they have to read books on their level? I know I've been guilty of this. But now think of it for a minute… As an adult with a college degree, do you only pick up college level reading material? Or do you also enjoy a cheesy novel or young adult story from time to time? Again, give your students choice. Don't force them to read only what you want. Let them choose what to read when possible.
Host a Competition – Many times it's fun to go head to head with your peers for a little fun. Whether you divide the class into teams for the next review or plan a full-out bracket for an activity – give it a go! (Just make sure to keep it fun and light-hearted so no one walks away feeling bad.)
Incorporate Technology – Lessons involve technology often leave students even more engaged than those without. So use it to your advantage! (Just please make the lesson worthwhile and not another "filler" activity.)
Work Together – Let's face it, sometimes we just like working with our best friend! If there is a time where working with a partner or small group will work – let them! This is going to make for happier, more engaged students. That's the goal – right?
10 More Ways to Make Learning Fun & Engaging
Wait a second, I promised 20 ways to make learning fun, didn't I? 😉 No worries! I wrote a guest post over at Minds in Bloom that has another ten ideas. You can check it out by clicking here. Wait! If you'd rather just get all 20 ways to make learning fun delivered directly to your inbox, you can sign up for my FREE newsletter. Click here if you want to sign up now! (If you just want the freebie and then choose to unsubscribe, I understand. But I'll miss you!)