Thanksgiving can often be the forgetten month since it seems every retail store goes straight from Halloween to Christmas. But in the classroom, you can still make the most of it with these Thanksgiving activities for kids.
Many school have a short week right before Thanksgiving, so these activities, games, and books are all great ways to keep the focus on academics. As you scroll below click to see each individual blog post and learn more.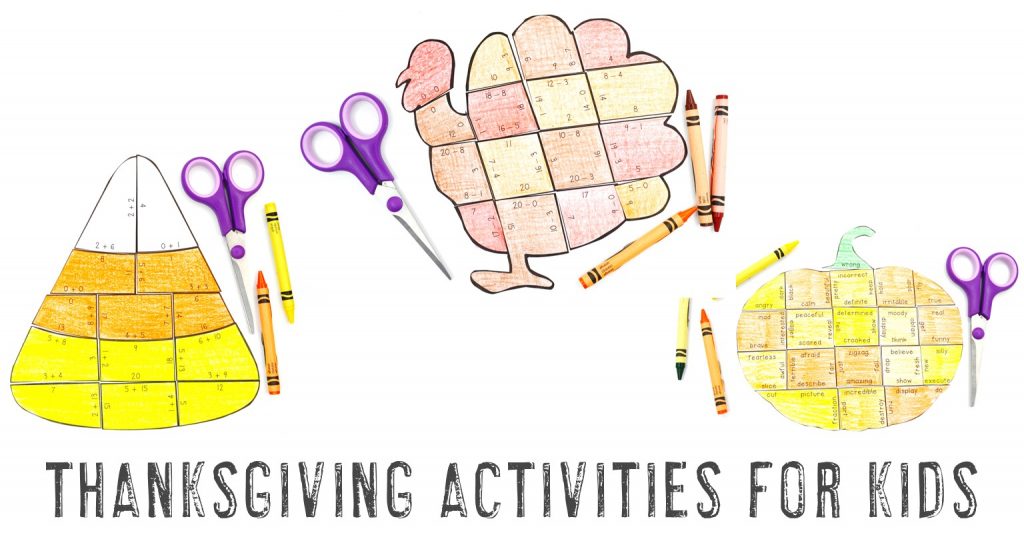 WANT TO LEARN EVEN MORE?
You can find book ideas, more activity links, and bulletin board suggestions. Click on each topic below that interests you.
Enjoy al the great Thanksgiving activities, books, and ideas shared above. They're sure to be a hit!
Please pin the image below to ensure others see all these great Thanksgiving activities as well. I'm sure every child will love working with pumpkins, candy corn, turkeys, and more in the month of November. 
You can also scroll to the very end of this page if you want to purchase any of the Thanksgiving activities using your PayPal account or credit card via our secured store.
STILL NOT SURE ABOUT MY THANKSGIVING ACTIVITIES? NO WORRIES!
Click here or on the image to grab your FREE circle puzzles.Then you'll see if these puzzles are a good fit for your students. Addition, subtraction, multiplication, and division options are included in this freebie, plus NO PREP options for each one.