If you're on the lookout for great winter activities for kids, you've come to the right place. This blog post features great winter ideas – including penguins, igloos, mittens, snowmen, and more!
Keep reading to see all the great math and literacy puzzles you can use in the elementary classroom. Most of the puzzles are NO PREP, and there are even editable puzzle options so you can create them on ANY topic you'd like. Read below to learn more and grab your own sets today! Plus there's also a FREE download.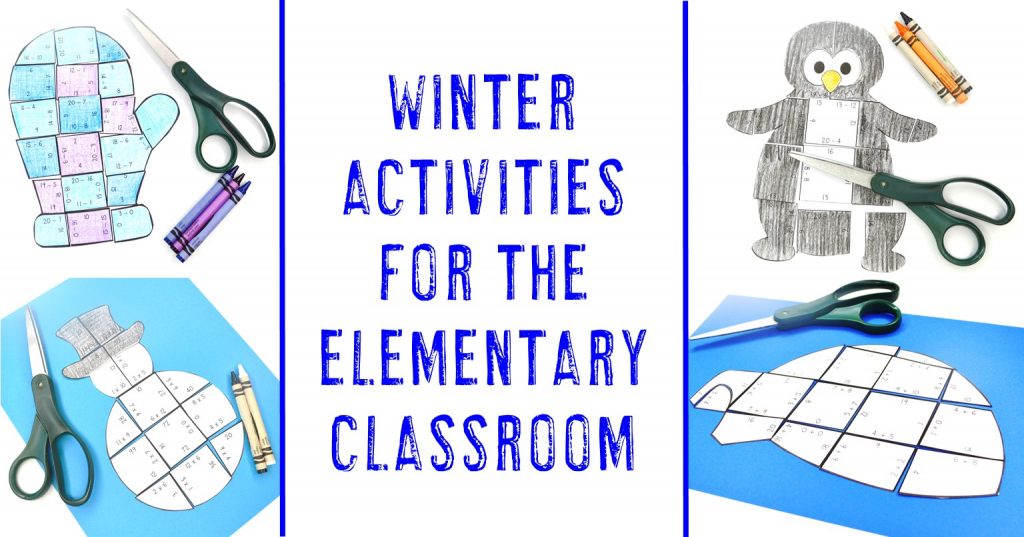 There's just something about snow on the ground – or the idea of snow, if you live in an area that is known for warm weather year round – that excites kids. Why not take that excitement and turn it into a great learning opportunity? The puzzles below are a great way to get some extra math or literacy practice in, all while enjoying the snowy weather.
Want to learn even more? You can find book ideas, more activity links, and bulletin board suggestions. Click on each topic below that interests you.
Enjoy the snow or just your snow-inspired activities! I'm sure your students will!
Basic Shapes into Winter Craft Art
The winter crafts below are made from basic shape tarsia puzzles. There are nine different shapes – heart, circle, square, rectangle, triangle, hexagon, oval, star, and diamond. Use those alone or together, add some fun "flair", and you get some amazing winter crafts for your students!
There are options for addition 0-20, subtraction 0-20, multiplication 0-10, division 1-2, adding and subtracting within 100, and adding and subtracting within 1000. Click here or on any of the images below to grab the puzzles that best fit your students needs.
This adorable snowman was made from a circle and triangle. I then free hand drew on his smile, used the eyes from this free download, cut out a carrot nose, and added some cotton balls to make the hat more three dimensional.
This cute little penguin was made from
an oval body and circle head
. I cut out the wings, beak, and feet from construction paper, and used
the eyes from this free download
. I always think black and white penguins in the hallways at school look adorable, but on the internet I feel the black never shows up as well as I want – hence the purple.
Please pin the image to ensure others see all these great winter activities as well. I'm sure every child will love working with snowmen, igloos, mitten, and penguins during the winter months. 🙂