Did you know that there are over 750 different types of butterflies in the United States and Canada? And that's just the ones that people have recorded. There are still thousands of species of butterflies and moths, all over the world, that still need to be recorded, and many more that we haven't even discovered yet! But we do know that no spring or summer would be the same without them! Children and adults alike are enchanted by butterflies. And what's not to love? Brightly colored and beautiful, they are like flowers that know how to fly. And they are important pollinators, too
If you are on the lookout for some beautiful Butterfly activities for your elementary school classroom, you'll definitely want to check out this blog post. I have some great things to share – like wonderful books about butterflies that your students will enjoy reading, and some lovely ideas for Springtime bulletin boards, too. You'll even find some fun Butterfly Math puzzles that your elementary students will actually want to work on!
This post contains affiliate links. This means I make a small commission at NO EXTRA CHARGE to you when you purchase through my links. Thank you for supporting my family and me! You can read my entire disclosure statement here.
Let's start off with these super cute and fun Butterfly math resources. Every teacher knows that the best way to get those basic math skills ingrained into the minds of their students is with practice, practice, practice. But when students get bored, it can be really challenging to get them engaged and working. That's why puzzles like these adorable Butterflies are so great. When students see that there is some fun involved, they are much more interested in doing the work. And with four different types to choose from – covering the four basic Math skills – you can make sure that all of your students can work on the skills they most need to practice!
Various Butterfly math activities are available below. Click on the one/s that are most appropriate for your students.
If you're not a math teacher, no worries! You can click here or on the picture below to grab an editable butterfly. You can then use this to create your own puzzle on ANY topic – math, ELA, foreign languages, science or social studies vocabulary, and more!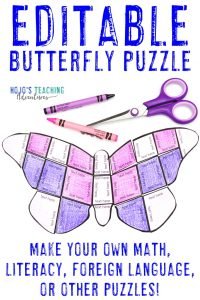 What Teachers Are Saying About Butterfly Activities
People who have bought my Butterfly activities have said:
This was such a challenge for my firsties, but it was GREAT! They loved that a beautiful butterfly was the finished product. Perseverance was a new word we got to use during this project!!
Love ! Love ! Love! So engaging and my kiddos LOOOOVVEEE it!!!
Love these puzzles to use at centers!
Great resource that is both fun and helping them practice their math skills – win/win to me!
This was a great way for students to practice their facts with an added challenge! They were SO excited when they finished and had a completed butterfly!
Really fun! Keeps the kids engaged independently. They look cute when they're finished. Challenging, but not tricky.
Also Great for Decor!
When classrooms are decorated for the seasons, it brightens everyone's spirit. And kids really love it when they get to help make some of those decorations themselves. That's one of the things that are so great about these butterfly puzzles. Just think about how wonderful all those completed puzzles, freshly colored in all the colors of the rainbow, would look in your classroom.
You can even combine them with my flower puzzles to make a lovely springtime mural! These puzzles make GREAT bulletin boards, doorway decorations, or even hallways displays! Your students can cut them out, complete their puzzles, and then color their happy butterflies any way they can imagine. The finished displays are simply stunning. And even better, the principal can't complain that these aren't academic enough, because students work so hard putting their puzzles together!
Butterfly Books
And here are some great book ideas to help your students practice reading while learning all about the life cycle of butterflies and how they live.
Picture Books
Chapter Books
Butterflies are a magical sign of spring. And with all these great butterfly books and activities to choose from, your students can celebrate the spring while practicing their math and reading skills. That's a win for everyone!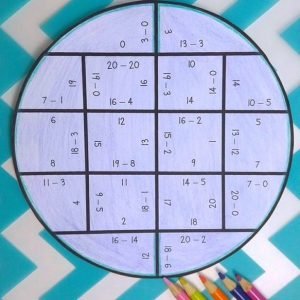 Still not sure about my butterfly activities? No worries!
Click here or on the image to grab your FREE circle puzzles. Then you'll see if these puzzles are a good fit for your students. Addition, subtraction, multiplication, and division options are included in this freebie.