No celebration of springtime in the classroom would be complete without including rainbow activities and raindrop fun. After all, those beautiful springtime flowers rely on rain to help them grow. So do the new blades of grass and budding leaves. Students often have a love/hate relationship with rain, but almost everyone loves a rainbow. Bright, colorful, and even a bit magical, rainbows are also a perfect example of a prism, and one of the most enjoyable aspects of the rain cycle. With all that in mind, it's easy to see some great ways you can incorporate rainbows and raindrops into your elementary classroom!
If you are on the lookout for some fun and useful rainbow activities, this blog post has some great things to offer. I'm going to showcase some wonderful books about rainbows, raindrops, and the water cycle – plus some lovely bulletin board ideas and even rainbow and raindrop math activities that you can do with your elementary students.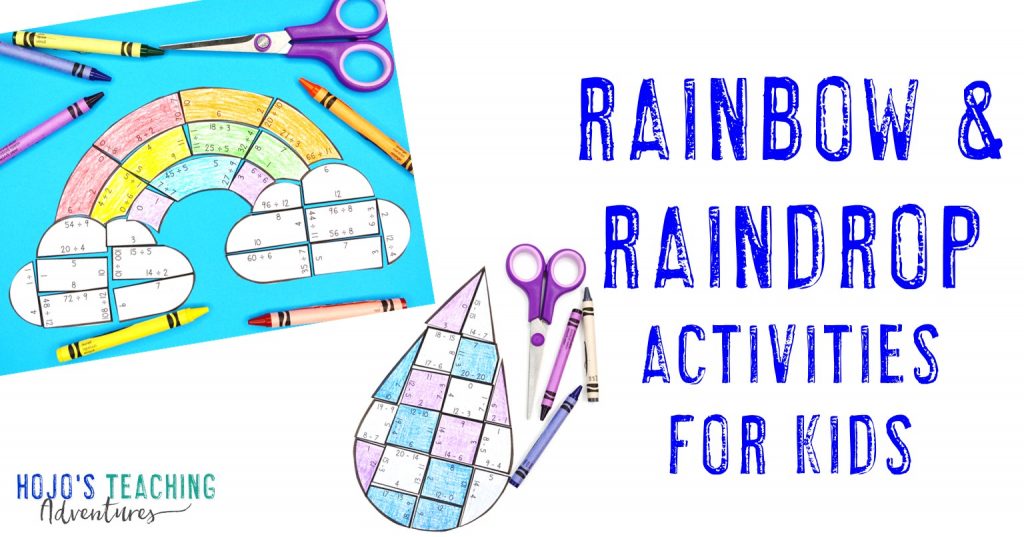 This post contains affiliate links. This means I make a small commission at NO EXTRA CHARGE to you when you purchase through my links. Thank you for supporting my family and me! You can read my entire disclosure statement here.
Purchase right now here on the blog or keep scrolling below to learn more –
I'd like to begin with some great rainbow and raindrop math resources. After all, we all know that when it comes to those basic math facts, the best way for students to learn is with lots of practice. But when students get bored, it can be really hard to get them focused.
These rainbow and raindrop math puzzles make the work so much fun that students actually want to do it. And best of all, these puzzles cover all four of the basic math skills, so your students can all work on the skills they most need to practice! (Don't worry – if you don't need math options, I have EDITABLE puzzles available too!)
Various rainbow activities and raindrop fun are available below. Click on the one/s that are most appropriate for your students.
| | |
| --- | --- |
| | Get your DIVISION raindrop puzzles here! |
| Click to get your ADDITION raindrop puzzles now! | |
If you want to create your own puzzles with the problems of YOUR choosing, you can do that as well! These puzzles work great for math problems, sight words, literacy concepts, foreign language, and much more.
Click here to grab the EDITABLE rainbow puzzle. Or click here to grab the EDITABLE rainbow puzzle.
What Teachers Are Saying About These Activities
People who have bought my rainbow and raindrop activities have said:
Also Great for Decor!
A classroom filled with springtime decorations is a wonderful thing to see. And when kids get to help make those decorations, they really love it. I'm sure you can imagine how lovely these rainbow and raindrop puzzles could look in your classroom – especially when combined with other springtime puzzles like flowers, butterflies, and bees!
These puzzles make GREAT bulletin boards, doorway decorations, or even hallway displays! Your students can cut them out, complete their puzzles, and then color their bright little rainbows and raindrops any way they imagine. Those finished displays are beautiful. And the administration can't even complain about them not being academic enough since the students worked and learned while putting their puzzles together!
Rainbow and Raindrop Books
And here are some great book ideas to help your students practice reading while learning all about rainbows, raindrops, and the water cycle.
Picture Books
Chapter Books
Rainbows are a bright and beautiful reminder that no matter how big the storm, the sun always comes out again. With all these great rainbow activities to choose from, you can find some great ways to teach students about the rain cycle while they practice their math and reading skills. Plus, they get a nice opportunity to be creative. What could be better?.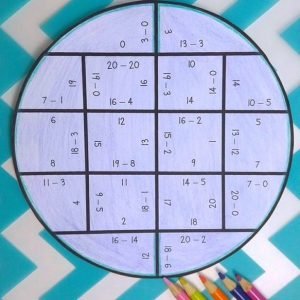 Still not sure about my rainbow activities? No worries!
Click here or on the image to grab your FREE circle puzzles. Then you'll see if these puzzles are a good fit for your students. Addition, subtraction, multiplication, and division options are included in this freebie.