These Find Remember Match games are a great way to reinforce various concepts with your elementary students! These activities are a fun, hands-on way to work on basic math facts or literacy concepts in a matching game format.
These Find Remember Match games are great for classrooms, homeschools, with Title I or special education students, for homework, to use on Family Night, and much more! Keep reading to learn more.
Want to look at all the options right now?
See all the Find Remember Match Games here!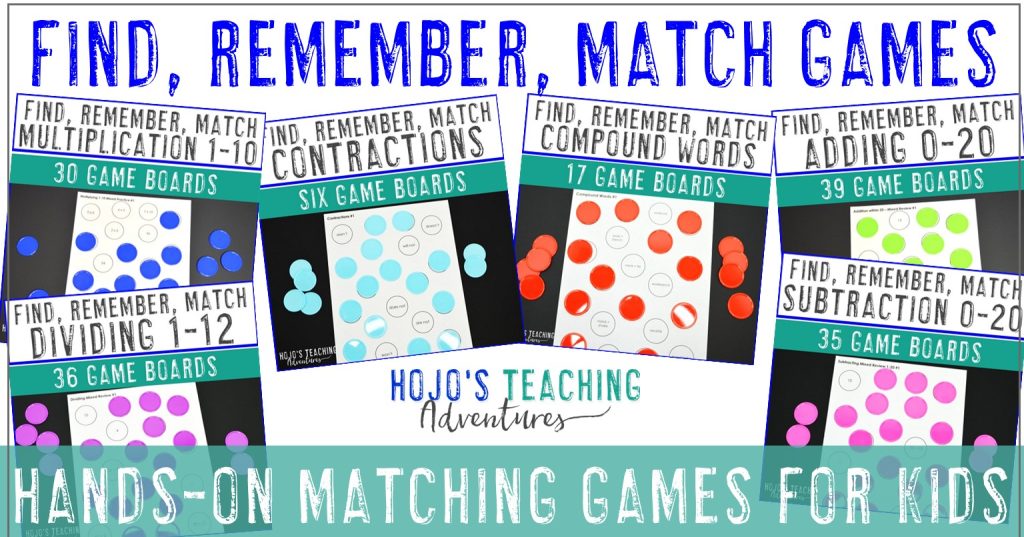 There are affiliate links in this article. This means when you click on the Amazon links below, I get a small commission at NO additional cost to you. You can read my entire disclosure statement here.
Find Remember Match Game Options
Let's go through what options you have to choose from –
More Find Remember Match games are in the works, and we will update this article as we get them done! Or you can reach out and contact us to make a request.
Want to look at all the options right now?
See all the Find Remember Match Games here!
How to Play
Let's dive right in and show you how to play. My daughter is OBSESSED with this game. We can play for an hour and she won't want to stop.
Want written directions instead of watching the video above? I got you!
Print the game board/s of your choosing (cardstock will allow them to be used more times without damage). Each game can be played by partners or a small group of 3-4 students.
Then choose what "chips" you want to use. Use 20 chips to cover one game board. (More "chip" info is included a bit farther down in this blog post.)
Have students choose two chips at a time. I tell them they need to state the answer out loud, allowing their partner to double check their answer. If their two chips match, they keep them. If the chips don't have matching answers, they get put back onto the same spot. (I know some people play where if you get a pair, you get another turn. You get to choose the directions that work best for you and your students!)
When all chips have been collected, each person should count their chips. The person with the most chips is the winner!
More Playing Options!
Above you saw the video on how I have played this game with my daughter and the more traditional way I expect these downloads to be used. But you could also have students race to place the most chips on the correct questions. They would need two different colors. OR you could use these as worksheets and give students ten different colors so they could match the two pieces. Either options makes these downloads more versatile!
Want to look at all the options right now?
See all the Find Remember Match Games here!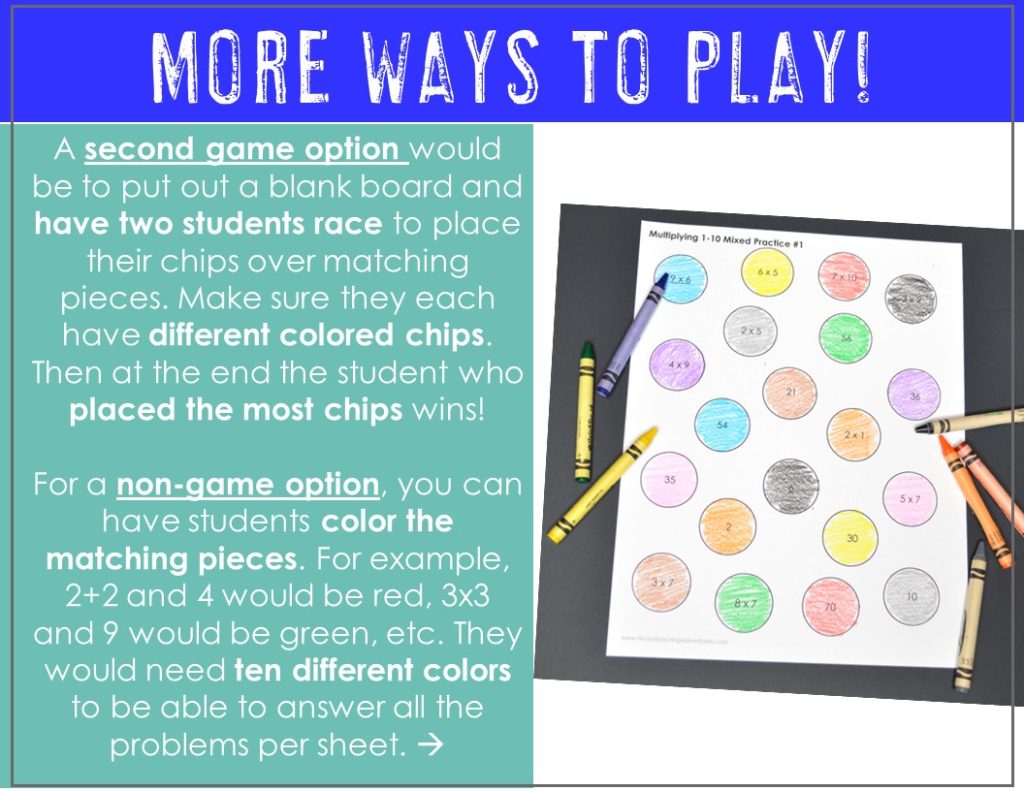 How Can Find Remember Match Games Be Used?
I love activities that can be used in a variety of ways! It means they are more versatile and I will be able to get as much use out of them as possible. Here are the ways I see these Find Remember Match games being used –
Centers, stations, or rotations
Review
Early or fast finishers
Worksheet alternatives
Partner or small group collaboration
Homework (families LOVE playing these games!)
Family Night (because hands-on engagement is the BEST!)
any time you want a fun, hands-on activity!
Buy Chips or Make Your Own
I bought this set of chips to be able to use with these Find Remember Match games. If you don't want to invest in the chips, I include various papers so you can use a 1.5″ punch to create your own.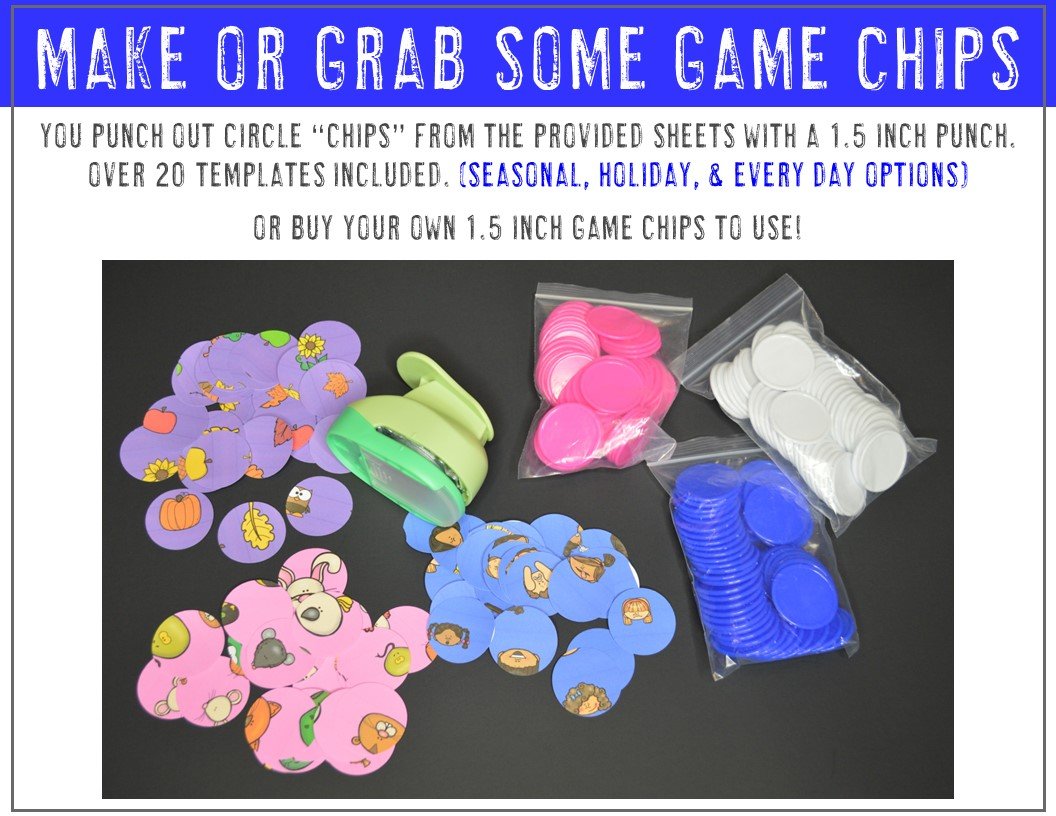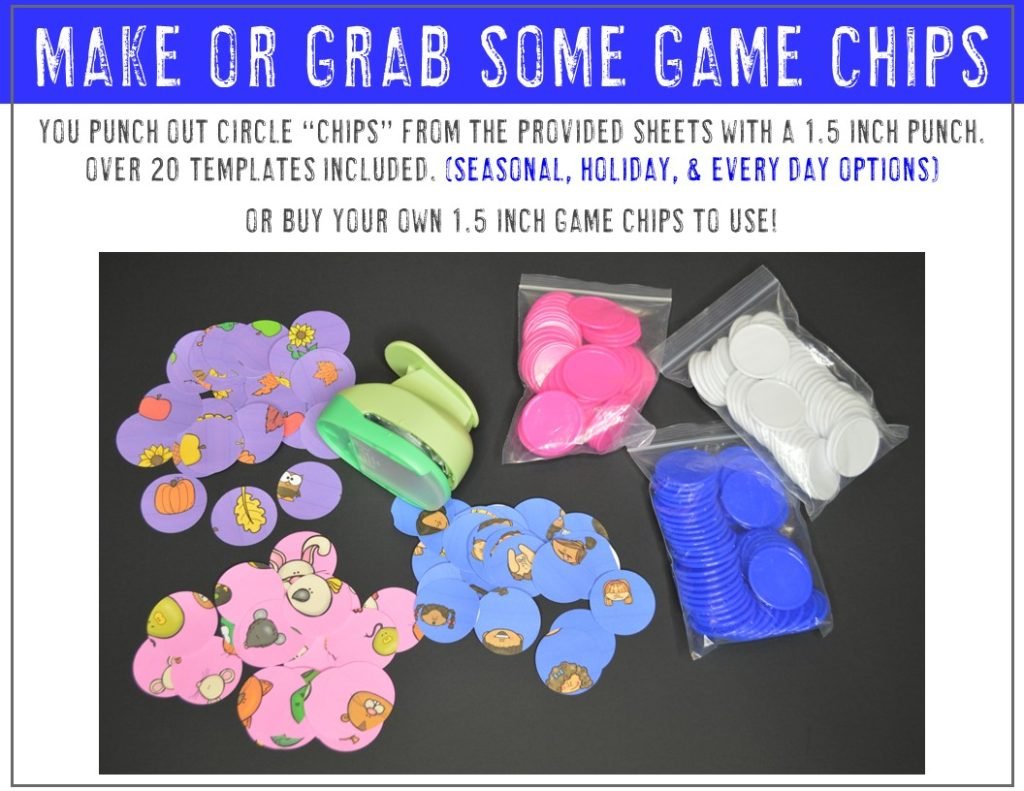 Here is a video where I share how quickly I was able to punch out the "chips" I wanted to use. It took less than five minutes. This would be a great activity for a classroom volunteer or the parent at home who wants to help. Simply send them the link to this via email and send the sheets you want punched out in their child's backpack.
Here are the 24 different paper options so you can make seasonal "chips" to make playing more fun. Of course you can keep it simple and use cardstock or construction paper chips as well. (You may even have poker chips in your teacher stash – meaning you don't need to buy anything extra or to take the time to punch these out.)
Customize Your Find Remember Match Games
While I have created a few different Find Remember Match games, I don't know exactly what your students need. That is why I have included an editable file compatible with PowerPoint in each game. You can write out your own problems and solutions or grab some from the books you are using. Then plug them into the circle matching game format.
Want to look at all the options right now?
See all the Find Remember Match Games here!
And while we're talking about editable options, don't forget that I've included two rubrics and an exit slip. These can be used to help keep students on task with the Find Remember Match games while students work on them in centers or stations.
Here's your LAST CHANCE to grab the Find Remember Match games you need!