Education is demanding. There is so much going on. Sometimes schools look at departmentalizing as an option for their elementary teachers. As someone who taught in such a position in two different districts and then was an administrator for a departmentalized school as well, I want to share some tips for handling the departmentalized classroom.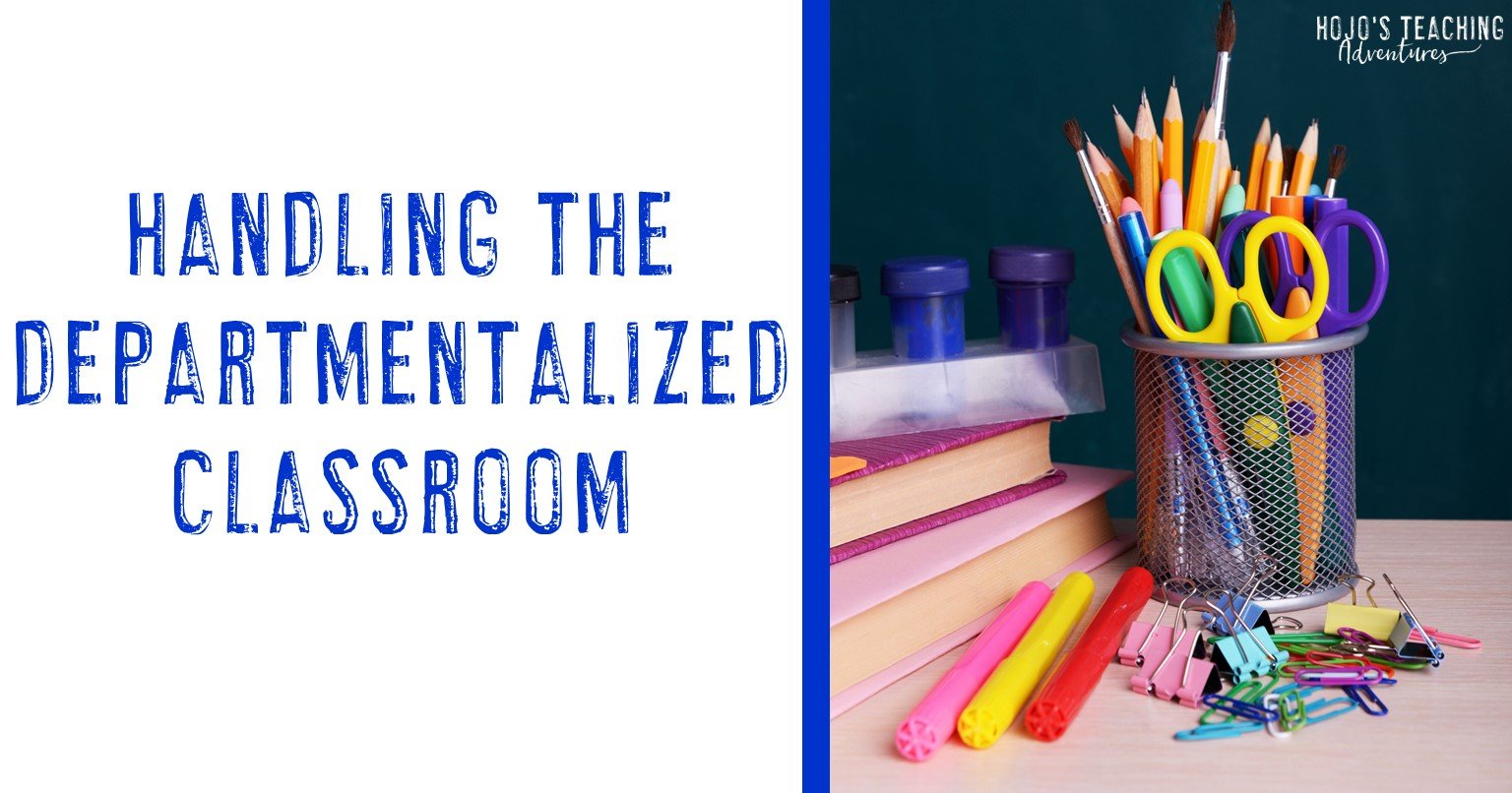 1. Determine What You're Teaching
This one probably seems obvious, but you need to know what you're teaching. This may be assigned to you by an administrator, but make sure everyone is on the same page.
In one school I worked at there were three teachers for fifth grade. One taught social studies, one did all the writing and grammar, and the third did science. Each teacher was responsible for her own math and reading.
At the second school I did departmentalized teaching in, we only had one section per grade level. So the 4th, 5th, and 6th grade classrooms were departmentalized. The 4th grade teacher taught all the math, the 5th grade teacher did all the science, and I did the reading as the 6th grade teacher. We were each in charge of our own social studies, writing, grammar, and spelling.
In this second situation, it didn't take us too long to realize it wasn't working. Soon I picked up writing for the 5th grade teacher, and in exchange he taught my students social studies. The next year the 4th grade teacher did math/spelling, 5th grade did science/social studies, and the 6th grade teacher did all the reading/grammar/writing.
Whatever format you choose, make sure your administration is on board, that parents know who teaches what, and that you all have the appropriate resources. We were a bit slow in making sure our online grading systems reflected the correct subjects, and the first year we found ourselves switching books around more than we should have.
2. Sit Down and Chat with Your Teaching Partners
This one may seem obvious, but you have to sit down with your teaching partners. Now that you know what you're teaching, you need to address classroom rules, how you will handle behaviors, communicating with families, and more. 
Come up with a list of questions beforehand. These may include:
Will each teacher do the disciplining for their own classroom? Or will students get one "large" punishment at the end of the day/week for all infractions?

How will behavior be tracked?

How will parents, guardians, and families be informed about any behavior issues? Will a weekly note be sent home? Will the homeroom teacher call on behalf of any teacher? Or will the teacher who experienced the behavior make the call/e-mail/text?

Will each classroom have the same set of rules? If not, how will students be taught the rules and expectations from one room to the next?
How will students track materials from one room to the next? Where will they store items?
Will you have an assignment notebook? Who will check to ensure it's being utilized? What will happen if it's not utilized?
You do not need to run your classroom in exactly the same way as your teaching partners, but having some basics that look the same will make things easier on the students you work with.
3. Consider Creating a Parent/Guardian Informational Sheet
We created an informational sheet to send home to the parents and guardians to explain how behavior and discipline would look across our departmentalized classrooms. We included our three rules (because we wanted to be consistent from room to room), the fact that the homeroom teacher would send a note home each Wednesday, and a request to be on the lookout for "pink slips" indicating a behavior infraction in one of the rooms (these needed to be signed by a parent and returned the next day).
We also sent home a sheet for the parents to fill out. This sheet requested the best contact information for day/evening use, an e-mail address, any concerns they may have for their child that we should know, and a few other things. The homeroom teacher kept track of these until they were all collected, and then we shared them with the other staff. This way every teacher had access to every student's information throughout the year.
4. Figure Out Logistics
This one may sound silly, but make sure you have enough chairs and/or desks in each room. The year we were departmentalized across grade levels, our class sizes varied greatly. One class had only 14 students and the other had 26. That meant we needed 26 desks in every room! It took us until the third week of school to get this taken care of. Sad, but true.
5. Keep Communicating
If at all possible, try to plan in some daily (or at least once a week) where you can sit down with your teaching partners and discuss any problems. Many times if a student is acting out in one class, they are acting out in other classes too. Your teaching partners may have ideas to help you better reach students. The same goes for grades. If a student has a bad grade in your classroom, another teacher may be able to help you with strategies to better help that child.
6. Be Respectful
When working with a team, it can be hard for everyone to be on the same page at all times. However, it is possible! If there are set times where you are supposed to switch classes, be ready! If you have team meetings – attend! Refer to #5, and do everything you can. Every teacher who works with the students is there for their benefit. Keep that in mind, and you should be able to get everything to work out.
I hope these five tips help you with handling the departmentalized classroom. Best of luck! Feel free to ask any questions you may have in the comments below.
Interested in learning even more? Here's a post I wrote with more detail about how our 4th, 5th, and 6th grade departmentalized classroom looked. Click here to read it now.