We've all been there. You have to make a phone call or meet with the chatty parent. You only have five minutes before the students come back into the classroom, and this mom has been known to talk for another ten minutes – even after you've told her the students are back in the classroom. Or what about the dad who comments that he sees the sign that conferences are limited to 15 minutes, yet he chats away for 20 more?
Today I'm going to share some tips to help you handle chatty parents.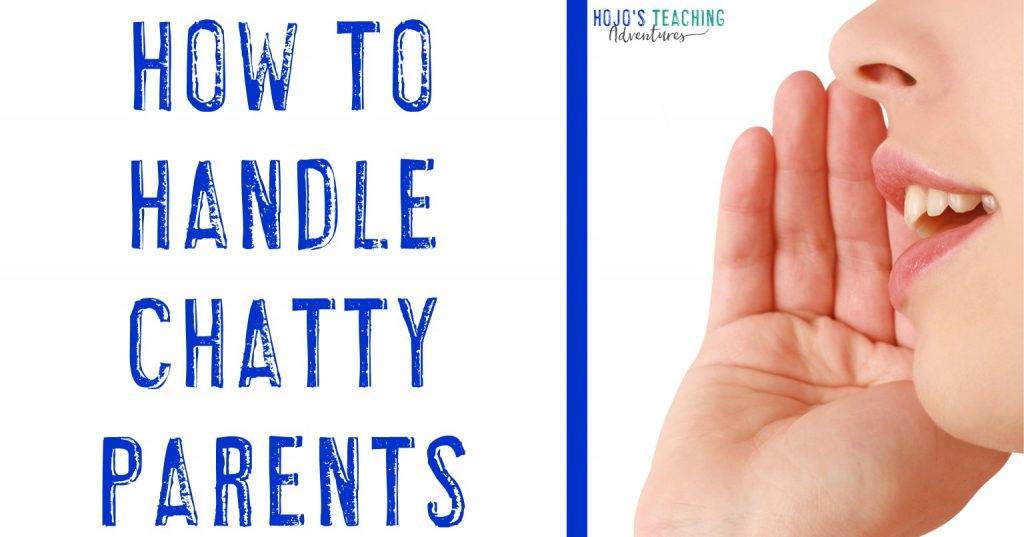 1. Let them know your time frame.
There is nothing wrong with telling a parent that you only have 5-10 minutes before the next conference or when kids come back into the room. Make this the first thing you say to them when you contact them.
"Hi, Mrs. Davis. Yes, this is Mrs. Fergen. Say, I only have five minutes before the students return from recess, but I wanted to touch base with you quickly…"
Explain the situation, and then politely get off the phone. Tell them you can chat more at another time, but that you have to get going.
2. Literally set a timer. 
I've seen parents take 45 minutes for a parent-teacher conference for no reason other than to chat. If needed (and with admin's support), set a timer at conferences. If something comes up that warrants another conference, have your calendar in front of you so you can immediately decide another time to meet. This will prevent the chatty parents from eating up too much time, and it'll keep your longer (sometimes negative) conferences from taking more time than needed right now.
3. Ask a colleague or administrator for back up.
If you know the chatty parent is coming in after school, talk to a coworker about it ahead of time. Have them come in 15 minutes after the chat has started with a reason for your help. Perhaps their computer is acting up and they need your help because they have to be out in five minutes. Or maybe your administrator needs to speak to you immediately.
Is this a bit of a stretch? Yes, but it gets you out of a chatty parent situation without hurting their feelings.
Just make sure the other adult you have coming in isn't going to add to the chattiness. That can make for a very long, unproductive chat session that really helps no one.
4. Be polite, but firm.
Inform the parent that you must go, and then go.
"Yes, Mrs. Davis, it has been so great chatting with you, but I really must go. The students are walking into the classroom right now, and we both now they are my #1 priority. Feel free to e-mail if you have any further questions or concerns on this matter. I need to go now."
That's it. Be gentle, but firm – then hang up or walk them to the door.
This one is definitely the hardest and may take some practice, but you'll be so glad you set professional boundaries on your time so you can get more done and enjoy time off as well.
~~~~~~~~~~~~~~
What other tips or ideas do you have to handle chatty parents? I'd love for you to share them in the comments below!