March 14th is Pi Day – the favorite holiday for Math geeks everywhere. That's because Pi is one of the coolest things in Math, and so much fun to play with. Technically speaking, pi is the ratio of the circumference of a circle to its diameter. That number works out to be approximately 3.14. However, Pi is an irrational number and apparently "goes on forever. It is actually a rather magical number when you think about it.
If you are looking for Pi Day activities for kids in your elementary or homeschool classroom, I have some great ideas for you. Pi is one of the most important and interesting parts of math, but it can be tricky to explain. I have puzzles, craft ideas, book recommendations, and all kinds of ideas to bring Pi to life for the kids in your classroom.
This post contains affiliate links. This means I make a small commission at NO EXTRA CHARGE to you when you purchase through my links. Thank you for supporting my family and me! You can read my entire disclosure statement here.
Pi Day Math Activities
It may seem strange to imagine using Pi to teach basic math skills, but with my Pi shaped puzzles, you can. Once completed, these puzzles look just like the emblem of Pi – the 16th letter of the Greek alphabet that has come to represent this mathematical concept.
Whether your students need an opportunity to practice their addition, subtraction, multiplication, or division skills, my puzzles can help. Each type of puzzle offers several difficulty levels, making it easy to challenge your quick learners without leaving any of your students behind. Once completed and assembled, your students can color their puzzles any way they want.
Various Pi Day Math activities are available below. Click on the one/s that are most appropriate for your students.
Make Your Own Pi Day Puzzles
These Pi Day puzzles are excellent tools for teaching all kinds of things, not just math. If you would like to use these puzzles for other topics and learning opportunities, I have a Pi Day puzzle that is completely editable so you can use it to teach all kinds of things.
Use these helpful puzzles to practice Language Arts skills like nouns, verbs, sight words, and more. Make harder math puzzles with them. Or use them to teach your students some fun facts about Pi. There are many wonderful ways that you can use these helpful puzzles.
Click this link to find an editable Pi Day puzzle in my TpT store.
What Teachers Are Saying About Pi Day Activities for Kids
People who have bought my Pi Day activities have said:
Pi Day Activities For Kids Make Great Decorations
One fun way to celebrate Pi Day is with some great decorations. Use these pi symbol puzzles to decorate the hallway bulletin board and show off your students' skills. Or create a border with as many digits of Pi as you can fit, along with all the colorful Pi Day puzzles your students made. There are all kinds of cute ways you can use these to decorate your classroom. Best of all, no administrator can complain that you wasted class time because there is so much academic work involved!
Other Fun Pi Day Activities for Kids
There are many wonderful ways to bring Pi Day activities Into your classroom. The following links are just a few ideas for celebrating Pi Day with your students!
Pi Day Books for Kids
Sometimes reading a fun book is the best way to learn more about Pi. These books about Pi and Pi Day are a great way to make your students smile, even as they learn! There are picture books, and a chapter book, too!
Pi Day may not be an "official" holiday, but it is a fun opportunity to teach one of the coolest mathematical constants around. With so many fun Pi Day activities, books, and puzzles, you may have a hard time deciding what to do first. But no matter what you do, your students will be having fun as they learn!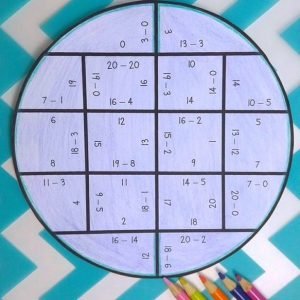 Still not sure about my Pi Day activities?
No worries! Click here or on the image below to grab your FREE circle puzzles. Then you'll see if these puzzles are a good fit for your students. Addition, subtraction, multiplication, and division options are included in this freebie.