Do your students read the same genre over and over? Have you tried to get them to read different types of books, but they just keep going back to the first one? Are you looking for a way to get them hooked on something new? Then this just might be the strategy for you!
Reading Musical Chairs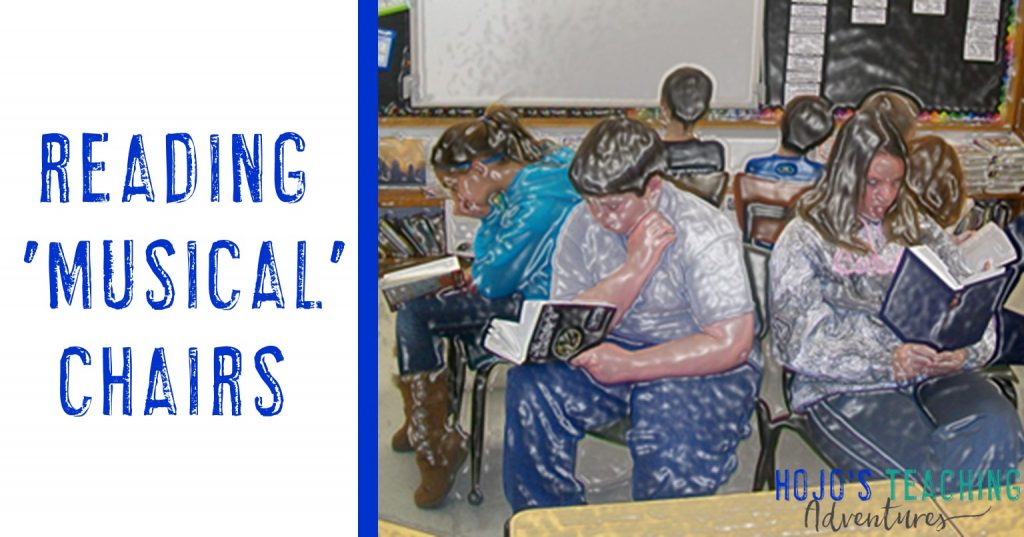 This year I decided to try "Reading 'Musical' Chairs". (I know I've heard of other teachers doing this, but here I share my take on it with you.) Just like the game with music, you put a group of chairs – no matter how large or small – into a circle facing outward. But you will need just as many chairs as there are people, and you will not need any music. (Although you could easily add music and change with each new song or some other type of signal.)


Next have each student bring a book. The first time we did this I asked each student to bring in their favorite chapter book. We then sat in a chair (myself included), randomly opened our own book to any part we wanted, and read for a designated about of time – typically 5-7 minutes. At that point, I simply said "switch", we moved to the next book (going clockwise), randomly chose a page to start on, and continued reading.


It never ceased to amaze me how quiet my students were during this activity! They really got into the books. Sometimes when we would switch I would have to quiet someone from telling me all about the section they just read – but if that is my biggest problem, I can totally deal with it! 🙂


The next couple times we did this, I would have students choose books to bring to our circle in random ways. For example, I might ask them to bring a book they didn't think any of their classmates had read. Or another day I asked them to quickly choose a book from my library to read. And another time I told them to bring a classic or award winning book. This way I knew they were seeing different ones.


One of the reasons I feel this was so successful was because I always saved about five minutes of our time period to discuss the books as a group. This way students could reflect on what they had read, ask questions of one another, and just share their excitement about books in general. I know students chose new books to read from this experience. When I do this activity again this fall, I'm also going to have students write down the books they found interesting in their notebooks. This way they will always (hopefully!) have a couple "go to" books they can check out the next time they are wanting something new.


Here are a couple other modifications you could try, depending on your class make-up. I did this activity during my reading intervention time with some of my higher readers. But this could easily be done with a large group. You could either have one large circle, or you could split into several smaller circles based on ability, favorite genre, or anything else you could think of! Or one day you could choose the books for students to read. Once you give it a try, you'll see what works best for you and you'll want to keep going with it!