When Christmas draws near, students grow more excited by the moment. They dream about a vacation from school. And they wonder about the gifts they will find under the tree and in their Christmas stockings. So, if you want to keep your students engaged in your classroom activities before the holiday break, it helps to find ways to bring Christmas activities into your lesson plans.
One great way to celebrate with your students is by bringing some fun stocking activities for kids into your classroom. In this post, we talk about great ways you can do just that. From fun math puzzles in the shape of stockings to books, I have great things to share. And I even have an editable puzzle to tell you about so you can use stockings to teach your students about anything! Even interesting facts about . . . well . . . stockings!
This post contains affiliate links. This means I make a small commission at NO EXTRA CHARGE to you when you purchase through my links. Thank you for supporting my family and me! You can read my entire disclosure statement here.
Stocking Math Activities
I think that one of the prettiest holiday sights is a fireplace adorned with garland, decorations, and a collection of Christmas stockings hanging above a roaring fire. Christmas stockings can be simple or elaborate. But each one is a special memory of Christmas' past and present.
So when you hand your students a math puzzle that becomes a nice Christmas stocking – they may be so excited to solve it that they won't even mind doing math.
I have stocking puzzles for addition, subtraction, multiplication, and division. And each puzzle offers two difficulty levels. This means you can challenge your quick learners at the same puzzle without leaving any of your students behind.
Whether you use these puzzles for individuals or in groups, they are a fun way to include a bit of learning while still helping your kids express their holiday excitement. Once assembled, have your students color their puzzle creations to express their artistic talents, too!
Various stocking math activities are available below. Click on the one/s that are most appropriate for your students.
My math stocking puzzles are wonderful teaching tools, and I understand you may wish to use them to teach other subjects to your students. Therefore, I created an Editable Stocking Puzzle you can use to teach any topic.
Use these cute stocking puzzles to practice Language Arts skills like nouns, verbs, sight words, and more. You could use them to make puzzles with harder math puzzles, too. Or use them for cool facts about Christmas. These puzzles inspire all kinds of creativity in your lesson plans.
Click this link to find an editable Stocking puzzle in my TpT store.
What Teachers Are Saying About Stocking Activities for Kids
People who have bought my Stocking activities have said:
Stocking Activities For Kids Are Great Decorations
It is so much fun to decorate a classroom for the winter holidays. Whether you cover the classroom walls, decorate the doorways, or create an amazing bulletin board outside in the hallway, you can't go wrong. And the best decorations are the ones students make.
These stocking puzzles look so cute when they are colored. Hang them up with some of my other Christmas puzzles like reindeer, Christmas trees, Santa's sleigh, and more. You can create just about any type of scene you can imagine. And if you have some holiday event or classroom party where the parents can visit – they will love to see the hard work of their children on display so beautifully. Best of all, no one in the administration can complain because there is so much academic work involved!
Stocking Books for Kids
I wanted to put a list of books about Christmas stockings and the holidays together, and I found some really cute ones. There are picture books and chapter books here for kids of all ages. And I bet you may even want to read some of these books over the holidays with your own kids, too!
Picture Books
Chapter Books
On Christmas morning, the stockings hung on the fireplace can contain untold treasures. Bringing that wonderful Christmas excitement into your classroom is fun for everyone – and with these stocking activities for kids, you have some great ideas for how to do just that!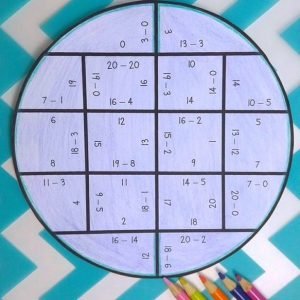 Still not sure about my stocking activities for kids?
No worries! Click here or on the image to grab your FREE circle puzzles. Then you'll see if these puzzles are a good fit for your students. Addition, subtraction, multiplication, and division options are included in this freebie.