Let's be real… The month of December in the average elementary classroom can be totally lost if you're not super focused. But with these great Christmas activities, you can take all that excitement and anticipation and turn it into a great month of continued learning!
Make the most of the entire month of December with the great puzzles, FREE downloads, and ideas below. You can click through to see each individual blog post or activity.
Christmas Activities for Kids
Read each of the bullets below to learn a bit more about what is included. You'll find FREE downloads, bulletin board inspiration, great activities, editable puzzles, book ideas, and more! Click through to all of the topics that most interest you.
Reindeer Activities and Books – These puzzles have a particularly challenging option for those high fliers. You'll find 1st-8th grade options here.
Stocking Activities and Books – Options for 1st-8th grade are here. Every kids wants their stocking to be full, so have them put the puzzles together, glue them onto a piece of paper, then add a back page as a "pocket" so you can sneak a little treat in. Kids love these!
Santa Activities and Books – The sleighs and Santa hats in this post are sure to be a hit for 1st-8th grade with all the differentiated options available.
Candy Cane Activities and Books – These candy cane puzzles have options for 1st-6th grade. They're a bit easier than some of my other puzzles, so students new to my puzzles will love these!
Gingerbread Activities and Books – Is you want to celebrate this month without all the "Christmas-y" feel, then gingerbread are the way to go! With options for 1st-8th grade, this post is worth a click.
Christmas Tree Activities and Books – Christmas trees are a staple of this season for many people. With great options for 1st-8th grade, your students will love learning with the ideas here.
FREE Christmas Coal Printable and Recipe – This activity can be done by nearly any age level. Help your Kinders with the recipe on a parent volunteer day. Use this in a special education room to bring real life cooking into action. Or let your elementary kids take some "coal" home as a joke.
FREE Christmas Song Title Game – Kids from roughly age 8 all the way up to adults LOVE this activity! Truly – I've done it at school with my staff and at a family get-together with my 75-year-old grandpa. And it's FREE, so what do you have to lose? 😉
FREE Nativity Word Search – Great for Sunday classes, CCD, Christian schools, or just anyone who loves word searches! It's a great way to introduce nativity or The Story of Christmas vocabulary to kids.
Supporting Kids with Special Needs During the Holidays– This guest posts walks through ways you can support students with special needs during this crazy time of year. Whether you teach in special ed OR the gen ed classroom, this is worth a read!
14 Bloggers Share Their Favorite Christmas Books – A few years back I had a bunch of blogging friends share their favorite Christmas book, and I still think this list is pretty awesome!
Basic Shapes into Christmas Craft Art
The Christmas crafts below are made from basic shape tarsia puzzles. There are nine different shapes – heart, circle, square, rectangle, triangle, hexagon, oval, star, and diamond. Use those alone or together, add some fun "flair", and you get some amazing Christmas crafts for your students!
There are options for addition 0-20, subtraction 0-20, multiplication 0-10, division 1-2, adding and subtracting within 100, and adding and subtracting within 1000. Click here or on any of the images below to grab the puzzles that best fit your students needs.
This recognizable fellow was made from a hexagon and triangle. I then free hand drew on his face and added some cotton balls to make the hat more three dimensional. My daughter says he is creepy, which I take as a compliment that I did a good job since she doesn't love this guy! LOL
This adorable little elf was made from a circle and a triangle. I then used the eyes from this free download. And then I free hand cut out the ears, hat embellishments, and nose. Finally I drew on the mouth with a marker.
This adorable little reindeer was made from a hexagon, but I think making a herd from a variety of shapes would be fun! I didn't have any brown construction paper around, so I free hand drew those antlers and colored them brown. I also cut out a red nose. The eyes were from this free download, but you could certainly free hand those as well.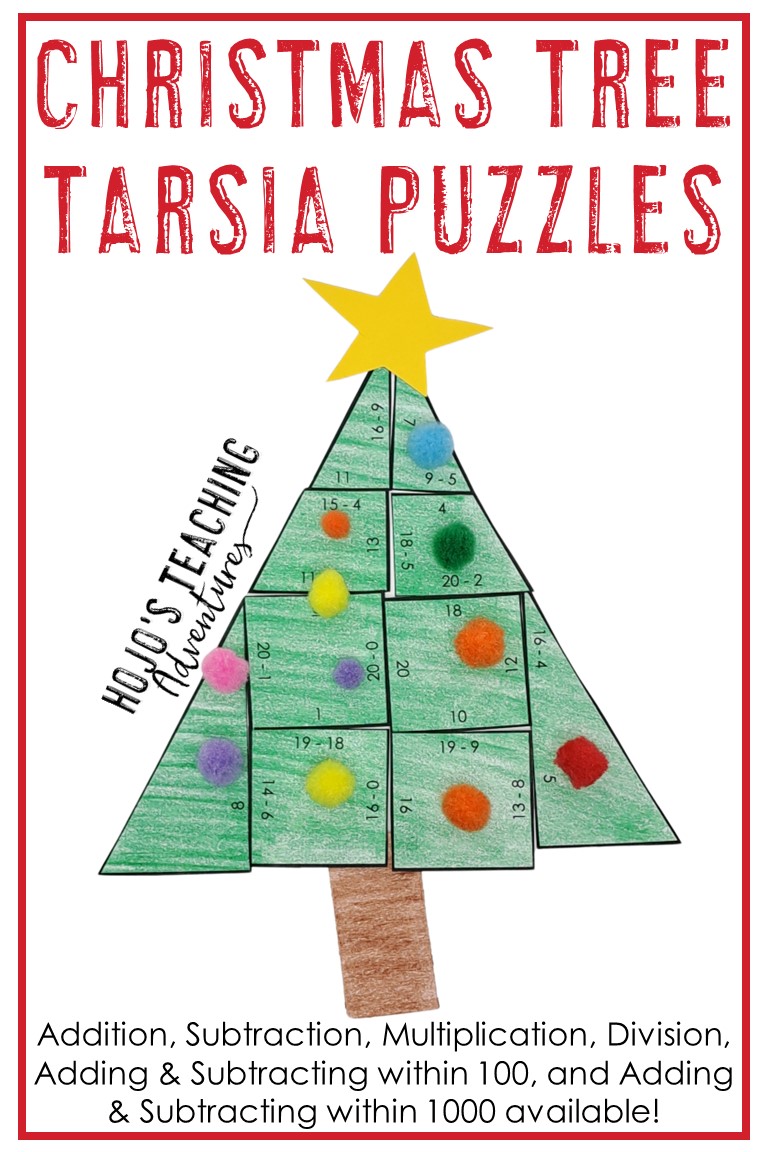 This fun Christmas tree was made from a triangle. I think it would be fun to stack three triangles on top of each other for a larger craft! I cut the star and trunk out of paper I had around.
Enjoy all the great Christmas activities, books, and ideas shared above. They're sure to be a hit!
Please pin the image below to ensure others see all these great Christmas activities as well. I'm sure every child will love working with all the great Christmas topics above during the month of December. 🙂
You can also scroll to the very end of this page if you want to purchase any of the Christmas activities using your PayPal account or credit card via our secure store.