When Christmas comes around, kids usually think about Santa Claus, Christmas trees, and the gifts they find beneath the tree and in their Christmas stockings. But the holiday season is also a time of rejoicing and spending time with friends and family. It is a time of eating delicious food and baking a lot of cookies. And one cookie that is all about the Christmas season is the deliciously sweet and spicy gingerbread cookie!
When you are celebrating the season in your elementary school classroom or homeschool, one great way to do it is with these gingerbread activities for kids. I've created the cutest little gingerbread man puzzle so you can share with your elementary school or homeschool students. Not only that, I have some wonderful book ideas, too. Using these puzzles, books, and their own creative expression, students can learn, celebrate the season, and help decorate the room, too. All while visions of gingerbread cookies dance in their heads!
This post contains affiliate links. This means I make a small commission at NO EXTRA CHARGE to you when you purchase through my links. Thank you for supporting my family and me! You can read my entire disclosure statement here.
I'm really excited to share my gingerbread math puzzles with you and your students. These gingerbread cookie puzzles are academically challenging and so cute, you can practically taste them. They are also so much fun, your students will barely notice that they are honing their math skills. And yet, that's just what they will be doing.
I have puzzles that cover addition, subtraction, multiplication, and division. These puzzles work well in a number of ways. Use them as a classroom project – either individually or in partner or group work. Or offer them as fast and early finishers activities when the rest of your students are still completing their classwork. These gingerbread activities for kids make math fun. And your students will love coloring their assembled puzzles, too!
Various gingerbread math activities are available below. Click on the one/s that are most appropriate for your students.
You may not be able to easily bake cookies in your classroom. But these gingerbread man puzzles are the next best thing! And just as gingerbread cookies can come in other shapes – like gingerbread women, stars, trees, and more – my editable gingerbread man puzzles can be made into any sort of puzzle you need.
These adorable and tasty puzzles can be used to practice English skills like sight words, nouns, verbs, and more. Or use them as a fun way to teach facts about cookies, Christmas or the season. These friendly gingerbread guys are ready and willing to help you teach your students just about anything you can think of!
Click this link or the image below to find an editable Gingerbread puzzle in my TpT store.
What Teachers Are Saying About Gingerbread Activities for Kids
People who have bought my Gingerbread activities have said:
Gingerbread Cookie Men Make Wonderful Decorations and Gifts
While it is true that my gingerbread puzzles are an incredible teaching tool – they are so much more than that. Once assembled, your students get the fun of coloring their cookies for Christmas. They can even make sure their cookies have bright and colorful gumdrop buttons! These puzzles look so cute once they are colored.
Cover your classroom walls with these friendly little guys, or hang them on your door to welcome people into your class. They look great when combined with other Christmas puzzles, too! Students are happy to see their hard work on display. And you don't need to worry about the principal complaining because there is so much academic work involved!
Gingerbread and Christmas Cookies Books for Kids
Get your students excited about reading when they see these wonderful books celebrating Gingerbread cookies, other Christmas cookies, and the holiday season. I've put together a nice selection of picture books and chapter books that suit children of different ages and reading abilities. They'll get in some great reading practice while dreaming of the holidays!
Picture Books
Chapter Books
When you bring gingerbread cookie puzzles into your classroom, you remind your students of all the wonderful holiday fun that is just around the corner. Your excited students will love the opportunity to celebrate the season early. And that is one great way to engage young minds!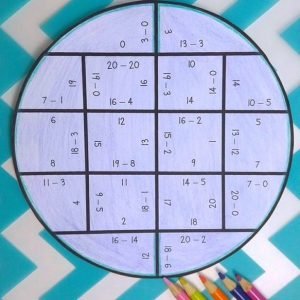 Still not sure about my gingerbread man activities for kids?
No worries! Click here or on the image to grab your FREE circle puzzles. Then you'll see if these puzzles are a good fit for your students. Addition, subtraction, multiplication, and division options are included in this freebie.