For many kids, Christmas Eve is the most magical night of the year. That's because they know that on Christmas Eve, Santa Claus loads up his big, beautiful sleigh and dons his red suit and Santa hat. Then he heads out for his big trip around the world, bringing presents to all the good boys and girls – and eating way too many cookies in the process!
If you are bringing Christmas into your elementary school classroom, these Santa activities for kids are a great way to do just that! I have some fun puzzles of Santa's Sleigh and hat to share with elementary kids or homeschool students. And I have some great book ideas, as well.
Through puzzles, books, and creative expression, students can dream about Santa's big sleigh ride and wonder about all the gifts he will bring. And with these adorable sleigh and hat puzzles, they'll get the chance to help decorate their classroom, too.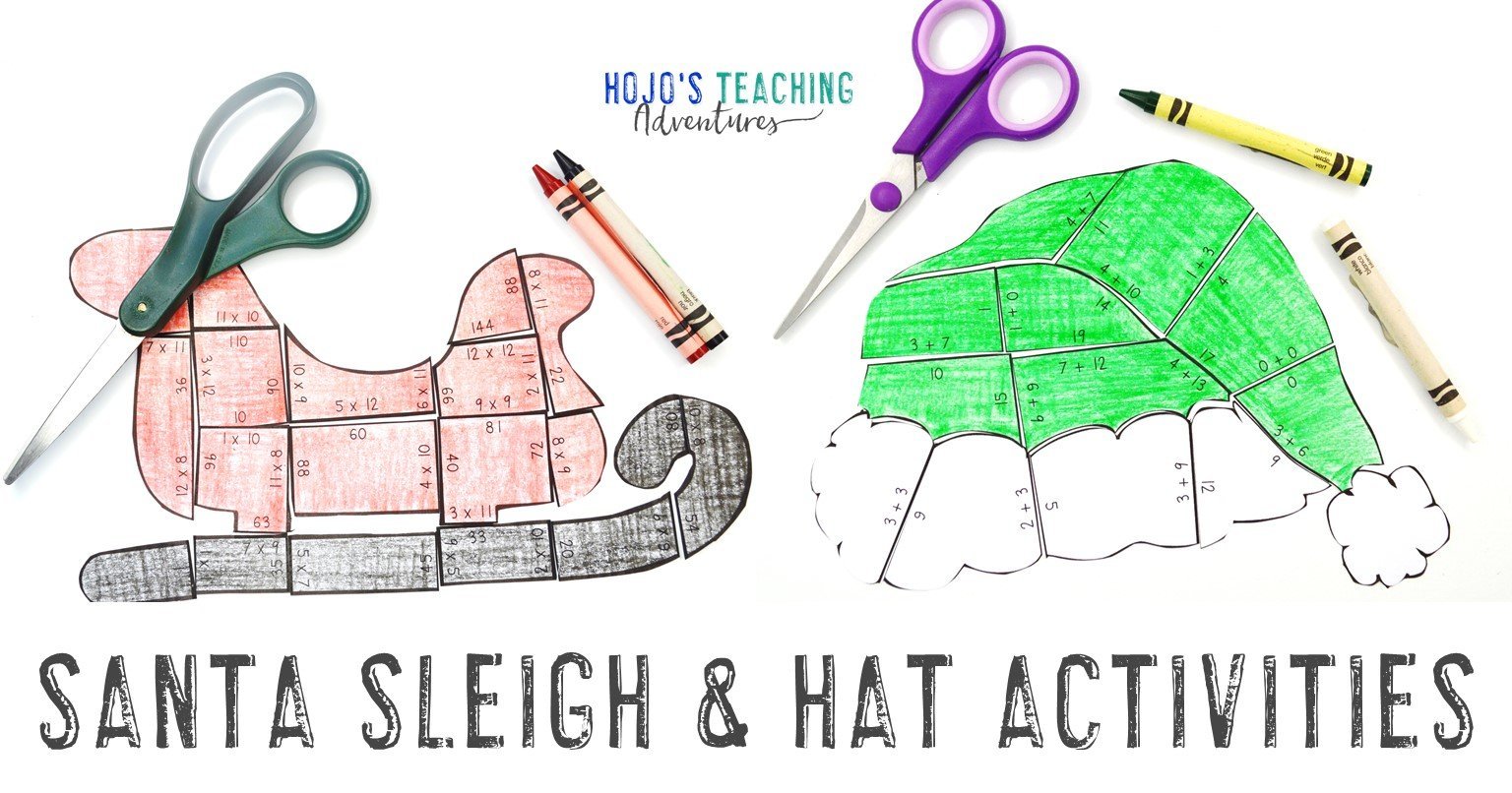 This post contains affiliate links. This means I make a small commission at NO EXTRA CHARGE to you when you purchase through my links. Thank you for supporting my family and me! You can read my entire disclosure statement here.
Santa Math Activity Puzzles
Let's get started with some great math puzzles for your students. These Santa's Sleigh and Santa's Hat puzzles are academically challenging and a whole lot of fun. They are the perfect way for your students to practice their math skills. There are puzzles covering subtraction, multiplication, division, and addition.
Use these puzzles as a classroom project – either individually or in partners or small group work. Or use them as a way to keep your fast and early finishers busy while other students complete their classwork. These sleigh and hat puzzles are a wonderful way to practice math. Even better, students have a lot of fun coloring them once they are assembled!
Various Santa's Sleigh and Santa's Hat Math activities are available below. Click on the one/s that are most appropriate for your students.
Santa's Sleigh Math Puzzles
Santa's Hat Math Puzzles
Make Your Own Santa Activities for Kids
When Santa puts on his suit and red hat and gets into his beautiful sleigh, the magical adventure begins. Kids have no idea what gifts the big man might bring – because anything is possible. Likewise, my editable Santa's Sleigh and Santa's Hat puzzles can be used to teach just about anything, too.
Use these festive puzzles for English skils like sight words, nouns, verbs, etc. Use them for more advanced math problems. You can even make them a fun way to teach facts about Christmas or Winter. Whatever you are teaching, these hat and sleigh puzzles are sure to make it more fun!
Click this link to find an editable Santa's Sleigh puzzle in my store.
Click this link to find an editable Santa's Hat puzzle in my store.
What Teachers Are Saying About These Activities for Kids
People who have bought my sleigh and hat activities have said:
Santa Activities Make Great Decorations and Gifts
My hat and sleigh puzzles are so much fun to work and assemble. But the fun doesn't stop there! Once assembled, these puzzles are ready to be colored for Christmas. These puzzles look so pretty once they are decorated. Use them for classroom wall decorations, hang them in doorways, or use them to make greeting cards for family and friends.
Your students' work can even be used to make an incredible hallway bulletin board display. Combine Santa's Sleigh  and Hat with Christmas Trees, Reindeer, and even a seasonal train. However you put these together, they are sure to look great!
Students are proud to show off their hard work. And you don't even have to worry about administration complaining of wasted classroom time. After all, there is a lot of academic work involved in this project!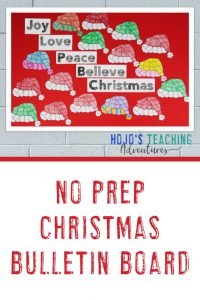 Santa and other Christmas Books for Kids
One great way to get kids to read is by giving them topics they want to read about. Kids love to read about Santa's Sleigh, his wonderful hat, and all the special things that happen at Christmas. I've put together a nice selection of books about Santa Claus and his many adventures with his magical sleigh. There are picture books and chapter books to suit children of different ages and reading abilities. They'll get in some great reading practice while dreaming of the holidays!
Picture Books
Chapter Books
When you bring Santa activities into the classroom, you bring magic right along with them. Excited students love the opportunity to celebrate the season early. They may not even mind doing a little work, when the work is this much fun. What a great way to engage young minds!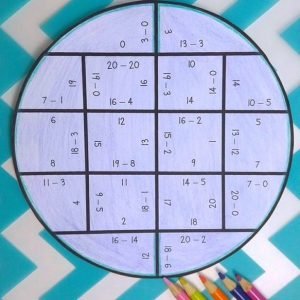 Still not sure about my Santa activities?
No worries! Click here or on the image below to grab your FREE circle puzzles. Then you'll see if these puzzles are a good fit for your students. Addition, subtraction, multiplication, and division options are included in this freebie.