Teaching with outdated textbooks can be a challenge. I've had to use textbooks that are 30+ years old. That's what I can challenging, at best… Unfortunately this is a common occurrence for many teachers. But today I want to share some tips on how to teach with outdated textbooks so you can still bring fresh, relevant material into your classroom to help you best reach all of your students.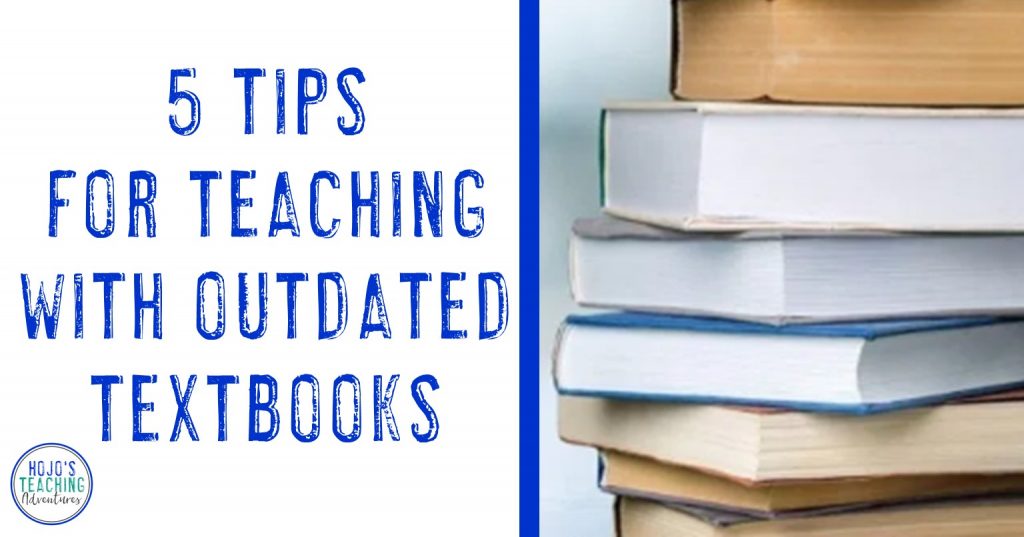 1. Supplement
Wow – that sounds so simple right? Well, it is and it isn't. Supplementing takes a lot of time and energy. However, thanks to websites like Teachers Pay Teachers and Pinterest – you can often find a way to supplement your lessons without a lot of extra work. Many times there are entire units that are free or require very little money upfront to give you an entirely worthwhile lesson (or even unit!).
Here are a few ways to supplement when teaching with outdated textbooks:
Utilize Teachers Pay Teachers to fill in the gaps
Find engaging activities, lessons, and ideas via Pinterest
Do a Google search
Head to the school or local library to find more resources
Ask for help! Reach out to your fellow teachers and see what materials they may have that they can legally share. (Just watch out for copyright infringement (link to Secondary Solutions post)
2. Ask for New Materials
This one may seem like a no-brainer, but my first district had no idea my textbooks were 30+ years old. I don't know if they didn't have a textbook rotation for ordering new books, if someone simply forgot about my little Hutterite colony school, or what. But when I mentioned how old my textbooks were, my admin's jaw dropped.
He let me spend a couple hundred dollars on magazines and an online subscription to get through the year, and we were able to order new materials that spring. I know this may not happen for everything, but it can't hurt to ask.
3. Teach via Mini-Lessons or Workshops
Today's classrooms often don't even truly need textbooks, particularly outdated textbooks. Look at the book and make a mini-lesson or workshop model out of it. Many times an anchor chart or brief presentation can be used to teach an entire lesson. Going this route, you can add engaging transitions, clipart, and any new materials that your outdated textbooks don't include.
4. Create New Materials
Many times at least part of the information in older textbooks is still applicable. If this is the case, use what you can to create your own materials. A friend of mine and her colleagues recently saved their district over $200,000 by creating their own science curriculum. They used the old science curriculum and the standards, and then they created an outline of materials online that they can use and reference as a sort of online textbook. She's super pumped about it, and the students are excited to have everything online and at their fingertips.
5. Use the Outdated Textbooks
Yes, this one may seem a bit counter-intuitive – but hold on for a moment. Just because your textbooks are old, doesn't mean they are completely worthless. Use the parts you can. Turn the parts that are outdated into a research project or lesson for your students to find up-to-date material.
Teaching with outdated textbooks can be a challenge, but it is still possible! If you have other ideas for handling outdated textbooks, feel free to leave them in the comments below.