Let's face it, spring fever has set in (or will soon enough!). This typically happens sometime around testing and the weather warming up. What's a teacher to do? Today I want to share four ideas for how to handle spring fever in the classroom so you can make every moment for the rest of the year in the classroom count!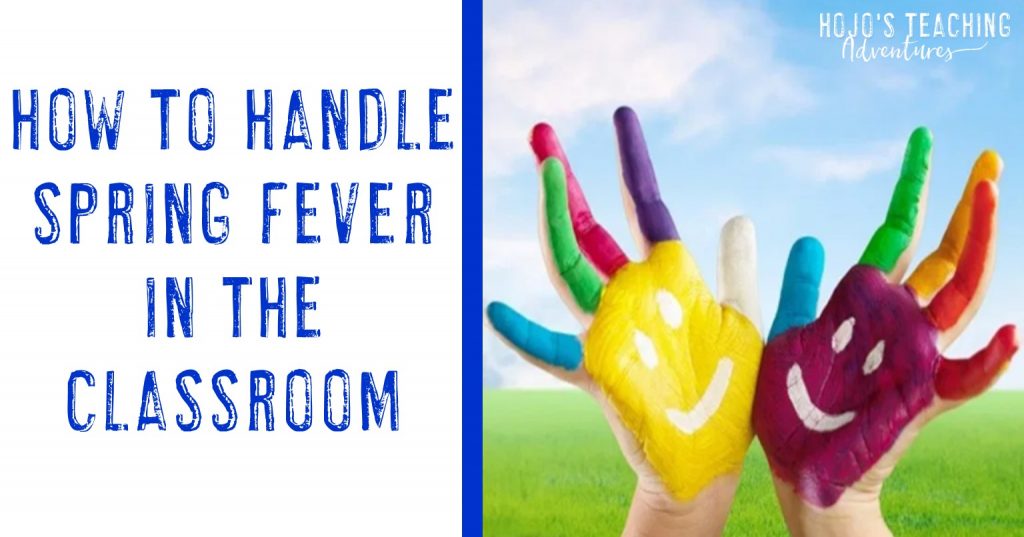 1. Get Outside
Let's face it – when the sun starts shining, we all want to be outside. Teachers included! Living in South Dakota, I often find myself taking my class outside once April and May rolled around if the weather was nice enough. It was somewhat of an unspoken "rule" in my classroom. If you work hard all day, we'll get at least 15 minutes of outside time.
Does that mean I just let my students have an extra recess every day for the last two months of school? Heavens no!
Sometimes we went outdoors to read. If it wasn't windy, we might go outside to complete a worksheet. If I was feeling particularly brave, we might go sit in a circle and have a class discussion (with the prerequisite while inside that they had to focus on the discussion and not the birds, sun, grass, insects, etc). Or once in awhile I might have created a learning game for the great outdoors.
2. Do Buddy Activities
As a Kindergarten student, I loved when the high school class came to our room once a month to work on a project with us. It was so much fun! That's why I try to do buddies sometime during the school year. Spring is a great time to give this a go because students know your expectations, work pretty well independently, and testing is often done so you don't feel as much of a "push".
You can click here to see how my previous 6th grade class paired up with our Kindergarten class to get outside or do fun activities in the classroom.
3. Play Games
We all love to play a good game from time to time, amiright? Whenever there is a game or activity to do during professional development, I always feel like it's more fun or that I'm getting extra special treatment. It's a great feeling! So why not let your students use some educational games too?
You can go scout Pinterest for ideas, but then you might get lost down that rabbit hole for hours. If you want to save yourself some time, here is my Pinterest board that has a lot of great game ideas. Or go check out the Magic Square Puzzles in my store, many of which are free. They will help keep students entertained, and learning, for hours on end!
4. Keep Teaching
I've seen many teachers that basically stop teaching when spring hits. They give up their routines, and then they wonder why their students are out of control. No matter what – keep teaching and engaging students until the last day of school! Yes, I truly believe you can make teaching fun and engaging until the last day.
~~~~~~~~~~~~~~~~~~~~~~~
I hope these four ideas will help you know how to handle spring fever in the classroom. If you're looking for more great spring ideas or end of year activities, click on either of those links to go to my Pinterest boards. Or you can also check out my spring math center puzzles.