It's can be hard communicating with parents who don't seem to care. But let's get one thing straight right away – they probably do. They're either busy, pre-occupied, or maybe dealing with something major going on in their lives right now. With that being said, I'm going to share some ideas to get across to these parents and let them know how their child is doing. Here are my five tips for how to talk to parents who don't seem to care.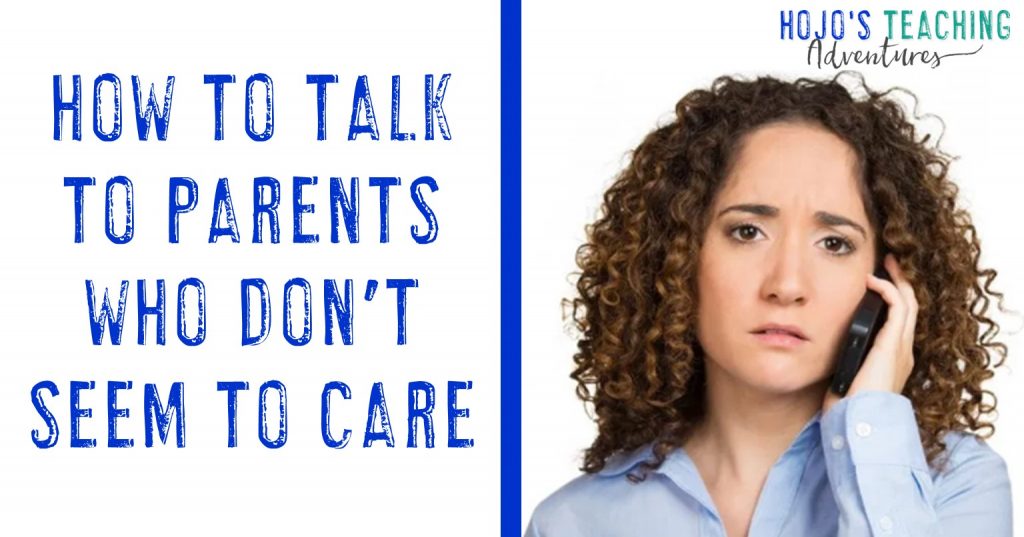 1. Make Contact Early in the Year
If you read nothing else on this blog today, this is the point to read. Make contact early in the year. Sometimes you've heard rumors about who "that kid" is going to be this year. Other times you can tell on the first day of school. Either way – make it a point to reach out to every single parent within the first week or two of school. I liked to do this by phone just to tell them hi, state what a great day their child did, and to let them know I'd love to hear any questions or concerns they have throughout the year. This way you've set up communication for later in the year in case you need it.
I'll never forget my student Greg. It was my fourth year of teaching, so I knew to contact all parents during the first week of school. I called Greg's parents to see how the year was going so far. The conversation went something like this…
Me: Hello, this is Heather Whetham from the Elementary School. I'm Greg's teacher.
Dad: Uh, ok.
Me: I just wanted to let you know that Greg is having a great year so far. I know we're only a few days in, but Greg scored well on his beginning of year exams and he's been listening to directions really well.
Dad: Really?!?
Me: Yes.
Dad: Wow – I've never heard anything but complaining about my son. He's pretty hyper.
Me: (chuckling) Yes, he's a busy little guy, but I can also tell he's a hard worker and eager to learn.
Dad: Well, um, thank you. I don't know what to say.
Me: No worries! I just wanted to let you know that we're off to a great start this year, and I can't wait to see how far Greg can go!
This dad was a huge asset to me all year long. He and his wife attended each of Greg's events, did everything I asked of them, and were the best parents anyone could ask for. From what I'd heard from Greg's previous teachers, this was normally not the case. I truly believe that beginning of the year positive phone call made all the different!
2. Use the "Sandwich" Method
Sandwich what you want to say. I'm sure this is familiar to many of you, but make sure you start with a positive before stating the concern. Then go into what you're worried about. Don't be condescending or demanding. State your concern. If you have ideas for how it may be improved, share them. And always end with a positive as well! I've found that I sometimes have to write this down to not forget the positives.
3. Make the Extra Effort
Go out of your way! There are many schools that encourage teachers to go to students' homes. I think this is a great idea, although I've never worked in such a district before. However, I have taken the time to talk to students' families in the grocery store, at school events, and while out and about in the community.
4. Keep Communication Open All.The.Time
Seriously! Keep parents informed! There is nothing worse than not knowing what's going on with your child. Whether you send out a weekly newsletter, e-mail home regularly, or make personal phone calls – be consistent. Parents want to know what their children are doing for the 30+ hours each week that they're in school. Do your best to be the best communicator possible. This will save you many headaches down the road.
5. Keep it Positive, But Honest
Let parents know when there is a concern, but keep it as positive as possible. When I taught Kindergarten, I was very upfront with parents from the first set of conferences if their child was not doing well and retention was a possibility. (Our district had a very strong retention policy at the time.) Any time you have something concerning to tell parents, me as upfront, honest, and empathetic as possible. If you think the conversation may go south, it's best to have an administrator present as well. Let me share another story about my experience.
One year I taught a student named Jay who had been retained. He started the year very upset and disheartened. However, I did everything I could to build him up, let him know that he was smart, and that he was going to have a great year if he worked hard with me.
I also went out of my way to reach out to his mom at least once a month, if not more – even though she never returned a phone call or e-mail. As the year went on, Jay was doing better and better in school. When the second set of conferences came around, his mom attended. I was excited to see her there, but I didn't think too much of it. The conference went well. She thanked me profusely for all the work I had done with her son, and she left the conference saying that Jay actually liked school again and was excited to go on to the next grade.
As excited as I was by the conference, that's not the astounding part. The principal marched into my office within five minutes of that mom leaving and asked me what I had done. At first, I thought I was in trouble… Then she told me that Jay was the youngest of three kids and the mother had never been to a conference in the six years her children had been going to that school.
Wow! I had tears in my eyes. Not only did the mom show up to the conference, but she thanked me. All I was doing was my job. I was trying to teach Jay to love school again, and I reached out to keep her informed.
~~~~~~~~~~~~~~~~~
I share these points to encourage you. The parents may not get in touch. They may not seem to care. But let me assure you that they do! What you are doing each day and night matters. Keep caring for your students! Keep going the extra mile! It can be daunting to keep communicating with some parents, but they do care!
Talking to parents who don't seem to care can be thankless, but it truly is worth it in the end! Do it for the kids! 🙂