When I taught at the Hutterite Colony, I was in charge of my own art lessons each week. Add in the fact that I looped with the students, and it got pretty hard to come up with something new each week! Since I was already teaching 12 different preps a day, I didn't have a lot of time to plan on art. (And I didn't have a lot of money to be forking out either!) That's why this post is dedicated to f;easy St. Patrick's Day art ideas that you can quickly implement in your classroom and won't break the bank!


This St. Patrick's Day art idea requires paint, construction paper, and paper plates (or construction paper circles). (Glitter and other accessories are optional.)
Simply paint your plates (or you could use markers or crayons). Let them dry. Glue them together, and add any "extras" you want to fancy them up a bit.
This next idea is one of those projects where I really wish I had taken a picture of everybody's when we were all said and done. I gave this model to the students, got out my tub of art "stuff", and told them to have at it! We had some of the cutest leprechauns I've ever seen! (We also had a few that looked more like Frankenstein, but oh well!) I love to let their creativity flow!
There you have it! Two simple St. Patrick's Day art ideas!
You might also be interested in these St. Patrick's Day writing prompts. Click on the picture below to check them out!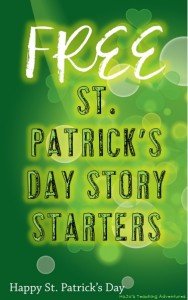 Or click on the picture below to pick up my St. Patrick's Day History Fact & Opinion product.