It's that time of year again – high stakes testing! Whether you love it or hate it, it's here. With that, I wanted to highlight some of the blog posts I've shared here before, as well as a couple new things I think you'll enjoy regarding test prep.

Do your students sometimes struggle with following directions when it comes to testing? Maybe they rush through? Or they don't explain themselves thoroughly enough? Whatever the case may be, you can click here or on the picture below to see how I created a simple note card to help keep my students on task the entire testing time!
This blog post contains affiliate links. Please read my entire disclosure statement here.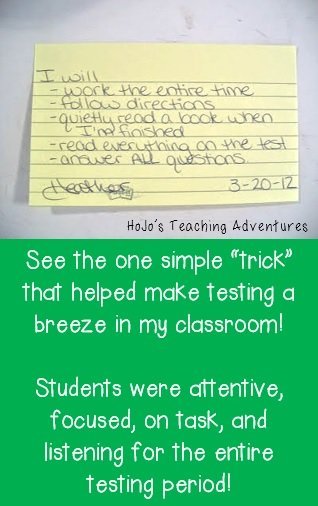 Want more specifics about test prep for reading? I am absolutely in love with Rachel Lynette's task cards! Look at this blog post by clicking here or on the picture below to see how I used her task cards to help my students prepare for the "big test"! (And there's even some FREEBIES included in the blog post if you need them!)
Looking for math test prep ideas? This blog post is chalk full of FREEBIES! Seriously, there are over 30 of them – so you're bound to find something that'll work in your classroom! Click here or on the picture below to go check everything out!
Do you have students with serious test anxiety? I recently heard about these amazing resources from Counseling with Heart. The first is a story of how one boy overcame his fear of math tests by playing Mathsketball. This digital story will help guide your students as they struggle with test anxiety. Share this story, along with the activities, in the weeks prior to state testing to see your students relax and realize they aren't alone when it comes to test anxiety!
Erainna's story is something students at many different age levels can relate to! She also includes a nine-page activity booklet to go with the story. This activity booklet is something students could work through individually, as a whole class, or even in small groups.

Here's the story synopsis directly from Erainna:
Ethan excels in almost every subject, except math. When it comes to test time, the numbers turn into some kind of alien language. His best friend, Jack helps him to relax by playing a quick game of mathsketball. With each shot Jack asks Ethan a math question, the one with the most correct answers wins! With help from his teacher, Mrs. Alexander, who gives Ethan tips on how to relax before and during a test, can Ethan take his mad mathsketball skills into the classroom and learn to overcome his test anxiety?
Interested in this for your classroom? There is a digital file available at Teachers Pay Teachers. Click here or on the picture above. Or you can buy a copy of Mathsketball on Amazon.
Another product from Counseling with Heart is an activity book entitled "Conquering Text Anxiety Activity Book". This 40 page guide uses both therapeutic art and writing activities to help students process their feelings about taking tests and overcoming test anxiety. This book will give students the tools necessary to learn study skills and test-taking strategies
You can click here or on the picture above to purchase your copy right now from Teachers Pay Teachers.

Do you need even more test prep ideas and freebies? It's a good thing I have this Pinterest board devoted to just that!
Do you have more test prep ideas? Shout them out in the comments below!