As we near the end of the year, I always try to do some fun activities with the students. One of these is to focus on what great students I have had all year! (Print and digital ideas are included below!!) 
TURTLE COMPLIMENTS!
Print activity for in person learning –
This is an activity we did in college on one of our last day's before student teaching. Each students puts a paper plate on their back (their shell) with a small piece of tape and grabs a marker. You then walk around the room and write compliments on other people's "shell". You really have no idea what other people are writing because – like turtles – this is a quiet activity. You just walk around the room and write down compliments. They might be one word, they might be signed – it totally depends on the "rules" the teacher gives.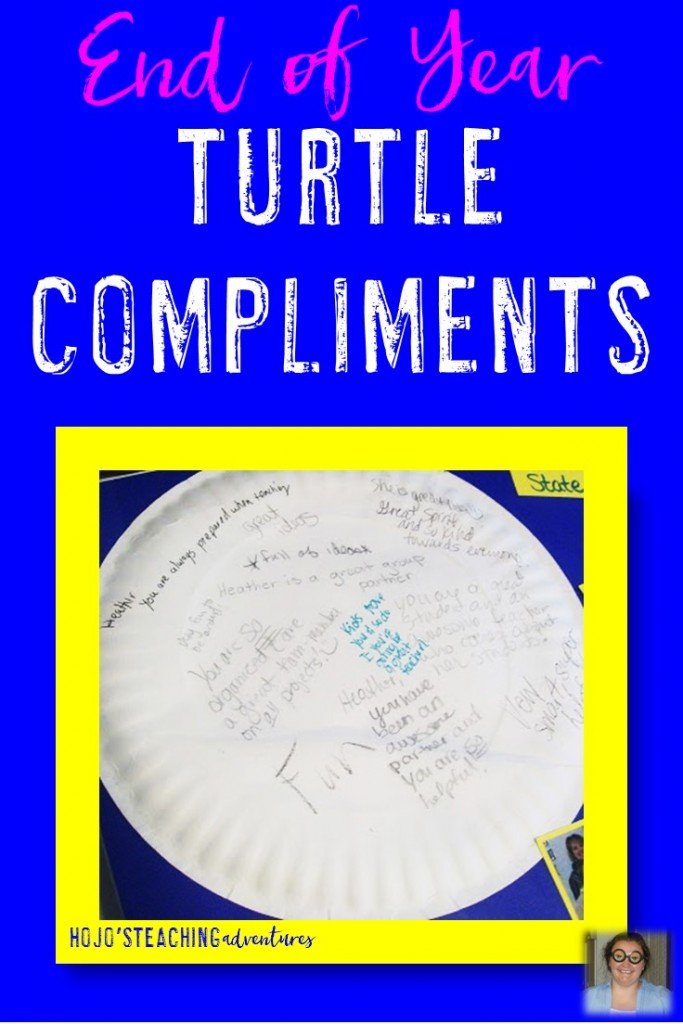 I do recommend using markers/pens for this activity. The reason is that in the last 5+ years the comments on mine that were written in pencil have really faded!
You may want to set a timer for how long you want students to sign. Or maybe you want students to give everyone a compliment. Perhaps they only have to sign 10 "shells". Set some guidelines and let them go!
Here is the "turtle shell" I still have from undergrad. It is honestly something I really treasure. (Hence the reason it's in my scrapbook!)
You can tell that some people wrote a word, while others included a small novel. It's a great boost for the end of the year and let's you know just how much others appreciate what you do/are – no mtter how small.
Don't like the look of a boring paper plate? Need a full end of year memory book? Then check out this turtle compliments memory book! It's perfect for your end of the year activities in the 2nd, 3rd, 4th, 5th or 6th grade classroom. Click on the picture at the left or here to go purchase your copy today!
Teaching in a virtual manner? Create a free Google Form so students can type something for every classmate. Or create a simple sheet where you give them each name of their classmates, then ask them to write something about each classmate. You can compile all of these and put them together as an end of year gift. This would be such a nice, culminating email to receive full of compliments from friends!
Need even more great end of the school year ideas? Try these out: