I hold high expectations for each of my students. Sometimes this comes across as me being tough on them, but I love each and every one of them tons!! In order to show it (aside from what I do each day), I try to regularly send them a "positive postcard".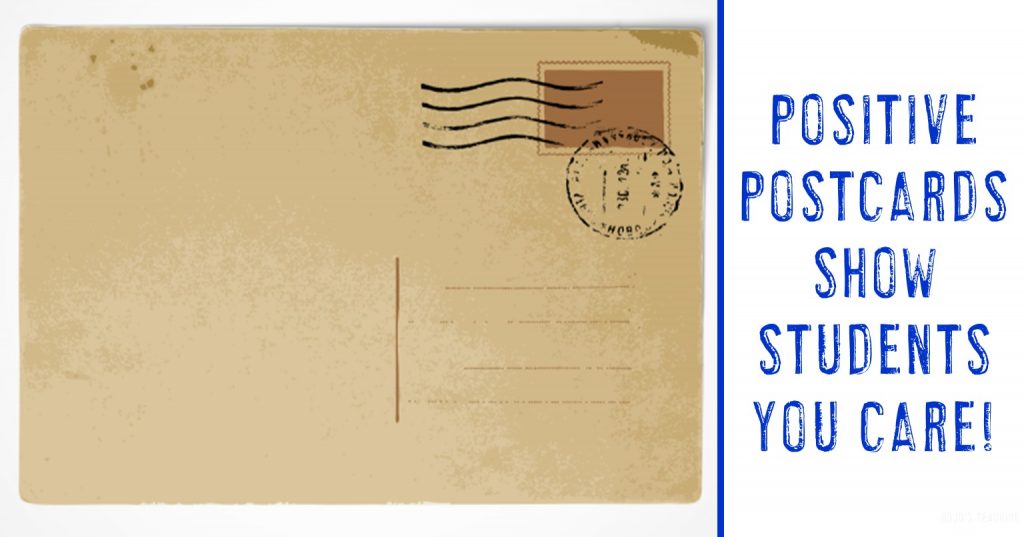 In order to do this I think of something each student has been doing really well lately, or I think of something I have "caught" them at recently. Then I write them a little note, stick it on their desk before they arrive at school, and think about how my profession is the greatest in the world as I watch them read their positive postcards and see that smile spread across their face!
Here are some of the recent positive postcards I sent out.
These are examples of what is written inside for this go round:
You have made so many gains this year! Your attitude is better, you have less late work, and you are happy so often. I enjoy working with you! It's the last trimester – keep working hard! 🙂

Thank you for working so hard on Friday! If your dad didn't tell you, I called him to compliment you. 😉 I would love to see your hard-working attitude continue! Keep it up!!

We are in the last trimester of school! YEA! Please do your best to keep up with your work and read. When you need help, be sure to ask!!

You should be so proud of yourself! You are a hard worker and you always do your best! I enjoy working with you and watching you learn.

You should be very proud of yourself! You are working hard, doing your best, and always getting things handed in on time. Keep it up! I'm glad you got so much done on Friday. Nice work!

Thank you for working so hard on Friday. How did it feel to get so many late papers finished? Great, I hope! Remember to keep working hard and to always do you best!

You should be very proud of yourself. You are working hard and getting everything turned in on time. This last trimester, make sure you get work handed in right away and keep working hard!

Thank you for always being such a great kid to work with! You make coming to school each day FUN! Keep working hard and READ, and you will fly through the rest of the school year.

You should be proud of your behavior on Friday. You acted appropriately and got a lot of work done. Way to go!! Keep up the great work.

I know school can be hard for you at times, but you do a good job of keeping a positive attitude. It's so exciting that you are keeping up on your ABC book for Social Studies. You should be very proud of yourself! Keep working hard!!
It's not always easy to find something positive for every student, but I try to put a positive spin on things. Many times I also include a reminder of how they can get even better.
When I taught Kindergarten I did the same concept, except I read the postcards to my kiddos and let them take them home. They would just beam as I was reading their note. Many came back to school the next day and told me how excited mom/dad/grandma/grandpa/auntie was about it too!
Thank you for taking the time to read this post about positive postcards! Here are a few other ideas you may enjoy:
Getting Students to Complete Work
Showing Appreciation for Colleagues and Students
Classbuilding Activity – Think Fast!